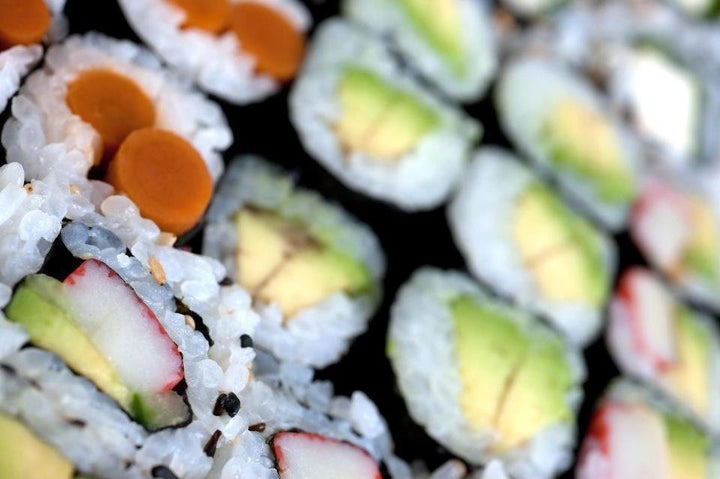 The doctor is in. The sushi doctor, that is, and he's working to bring sustainable sushi to Detroiters.
Dr. Sushi, a Wayne State University student who normally goes by the name Nick George, has been making sushi for a steadily growing set of friends and foodies out of his Corktown home each Wednesday, with the help of his girlfriend Lindsay Farris and friend Ben Christensen.
George's start as a chef can be traced back to a stint doing food prep at Clawson's Noble Fish when he was 16, but raw fish has been a favorite food since before he can remember. "There's a picture of me in my crib as a toddler with an octopus tentacle hanging out of my mouth," he said.
Though he's been making sushi for eight years, teaching classes and catering for the last three, it wasn't until he started the weekly carryout business in February that George began to pay close attention to his ingredients' origins.
While many stores and restaurants make it a point to hawk locally-grown and organic foods, those priorities are often overlooked in the sushi biz. George estimates a total of eight restaurants that practice sushi sustainability in the U.S., while Fish2Fork.com, a site that reviews seafood establishments, lists just six that rate positively on its sustainability scale.
"Sushi was initially created as a food to highlight fish that were in season and abundant," George said. "But you don't have to be an expert to know that overfishing is a serious issue and fish populations are dwindling, and if we ever want to eat bluefin tuna again we have to do something about it right now."
George shops at five different Detroit-area markets to find ingredients he feels confident using, and he's made a point to experiment with recipes that use abundant fish, like arctic char and sablefish.
"In Detroit, because we're so far inland, I'm finding myself having to incorporate a lot of local produce, not just fish," he explained. "There's a long way to go, but just making informed choices is part of it."
While George has found living far from the ocean frustrating as a sushi chef, he believes Detroit and its residents helped him get started, and talking with friends involved in the food industry was part of what convinced him to focus on sustainability.
"Because I was so tuned in with people here, it's been possible for me to launch the project into a welcoming environment," he said. His most popular offering is the Corktown Roll, made of tuna, avocado and cucumber.
When he started Dr. Sushi, George didn't expect the business to grow as it did. Less than three months later, his business had doubled to serve about 50 people each week. After such quick success, he's now putting the weekly orders on hold as he considers ways to expand the operation.
One possible direction: sushi demonstrations, like one he offered at last Saturday's Lift:Detroit Gala, an event aimed at young professionals, where he joined more established restaurants like Good Girls Go to Paris and the Rattlesnake Club.
Ernest Founter, who came up with the idea for the event, said it was George's vision of Detroit and his passion for the city that prompted him to invite Dr. Sushi to participate.
George still moonlights as a college student, documentary filmmaker, musician and promoter. And he does wonder why his sushi business took off so quickly, when he's been involved in other projects for much longer.
"I think the work I do with creative arts is more valuable than the work I do with food," he said, "but maybe some mix of the two becomes something even better."
CORRECTION: An earlier version of this story stated the location of sushi market Noble Fish as Royal Oak. Noble Fish is located in Clawson, Mich.
REAL LIFE. REAL NEWS. REAL VOICES.
Help us tell more of the stories that matter from voices that too often remain unheard.
BEFORE YOU GO