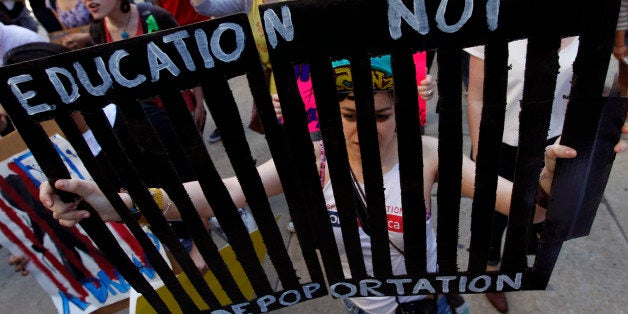 For years, detention has been one of America's dirty little secrets. Detention is what happens to people who have entered the United States without authorization or overstayed a visa. Detention has been widely decried by human-rights advocates for its prison-like conditions and the too-frequent abuses that are visited upon the detained. It is a little-known system (run often through private contractors) of incarceration with rampant sexual and labor exploitation.
President Obama and his secretary of homeland security, Jeh Johnson, have vastly expanded the system in just the last year to incarcerate women and children who have escaped the violence and poverty of Central America and seek asylum here. That is the spark for a new congressional initiative to end family detention.
Nearly everyone who is deported for an immigration violation goes through detention at something like 400 facilities around the country, some 34,000 at any given time, some of them in local jails but many in prisons run by the Immigration and Customs Enforcement (ICE) agency. (The Obama administration has deported an average of 400,000 immigrants annually.) Detainees get inadequate medical attention, as many reports have documented, and are denied rights to legal representation that are typically afforded to any common criminal. And keep in mind illegal immigration is not a felony. It is a civil infraction -- "entering without inspection" -- virtually the equivalent of jay-walking.
But the truly horrifying aspect of this system is how it's being used and expanded to detain the mothers and children who have sought asylum in the United States, specifically, refugees from Honduras, Guatemala, and El Salvador. In those beleaguered countries, which had been the venues of U.S.-backed civil wars, drug gangs intimidate the teenage and pre-adolescent boys and girls -- the boys are pressed into joining the gangs, the girls are pressed into sexual slavery. The drugs, cocaine mostly, are headed for American consumers.
The countries are also poor and mismanaged, buffeted by the global economic forces that disrupt traditional agriculture and similar work of the local populations. In combination with the culture of violence and corruption -- also quite evident in Mexico -- the places are uninhabitable for many. Some of them come to the United States. Last year, 67,000 unaccompanied minors showed up at the U.S. border. Fewer are expected this summer, perhaps 40,000, according to the Washington Office on Latin America, a respected advocacy NGO. WOLA also estimates that 56,000 people traveling as families (mainly headed by women) will try to enter the United States this fiscal year.
What happened last summer may be repeated, and it's not a pretty sight. Not only were there nativist demonstrations against these refugees, but U.S. authorities were at a loss on how to deal with the crisis during its most acute phase, which is summer. So new detention camps were built and some 6,000 families were sent to them.
A group of attorneys from the American Immigration Lawyers Association visited these detention centers and were alarmed by what they saw. "I witnessed dehydrated, listless, and malnourished children clinging to their mothers, while their mothers' pleas for medical care were met with degrading and abusive treatment," said Dree Collopy at a press conference Thursday convened by Rep. Zoe Lofgren (D-Calif.). An attorney with the D.C. law firm of Benach Ragland, Collopy observed that "I have witnessed countless scenes that I wish I never had to see and that I never expected to see here in the United States." Lofgren and Reps. Luis Gutierrez (D-Ill.) and Lucille Roybal-Allard (D-Calif.), among others, are calling for end of family detention altogether.
The U.S. response to the mothers and children trying to escape the increasingly harsh conditions of Central America and Mexico is part of a pattern to "securitize" the border while the administration pursues immigration reform. Some of that reform is being implemented by executive action, Obama's controversial orders to provide some 5 million unauthorized immigrants with legal status if they meet certain conditions.
But the deeper significance of this detention nightmare stems from a longtime practice of ignoring the consequences of U.S. wars and economic policies that have directly contributed to massive flows of migrants from distressed countries. Washington's answer to the border kids and mothers is so obviously inadequate (and, indeed, cruel in many cases) because U.S. policies are delinquent.
The "war on drugs," the policies that have little regard for sustainable and equitable economic development, and the military funding for dodgy governments all feed the conditions that drive the marginalized people north. Immigration reform of the kind considered in Washington does not address these failures. So ICE scrambles to build detention facilities as a stopgap, and a poorly conceived and operated one at that.
The answer to these outrages is not just to end family detention and recognize refugee status for many of these migrants -- although those are urgent imperatives -- but to reform in a more fundamental way U.S. policy making in Mexico and Central America. That discussion has not really started in Washington, despite heroic efforts by some advocates for more humane policies. Until we engage these policy failures, the abuses of the draconian detention system will fester.
John Tirman is executive director of the MIT Center for International Studies, and author of Dream Chasers: Immigration and the American Backlash.
REAL LIFE. REAL NEWS. REAL VOICES.
Help us tell more of the stories that matter from voices that too often remain unheard.