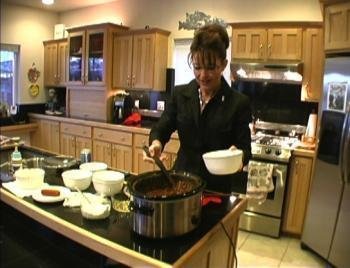 A group dedicated to pushing Sarah Palin into the 2012 presidential race was formed last week and is already emailing Iowa Republicans.

The "2012 Draft Sarah Committee" has a rudimentary website up showing the Alaska governor dishing out moose chili and appears to be composed of rank-and-file conservative activists.

They've already found their way into the in-boxes of some of the opinion-makers in early primary and caucus states.
The website is here. The front page lays out a plan for the campaign:
While 2012 seems a long four years away, it is not too soon to think about Congressional elections in 2010. A rejuvenated Republican Party (RINO-free) can take back the House and the U.S. Senate.

It is Republican Conservatives who are in agreement with a majority of Americans on social and economic issues. It is the RINO leadership has led us into this 2008 catastrophe. Supporting 2012DSC will be a big step toward that goal.

If you would like to support this effort, please:

1. Send emails to your email list encouraging them visit this website and encourage them to sign up to receive our email newsletter.

2. If Gov. Palin attends speaking events near you, we urge that you attend.

3. You can buy buttons, bumper stickers and other promotional material to show your support and make others aware that Americans support her. Nothing like sharing a cup of coffee with your co-workers, drinking out of a "Vote Sarah" mug.

4. You can send an email letter to Gov. Palin by clicking on "Email Gov Palin " on this website. The letter will copy Republican officials in the State of Alaska to show them the grass roots support Gov. Palin is receiving from citizens across the country.

5. You can vote in our poll on the website.

6. You can bookmark this website. We intend to update the site every day with new information.

7. You can be an organizer for your state or town. If interested, send an email to sarah2012@optonline.net.
Popular in the Community