What does Big Data have in common with Big Box Retailing... besides the bigness?
How much does Walmart have in common with Amazon... besides the obvious?
Where do you think retail is going... besides mobile?
Twitter and Royal Mail go public in a similar time frame, and while nothing about them seems similar at all, maybe their futures are more linked than not.(BTW, kudos to Twitter for taking a sane approach to their IPO -- the value they create should not be limited to the few... and certainly not just for the now).
Now let's look at another pairing -- a competitive one to be sure, but a pairing nevertheless.
Walmart and Amazon are beginning to converge much as Sears and Amazon converged years ago -- and if you don't believe me, read this piece from the 2004 Amazon Annual Report and the following piece from the 1897 Sears Wish Book Catalogue:
We seek to be Earth's most customer-centric company, where customers can find and discover anything they might want to buy online, and endeavor to offer customers the lowest possible prices. -- Amazon, 2004, p. 3
It is the Policy of Our House to Supply the Consumer Everything on which we can save him money, goods that can be delivered at your door anywhere in the United States for less than they can be procured from your local dealer.... We Aim to Illustrate Honestly and Correctly Every Article.... We are Able by Reason of Our Enormous Output of Goods to make contracts with representative manufacturers and importers for such large quantities of merchandise that we can secure the lowest possible prices...Our employees are Instructed to Treat Every Customer at a Distance Exactly as They Would Like to be Treated were they in the customer's place." -- Sears: 1897/1993, Sears, Roebuck Catalogue, Chelsea House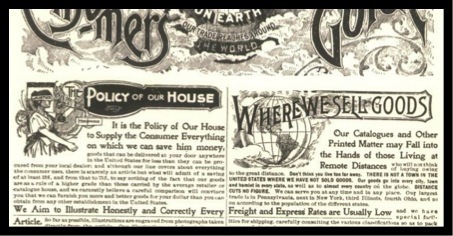 But that was a confluence of philosophy, and Amazon was smart enough to apply it to the digital world while Sears did not.
But here is the thing -- read this following piece from The New York Times and you will get the Walmart-Amazon rivalry in a second.

The two retail behemoths, one the king of the physical store and the other the conqueror of the online world, are battling over e-commerce - competing for the most talented engineers, trying to gain the upper hand in the new frontier of same-day delivery and warring over online pricing.

They want to control not just Internet shopping but all shopping. Even as Walmart pours money into technology, Amazon is building a physical presence across the nation, adding warehouses and pickup locations. Both companies' moves indicate that they believe the future of commerce is not just stores and not just online but a combination of the two.
Read it again -- they are not battling over e-commerce -- they are at war over customers, buyers, people who need stuff and, yes, buy online, but also -- despite the digibabble -- go into brick-and-mortar retailers when they like the experience, or more when they need the experience, like to try things on, or to listen, or to see, or for the fun -- you get the point.
Walmart has always been about data and their inventory control and buying intuition is legendary -- and they know how to make a profit (challenged though)... and profit is what continues to elude Amazon.
Yet, said Matt Nemer, an analyst at Wells Fargo, "Amazon is the Walmart of the post-2000 period," ...no imagination -- it is the Sears of our era -- as for the Amazon-Walmart rivalry... $500 billion of revenue vs. $74.5... if you throw out the digibabble, the jury is out.
So here is the thing - these two businesses are converging. Walmart is learning how to manage the online portion and Amazon is learning how to manage inventory, supply chain, real estate, delivery, live client service... hmmmm.
What is really interesting is to look at Sam Walton and Jeff Bezos -- two men I admire greatly -- and listen to their thinking:

"There is only one boss. The customer. And he can fire everybody in the company from the chairman on down, simply by spending his money somewhere else." Sam Walton
"If we can keep our competitors focused on us while we stay focused on the customer, ultimately we'll turn out all right." Jeff Bezos
And there you have it. They are chasing their tails by chasing each other, and the customer does not necessarily win. Both need to keep their focus tight and innovate outwardly towards us, their valued customers.
Bottom line -- there is a fight to be had here and it's a good one. Both are about Big Data and both are Big Box -- and both can benefit from mobile... equally.
I had an opportunity to listen to Nate Silver speak this week. I'm a big fan of his, and for those who don't know him he is worth a lookup. And as I ponder where I would place my bet -- on Amazon or Walmart, I learn from him. Listen:
"The key to making a good forecast is not in limiting yourself to quantitative information." Nate Silver
And there you have it -- don't look just at revenue and profits and don't just look at online traffic and certainly don't just follow the Digibabble... FOLLOW THE CUSTOMER...
Popular in the Community