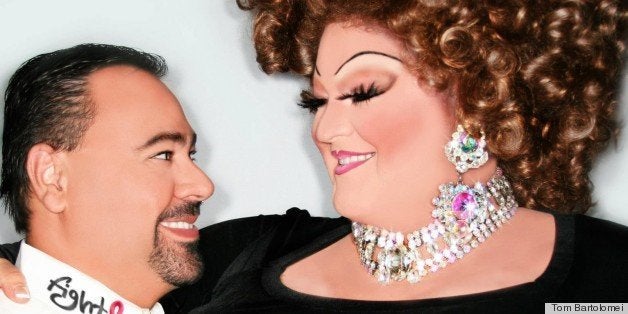 This past weekend Vivian was in her first all-ages drag show. What is that, you ask? It's a drag show that is appropriate for the under-17 crowd. The songs had no explicit lyrics, and all the routines were kid-friendly (i.e., no crass or sexual themes). I have to admit that when Vivian was first asked to be in this show, I was like, "Why?" I just couldn't understand why anyone would want to do an all-ages drag show. Well, now that the show is over and I'm seeing the effect that it has had not only on the cast but on those little ones who were in attendance, I completely understand why, and honestly, I think it may be something that the drag community should do more of. This show has made me see drag in a whole new light.
During the show Vivian was tipped by several children, and honestly it was one of the most adorable things I have ever seen, these kids coming up with dollars in their hands, with Mom or Dad behind them, tipping a 7-foot drag queen. They didn't see a man in a dress. What they saw was pure joy. You could see it in their eyes. As adults we have lost that ability to see the world through joyful eyes, but somehow drag queens have rediscovered that ability. If only the rest of us could do the same, the world would be a much better place.
After the show Vivian posted some of her thoughts on Facebook, and the responses she has received have been so heartwarming. So many of the parents have taken time to thank the entertainers in the show and comment on how shows like this teach their children about accepting others and being true to oneself.
One message Vivian received was the following:
the other little boy (not the one in glasses) was mine. He is 10 years old, going to be 11 on the 20th of July and he has ASD (autistic spectrum disorder) and this was his first show (of course). He was really intrigued by it all and we've been talking more and more about LGBT and all the other initials for the last few weeks.

I wanted to let you know that he has been sporting high heels since he was very young and since he has an older sister, that has been his excuse for wearing her dresses from time to time. lol. I am so glad I was able to bring him and show him how fabulous you all are and that it IS ok to wear dresses if you are a boy.

Just wanted you to know how much we appreciated your performance

Oh, and before I forget my daughter LOVED your she-ra costume! She loves she-ra!!! She is 13 and has ASD as well.

Thank you
What an amazing message these parents are teaching their children. It makes me hopeful that the world my Jedi grow up in will be one of love and acceptance. This message also showed me that drag is more than entertainment, more than bookings, more than staying on top; it's a doorway to acceptance.
Drag teaches us to be true to ourselves and accept others for who they are, just like these children did at the show. These children saw beauty and love; they didn't see hate or "freaks." If there were more all-ages drag shows and more parents like this took their children to these shows, children would grow up more accepting and more loving.
Drag teaches one to love oneself and others, which is a message that needs to be passed from one generation to another. We owe it to the younger generation to pass that message on.
So let drag open the door to acceptance. You may be surprised by what you and your children learn.
In the immortal words of the Queen of all Queens, RuPaul, "if you can't love yourself, how the hell you gonna love somebody else?"
REAL LIFE. REAL NEWS. REAL VOICES.
Help us tell more of the stories that matter from voices that too often remain unheard.