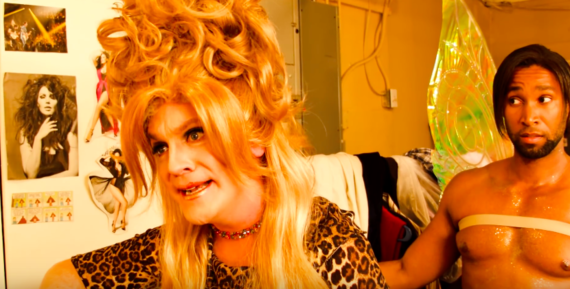 It was 11pm on an October night in 2003 and I was determined to sneak out of my high school dormitory. I crept across my dorm's old, creaky, New England staircase and inched toward my best friend's room. As I opened the door, he stood evaluating his outfit in front of a mirror that had a sign taped to it that read "you're fat" (he had a weird way of motivating himself). After we quietly snuck out his window and raced to my car, which was secretly parked two blocks from my school, we were off to our very first gay club! It was a Boston club called Axis and on Monday nights it was 18 plus. Since I had been 18 a whole week and a half, and my friend was repeating senior year, we confidently gave the bouncer our IDs.
It was on this night that I saw my first drag show. I had never been exposed to drag, with the exception of one evening when my mom got adventurous with movie night and rented The Birdcage. But here I was witnessing the real thing. The show was gritty and amazing, (but also terrible), and that was part of what made it so addicting. Girls gave 100 percent of their heart while a 30 dollar wig began to slide up her scalp. It seemed so normal to everyone in the club, but it was totally unknown for me. This was a beautiful subculture.
Now, 13 years later, drag has never been more mainstream. From Ru Paul's Drag Race alumni with hundreds of thousands of followers on social media, to queens being asked to perform with A list celebrities. In this week's episode of Go-Go Boy Interrupted, the table's have turned as we watch Drew Droege's brilliant "Ann Ziety" experiences being "aged out" of his profession. He reflects to Danny on how he missed out and is now washed up. Episode 4 is below.
Popular in the Community