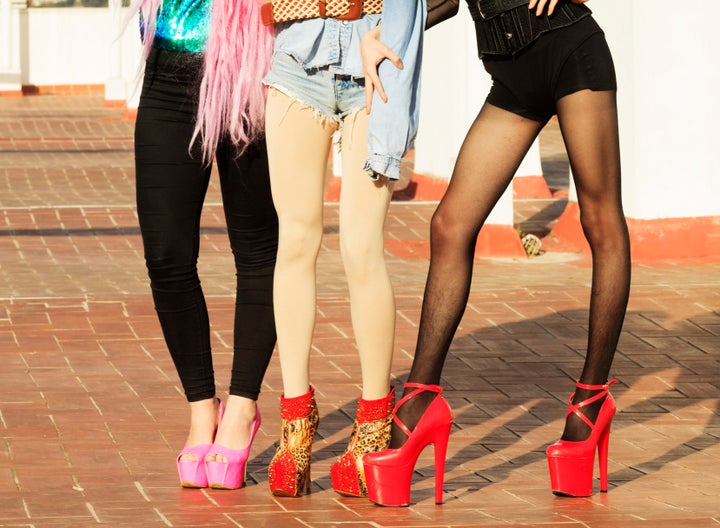 An Australian man is crediting a trio of drag queen "angels" for rescuing him from a homophobic assault that he said ended when his high-heel-wearing heroines rushed in "like Destiny's Child" with arms swinging.
Ivan Flinn, 34, had just left friends for the night on along Oxford Street in Sydney earlier this month when a group of men hurling homophobic slurs violently turned on him, leaving him with a dislocated jaw, he told HuffPost.
Flinn said the blows came after he spoke out against the men's language, which was being used in an area of Sydney that's touted as the "heart of gay and lesbian culture."
"I am a bit religious and I really thought I was going to die," Flinn recalled to news.com.au of being struck. "I was praying for a hero and I got three angels."
Those angels, he said, were drag queens named Coco Jumbo, Ivy Leaguee and Vybe, who said they jumped in after seeing Flinn get hit.
"Those boys sh*t themselves," Luke Karakia, who performs as Ivy Leaguee, told News.com.au of the dramatic scene. "They weren't ready for some drag queens on top of them."
Flinn said he was initially left stunned after receiving the painful blow to his face. Once he came around, he saw his rescuers fiercely duking it out with his attackers in the middle of the street.
"Like Destiny's Child they strutted in and saved me. Punches were flying. Hair was flicking. Nails were breaking," Flinn wrote on a GoFundMe page he created for his heroines. "I was stunned on footpath, thankful drag queens exist."
Luke Waqa, who performs as Coco Jumbo, also recalled the melee to news.com.au.
"A guy pushed Ivy so I picked him up and threw him into the gutter," Waqa said. "I don't think they knew what they were getting themselves into. I used to play rugby league. Plus I have an older brother."
"There comes a time when you fight back and you don't care if you'll get hurt or what happens to your wig," added Karakia.
Flinn said he felt so indebted to his "modern gay heroes" that he created an online fundraiser to raise money to replace their damaged clothes, hair and nails. As of Monday, his fundraiser has collected more than $6,800.
"I hope to replace my hero's hair, ruined because of her good heart. To replace her nails, broken because of her courage. To get her new heels because she stood up for what is right," his page reads. "She risked herself for me. I could've been [anyone.] It's the only thing I can think of to properly thank her."
Flinn, reached by HuffPost on Sunday, said that as far as his own injuries, "physically, I am fine now."
"I couldn't really eat for five days and was on painkillers," he said by email. "Mentally and emotionally, I'm still on the mend but very happy to know I am blessed with such a supportive and protective community." 
Ivy Leaguee reached out to thank Flinn for his generosity on his Facebook wall, writing: "I'm just happy you're ok (apart from your jaw) and that you will dance the night away yet again in the safety of one of our fabulous gay venues!"
Flinn told HuffPost that police have not pressed any charges but that the case remains under investigation.
Calling all HuffPost superfans!
Sign up for membership to become a founding member and help shape HuffPost's next chapter
BEFORE YOU GO