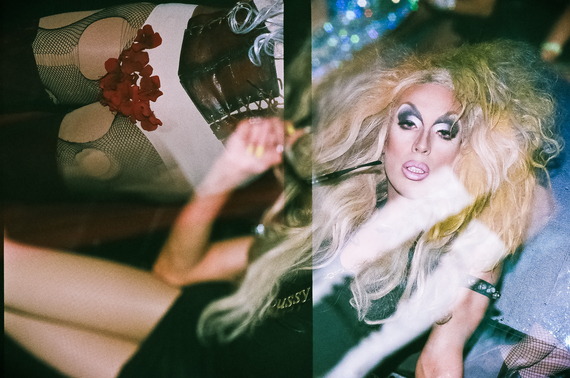 Alaska Thunderfuck needs a place to call home.
In the months after placing second in Rupaul's Drag Race Season 5, the young queen traveled across America, Canada, Australia, England, and the Netherlands for work. She returned to Pittsburgh, her old college town, after all these trips. Both she and her (recently) former partner Sharon Needles live in Pittsburgh, but their breakup was an amicable one. America's newfound fascination with drag called these fresh talents to the limelight, and the extreme change in both their lives turned them from boyfriends into best friends. Increasingly tied to her own career, Alaska's home has become the road. She plans to move on from Pittsburgh and life with Sharon. Alaska has her eyes set on L.A. in 2014.
Los Angeles hosted Alaska during her formative drag years, so she's returning to a home she knows well. Justin Andrew Honard (aka boyface Alaska) graduated from the University of Pittsburgh with a degree in theater and moved to L.A. to pursue a career in acting. Honard found frustration in the auditioning process and turned to drag as a professional creative outlet.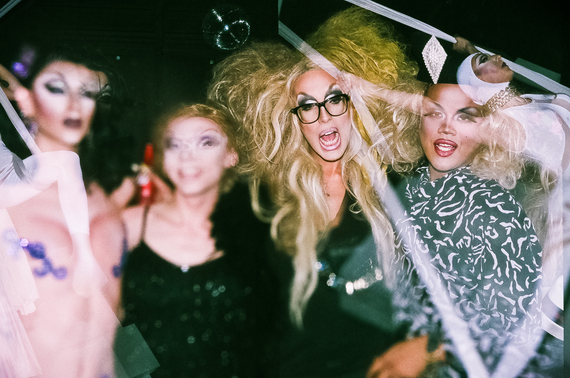 In focus: Alaska and Cayenne Rouge backstage at The Other Show.
From her beginnings as a weed-inspired queen, it's apparent that a true performance artist steers Alaska Thunderfuck. As her origin story goes, Alaska Thunderfuck 5000 crash-landed her spaceship in the Matanuska Valley region of Alaska, a place where the sun shines so long in summer that the locally grown medicinal herbs grow to epic proportions. Tall, thin, stunning, and bedecked in jewels and a sprawling wig, Alaska looks like a haute-couture croquis when she steps on stage. She raps about drag while busting out a catalog of late-80s dance moves. Alaska brings the crowd to their feet and the dollar bills fly forward. On mic, Alaska harbors no contempt or nastiness; she's America's warm, quick-witted drag sweetheart.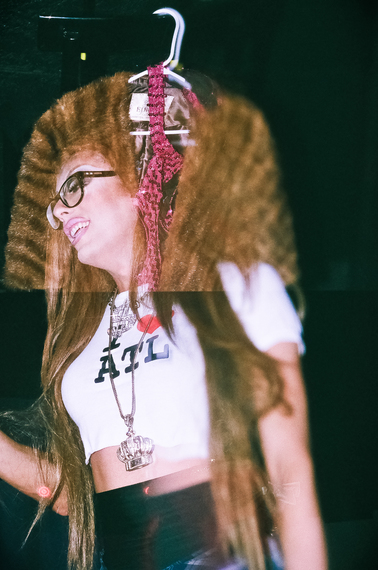 When I look at Alaska, I feel like I see someone I've always known. She's that boy we all knew in high school -- clever, nerdy, creative, and an overachiever as well. He was in choir and drama club and art. Closeted in high school, Justin still sang his heart out in Oklahoma, The Music Man, and Joseph and the Amazing Technicolor Dreamcoat. He was always pleasing others; taking all AP classes and being in every school play was no problem for him. He was the good boy we all envied and we all picked on.
Maybe I'm just projecting my own experiences onto Alaska; however, there is a familiarity to her that is undeniable. In the few short months she's been in our world, we've come to know her mononymously as "Alaska," which is not bad for someone who remains second banana.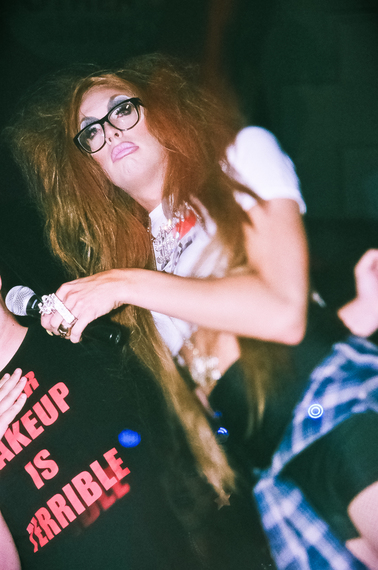 Your makeup is terrible, Alaska.
Alaska got on Rupaul's Drag Race after auditioning five years in a row. In Season 4, her partner Sharon Needles applied for the first time and got on. Sharon also won first place. Sharon Needles' ghoulface drag brought a new kind of deranged creativity to Drag Race, and viewers ate it up (viewers even selected Sharon the winner that year). Alaska arrived to the set of Season 5 in the shadow of her lover, but she proved her charisma, uniqueness, nerve, and talent quickly.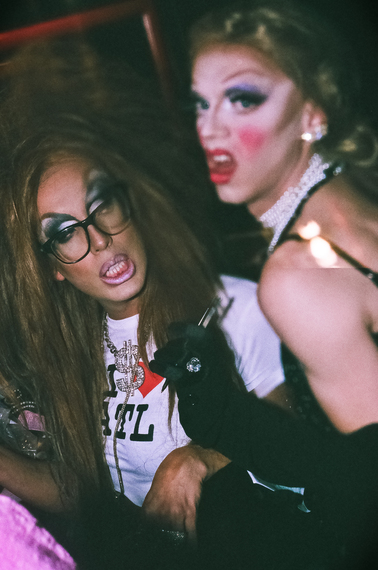 Alaska and Brigitte Bidet.
I imagine that Sharon saw much of herself in Alaska, and that is what attracted them. Both of them possess an undeniably artistic edge to their work -- Sharon expresses herself with stage blood and offensive wit, and Alaska expresses herself with adorable outfits and heartfelt words. Looking at them, I see two queens who have an "art practice" -- that is, they are dedicated to exploring and honing their craft day after day. Sharon tortured her body for art in season 4; she would never break the physicality of her character, even if it meant holding rickety positions for hours, injecting her lips, or mummifying herself. Surely Sharon's intensity must have rubbed off on Alaska; I believe that's how Alaska became such a strong performer.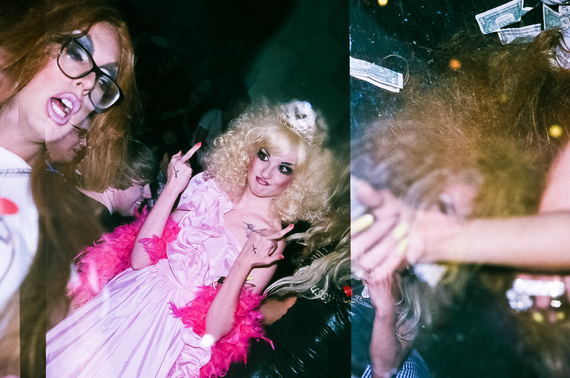 Alaska became the third queen in Drag Race herstory to make it to the finale without ever lip syncing for her life (joining Season 1's Nina Flowers and Season 2's Tyra Sanchez). But Alaska was merely awarded runner-up at the end. Alaska acknowledges that Jinkx Monsoon outperformed her fair and square in the Season 5 finale; however, I can't help but feel heartbroken for Alaska. She had won the devotion of a huge fan base, but she remained in the shadow of another queen.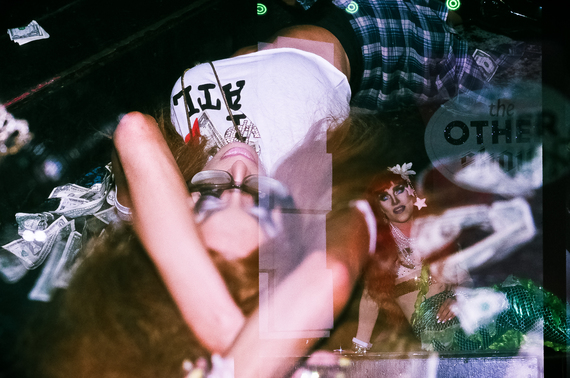 Alaska feeling fishy with Evah Destruction.
In our interview, Alaska said she, like most gay men, experienced lot of hate in her life and is ready to reprocess all that shit into drag. We've only known her for less than a year, and Alaska has already become world-famous. I hear that L.A. is better for finding work than for finding a home, and Alaska will surely continue to live in the airports, tour buses, and hotel rooms she is flung to week after week.
Alaska's true home will always be in our hearts, no matter where life takes her.