Every Thursday night, hundreds of thousands of Americans tune in to VH1 to bask in the charisma, uniqueness, nerve and talent that radiates throughout "RuPaul's Drag Race." For 10 seasons, fans have gotten a glimpse of all that goes into being a drag queen: the makeup, the wigs, the accessories, the shade and, of course, the costumes.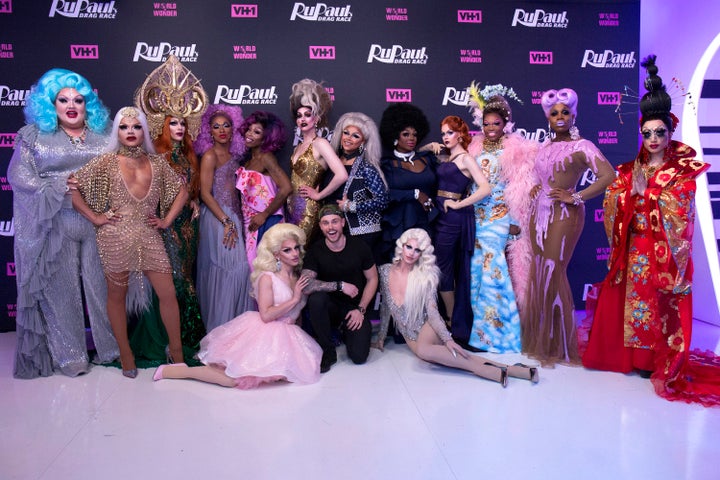 As the show has grown in popularity, it's risen the profile of some of its most successful costume designers. Runway appearances and challenges, for which contestants are properly decked out, are central to the competition. Queens can change up to three times per episode, making the costumes an integral part of the experience. 
Brad Callahan, or BCALLA as his clothing label is called, started working with queens after graduating from art school. His boyfriend at the time, a performance artist, started a drag house in Brooklyn, and Callahan dressed a lot of the girls. His designs are bold and statement-making, featuring bright colors and mixed patterns. 
"They were the only people who wanted my stuff, basically," he said, laughing. "It was a win-win for me, because I got to do whatever I wanted and be as crazy and wild as I wanted, and they got to use these amazing costumes onstage that they weren't really paying for at the time because no one had any money. We were all just trying to make something kind of fun happen." 
Because of his involvement in the scene early on, Callahan said that working with the queens who subsequently appeared on "Drag Race" happened naturally, as an extension of his existing relationships. "It wasn't really a conscious thing," he said. "I was just friends with these performance artists and queens and otherwise fashion plates. I have always looked to nightlife as a big point of inspiration for me, so it kind of just made sense." 
Having established relationships with queens who end up on the show seems to be a common thread among designers we spoke with. Vie Lette, who creates nail gloves that allow queens to switch up designs for different looks without damaging their nails, got her start by creating nail designs for her brother Acid Betty ("Drag Race" Season 8).
Both Morrissey and Callahan have found success outside of "Drag Race," but both said that that featuring designs on the show changed their careers ― and their lives. Morrissey, who identifies as a straight woman, said that while her brand was successful before, working with the community has made her feel accepted and like she is "home."
"We've always been allies, but the brand hasn't always had that as one of the flags we fly first and foremost, we were much more fashion-centric," Morrissey told HuffPost. "I still very much consider us to be a fashion brand, but we've since found and pinpointed niche markets and it has changed everything. The acceptance, the joy, the celebration that comes from fans of "Drag Race" ― it goes into my brand. It goes into my colleagues' brands because it's such an empowering arena."
Callahan, who has also created pieces for Lady Gaga, Miley Cyrus and Azealia Banks, added that it's the influence the queens featured on the show have on younger generations that has been the most impactful on the brand.
"I've tapped into a younger audience and that's kind of something you can't really buy in fashion," he said. "Fashion brands would really love that legacy. It's really wonderful while the fan base is generally not my bread and butter, the queens who are performing pay my rent, so to speak, and because those fans support the girls, they're indirectly supporting me." 
That encouragement from the young people who rabidly support both the show and the queens on it is something Callahan called "a blessing." He credited the ease of his own high school experience as a gay man with popularity of "Queer Eye for the Straight Guy" and the affirmation of gay men as fashion authorities. "I think something like 'Drag Race' makes it even more open for a younger generation to experience who they are and live their life way more comfortably than any of the generations before." 
Morrissey and Callahan agree that as the show has become more mainstream, a sense of commodification and sanitization of what drag really is has come along with that. "The tricky thing with a TV show is that it's only showing a PG version of what drag can be," Morrissey said. "I think because of its mainstreaming, it has lost its political connection and underbelly in a way," Callahan echoed. "I think 'Drag Race' is a good political statement, but I don't think it's political in and of itself." 
Marco Gabellini, whose wig designs are often seen on the show, said that in spite of that, the representation the platform offers is still a positive thing for the LGBTQ community.
"Everything in the show is bigger, some would say commercial," he said. "But that word is not always taken the right way. I believe it is good for the for the queens as well as the whole community. It shows real people, real talent and it's all real fun. Life isn't that serious, and this program helps us realize it."  
Morrissey also argued that since drag itself has "always been an act of resistance," the mere fact of the show's popularity is reason to celebrate. "Drag is something that takes our normal standards and flips them upside down," she said. "These are especially important times for us to be fighting to be vocal and say, 'No, the status quo is not acceptable.′ We are talking about drag in ways that are becoming a lot more accessible to a lot more people and I think that's really huge and really important." 
REAL LIFE. REAL NEWS. REAL VOICES.
Help us tell more of the stories that matter from voices that too often remain unheard.
BEFORE YOU GO