Call Alaska Thunderfuck a drag queen, musician or reality-television sensation. After her upcoming appearance in the San Francisco-based production Sex and the City: Live -- which opened July 24 -- you can even call her an actress. But the performer scoffs at the idea that RuPaul's Drag Race made her a "superstar."
"It's not legitimate superstardom, because if it was that, I'd have paparazzi outside my house," joked Thunderfuck during a recent telephone interview. "I'm just happy to be popular and have a job."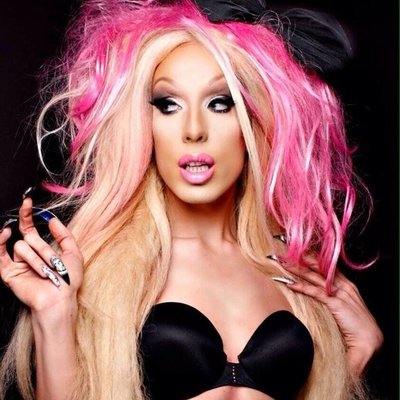 While the appropriateness of the "superstar" label is apparently open to debate, simply calling her "popular" is an understatement. Since placing in the top three on the fifth season of LOGO's hugely successful reality-TV competition for the title of "America's Next Top Drag Superstar," this affable queen has become one of the series' go-to performers.
Whether it's nightclub engagements around the world or performing at regional Pride festivities (including her first trip to Alaska for Anchorage Pride), Thunderfuck is working nonstop. Her recent music video, "Your Make Up Looks Terrible" -- a memorable quotation coined when she was competing on Drag Race -- is pushing toward half a million YouTube views, and she promises a new song soon. (It's called "Nails." You heard it here first!)
In her latest adventure, Thunderfuck joins Bay Area standouts Heklina (Carrie Bradshaw), D'Arcy Drollinger (Samantha) and Lady Bear (Miranda) for a laugh-out-loud funny staging of Sex and the City. The show has a limited 12-performance run.
"I'm so excited to be, like, acting in a theater again," said Thunderfuck, who plays the somewhat mousy, maternal Charlotte, a character made famous by actress Kristin Davis. "I love it."
"I'm such a theater person, so I feel really at home when I'm in rehearsals and in a regular production, like, onstage," she confided. "That's the most exciting part to me."
Equally exciting, Thunderfuck shared, is playing against her type. "I get to be brunette," she deadpans, "so I don't know how it's going to go!"
Being blond isn't the only thing the gender bender is known for, of course. Underlying the joke is recognition that fans around the world know mostly what they've seen on Drag Race -- and where Thunderfuck is concerned, that's quite a bit!
After she auditioned for multiple seasons, fans rallied behind the unique, zany star's efforts. That kicked into high gear after her then-partner, Sharon Needles, not only made it onto the show but won Season 4.
Throughout Needles' ascent and Alaska's eventual casting, Drag Race heavily focused on the couple's "kai kai" relationship (gay translation: "partnered drag queens"). After two full seasons of exposure, they were considered by most a gay "power couple." Fans and LGBT press alike were hanging on their every move, declaring the misfits beacons of hope and true love. Such intense fan investment in her personal life was great when times were good, Thunderfuck said, but that eventually changed.
At some point the relationship became rocky, and the dynamic duo decided to go their separate ways. While Thunderfuck said that those close to the couple knew this well in advance, they made their late-2013 breakup as public as the relationship itself, issuing a media statement about it.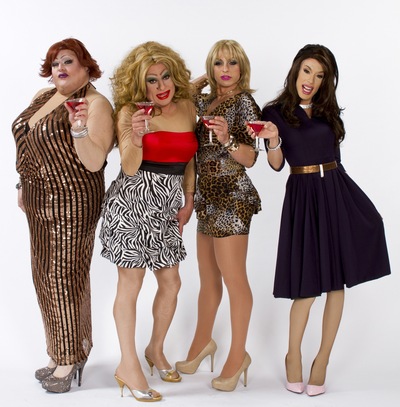 "A lot of people didn't see the press release," Thunderfuck admitted. "It's weird having people know all your business, but the weirder thing is a lot of people don't know. They just know the stuff they know from Drag Race."
Their relationship is more than six months in the past, Thunderfuck stated. Still, new viewers are continually introduced to the relationship as Seasons 4 and 5 live on in global reruns. This has led to some uncomfortable situations for the star.
"Every day I get tweets and messages that are like, 'You and Sharon are such an inspiration,' or, 'You're such a beautiful couple, and I love you both!'" Thunderfuck confessed. "Or I'll be out at a gig and people will be like, 'So how's Sharon?'"
While it can be awkward at times, Thunderfuck wouldn't change anything about her Drag Race experience. After all, she said, letting viewers into her life "was what we signed up for" when she auditioned.
"It's weird that everybody knows things about my life, but it's kind of what we were asking for," she told me with a laugh. "So I'm kind of happy about it -- I guess."
Yup. Sounds like the problems of a "legitimate superstar" to me!
Sex and the City: Live runs through Aug. 10 at the Victoria Theatre. Showings occur Thursdays, Fridays, and Saturdays at 8 p.m., and Sundays at 7 p.m. For more information visit trannyshack.com.
Related
Popular in the Community