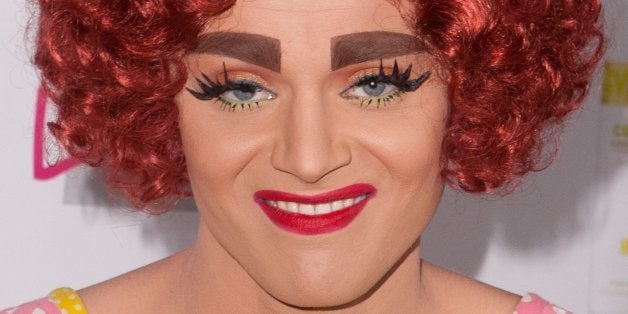 It appears Planet Tammie is very green, indeed! Ever bizarre, yet wildly likable RuPaul's Drag Race star Tammie Brown says she often turns to marijuana for inspiration.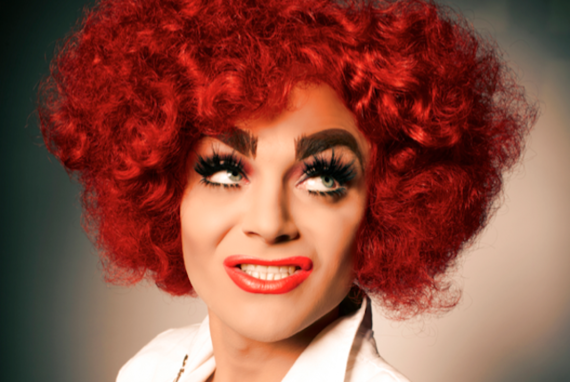 Drag Race has always had its share of zany characters. After all, where else can a bedazzled styrofoam head become an international sensation? But even Season 6 standout Ornacia has nothing on the weirdness that is Tammie Brown.
Brown's trademark rambling, often borderline unintelligible commentary and unique point-of-view made her unforgettable during the reality television competition's inaugural season. The release of her 2009 debut EP, Popcorn, and follow-up Hot Skunks five years later only cemented that she is, in fact, from her own planet. Featuring lyrics written by the performer herself, she shared her songwriting process during a recent interview.
"Sometimes I have to pray about it. You know, like Dolly Parton; she prays," stated Brown, "Sometimes I just relax and smoke a joint, and it'll come to me."
"It's creative that way, you know. And here in California and Colorado, it's OK," she said of marijuana during our videotaped interview below, which is filled with trademark Tammie. "It's a very natural thing for me."
A-Ha! Now it's all making sense, in that hazy, I've-Got-the-Munchies sorta way.
Below: Tammie Brown Gives Her Complete Take on the Season 7 Queens
"I wouldn't consider myself a pothead," the RuPaul's All-Stars Drag Race contestant continued, unprompted. "I don't think the plant is very pretty...I don't. I don't like High Times [the marijuana magazine]...except the Dottie West song 'High Times,' which was a No. 44 hit on the Country Pop charts."
Uhm, totally. Sure. And, being stoned certainly helps make sense of tracks like "Clam Happy" and "Love Pinata" -- or, for that matter, the unique experience of seeing Brown live March 17, 2015, at San Francisco's Oasis Nightclub.
The star's hour-long live show combines storytelling, periodically undecipherable banter and singing with duet partner Michael Catti. The duo is occasionally, though not that particular night, joined by fellow Drag Race alum Kelly Mantle to create the trio Rollz Royces. These cabaret-style performances are new for Brown, though she hopes her career moves farther in that direction going forward.
"Usually I'm doing more of the disco, the club shows," explained Brown, whose solo show just completed a successful run at the Laurie Beechman Theatre in New York City's Times Square, where she'll return in February 2016, "But I want more of the cabaret circuit. I want what Dame Edna has."
(Odd that she should say that, since Dame Edna's Glorious Goodbye: The Farewell Tour -- in which she gave me a much-reported opening night shout-out -- kicked off in San Francisco head-to-head with Brown. The Aussie drag comic plays the Orpheum Theatre through March 22; tickets are now available.)
Despite Brown's busy touring schedule, she naturally tries to keep up with what's happening on the latest installment of Drag Race. The show which launched her career kicked off its much-anticipated seventh season less than a month ago, and though it's sometimes difficult, Brown's tuning in.
"I think Trixie [Mattel] is dynamite," said Brown, for whom I have noticeable affection, "And she's a handsome young man too."
As for advice she would give those currently competing -- and any aspiring to in the future -- Brown keeps it simple.
"Do it from your heart, but don't do it for fame," she encourages. "Fame is vague, and it's going to go away. Don't do it for fortune, unless it's fortune from the heart -- and that's accumulated from your friends and good people you're around."
For More Information, Visit Tammie's Website.