To quote perennial RuPaul's Drag Race favorite Latrice Royale, "Oh, the shade of it all!" From other Drag Race winners to comic peers, when it comes to Bianca Del Rio's razor-sharp tongue, nobody's safe. This past weekend, the drag superstar had some choice words for LGBT icon Kathy Griffin.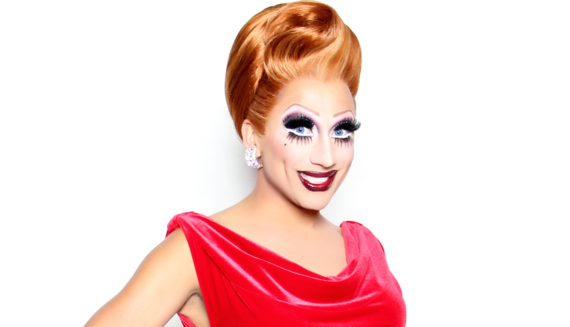 "Girl, I did a gig with her at Disney, and she was such a twat," said Del Rio of Griffin, "$75,000 later, 20 minutes of lame material... Not fond of her. Not fond of her."
Del Rio's dress-down of Griffin began when asked about an appearance on the YouTube series In Bed with Joan Rivers. "She was lovely, she was kind, she was funny as shit," shared Del Rio of Rivers, who passed away unexpectedly late last year. That hour-long video conversation with the Hollywood legend, she said, emphasized one of the "fascinating" facts of the comedy world.
"Here she is, a genius and Joan Rivers, and she couldn't sell out Madison Square Garden," recalled the drag star, "Someone like Kathy, who I think is not funny, is selling out."
The Season 6 winner of RuPaul's Drag Race further made her feelings about (fellow) redheaded funny-lady Griffin abundantly clear in a YouTube interview filmed after a San Francisco performance. Holding nothing back when describing her disdain, she went in on the Emmy Award-winning My Life on the D-List star's comic style.
"There is never a fucking punchline -- ever!" Del Rio said of Griffin's onstage delivery.
"If I'm paying for a comedy show, give me something...I don't like all this bullshit, all this foreplay and you never get fucked," Del Rio stated vehemently, "It's not cute. I don't find it funny. I don't -- never did."
Her feelings about Griffin appear to be the minority within the LGBT community, Del Rio admits. But that doesn't change her opinion.
"The gays love her because she plays the gay card," said Del Rio of Griffin. "'Oh, I love the gays! The gays are...' Fuck you, cunt!
"Lisa Lampanelli is hysterical. Wanda Sykes is hysterical. They're smart people, and they have something to say, which is genius," she continued, "I want to give credit where credit's due, but I don't find [Kathy] funny."
Griffin had good company in the ample shade thrown by Del Rio. She was shadier than a beach umbrella toward other queens, indicating she doesn't particularly love all of her Drag Race sisters either -- including Season 5 winner Sharon Needles.
"There are assholes," she stated, "Like Sharon, who is a fucking douche."
However, she heaped praise upon her cast mates from the May 23 Drag Queens of Comedy show at San Francisco's Castro Theatre. She called contemporaries Lady Bunny, Coco Peru and Jackie Beat "geniusly funny."
"Those bitches are genius," she stated flatly of the legendary entertainers she's "fortunate to call friends." "They're still doing it, they're still funny, they're still important and still earning a living."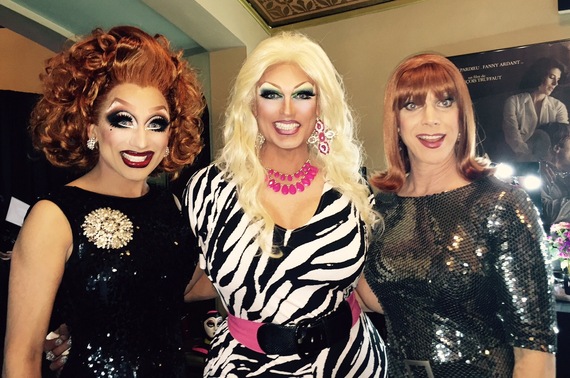 Backstage with Bianca Del Rio, HuffPost blogger Pollo Del Mar and drag comedy legend Coco Peru.
This fall, after wrapping her internationally-acclaimed Rolodex of Hate solo tour, Del Rio announced a series of dates with Beat, Bunny and fellow veteran drag comic Sherry Vine. A film -- Hurricane Bianca, costarring Drag Race alumni Willam Belli, Joslyn Fox and more -- is also in the works.
Between travel dates, Del Rio has tried to keep up with who might follow in her foot-steps as "America's Next Drag Superstar." Though too busy to watch much of Drag Race, she did attend the recent Season 7 reunion. Despite calling the show's current finalists Violet Chachki and Pearl Liaison "lovely," Del Rio is #TeamGinger.
"I'm Southern, so I'm going to have to go with Ginger Minj," she said of the Orlando-based "glamour toad."
Regardless, Del Rio reminds fans some of the reality competition's most successful stars didn't take the crown. "There's Courtney, there's Latrice, there's Adore, of course... Shangela, for Christ's sake," listed Del Rio, "All trucking along and working, brilliant and good at what they do."
Each has realized the series is "the golden ticket," Del Rio said, found their niche and work hard to continue moving forward. Competing is just the beginning, she suggested, making clear it's what you do after that counts.
"I think it's a great opportunity, and it's amazing, if you use it properly," Del Rio concluded, seemingly as advice to whomever takes this year's crown, "So God bless the next bitch!"
Popular in the Community