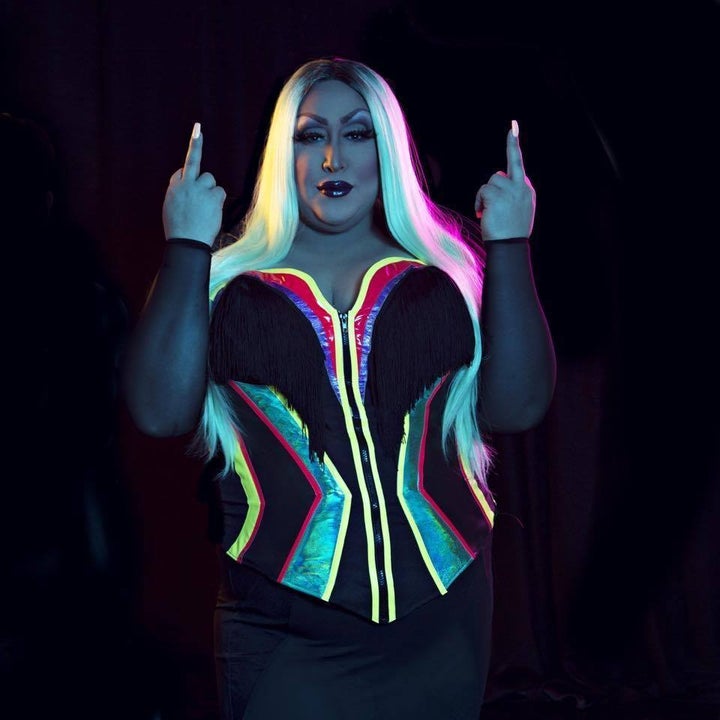 Vicky Vox is a veritable force of nature. She's a powerhouse performer, a whip smart recording artist, and one of the most wisely introspective girls I have ever spoken with. From getting her shot from one of the biggest drag fans around to learning how to perform as her own unique self, Vox kept it real, even when we spoke about "RuPaul's Drag Race" and a possible DWV reunion. In a business that sometimes has in numerous game players, Vicky Vox is a game changer
For those that have never seen Vicky Vox on stage, how would you describe your performance style and "drag" as a whole? Well, I wouldn't. Since your asking though, I'm a phenomenal..ly lazy effervescent crossdressing clown with a boss attitude.
You are known to perform some of the most creative and interesting tunes. How do you choose your material? Any favorites that really stand out? My rule for choosing a performance moment is pretty simple. The material has to "get" me; Not "get me" as in comprehension, but "GET "me, like move my ass or my heart. I wouldn't dare attempt to elicit a response or evoke an emotion without a purpose.
How did Vicky Vox get her start in the extremely competitive Los Angeles-esque drag scene? It was all an accident; I was fucking around! Some one told me to audition for a show Detox was hosting. I was late, I was awful, Detox threw her shoe at me! We have been friends and working together ever since. Around that same time, Kelly Osbourne fought for me to get my first regular gig at Beacher's Madhouse at The Roosevelt Hotel in Hollywood. Kelly literally stomped feet into the ground and demanded Jeff Beacher hire me. Thanks, Bitch!
It's so hard to stand out in the Los Angeles adjacent areas of California and in drag; how have you carved out your own niche? I started off trying to be somebody else, Jackie Beat! I quickly learned that was not the way to go. I shut the fuck up. I watched the other girls every move. I saw how everyone that was making good coins had some thing in common. They knew who they were. They knew what they were selling. They knew how, when, why and where. It was all about point of view and I had to come from my perspective. You can't tell me I'm wrong if I'm telling you this is what I'm going through.
What are some of your career highlights so far? SOME? Hmm… Performing at Life Ball. Walking MarcoMarco's runway. Performing at some shitty hole in the wall bar called Sheddy's for nickels. Meeting the coolest bitch ever in Australia who made me wool socks from yarn her neighbor died and she gave me a can of peaches from the cannery she helped save. I've been able to work with some really astounding people in the craziest of circumstances. It comes as par for the course so sometimes I forget how crazy my life is and finding highlights is hard for me. Wait, I should probably say "Magic Mike XXL".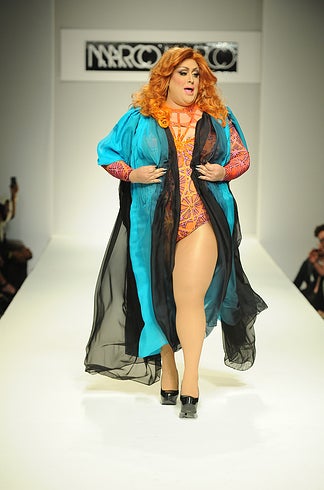 What is left that you want to achieve as Vicky Vox? Any aspirations to be on "RuPaul's Drag Race" perhaps? I'm a believer in dreaming bigger. I want an actual band again. I'm thinking of calling us Vicky and The Fun Time Pals. Television is cool. Movies are great. I've been saying I'm working on an album my whole life. "RuPaul's Drag Race" would be a blessing. For every action, there is an equal and opposite reaction. Let us leave it at that.
With Willam and Detox, you merged to create "DWV" and had some pretty big hits. Any chance of a reunion? You gals are like The Supremes of the drag community! I giggle at the irony of "never say never." I have no idea what the future holds. We had a wild ride.
Speaking of "Drag Race"several California girls have competed and gotten a high visibility from the show. . How do you think the show as a whole has been for the drag community? CHANGED THE MOTHER FUCKING GAME. I'm not going to say to much about this because some of the fans of the show are grotesquely vicious on social media. Glass ceilings have been broken. Doorways have been opened. Careers have been made and unmade. Change is necessary for growth. Where there is growth there are new demands. Drag is no longer what it was. Drag is not yet where it will be. You have the "shuck and jive" drag for reality television now a large and very visible portion of all the different drag that makes the subculture an actual culture.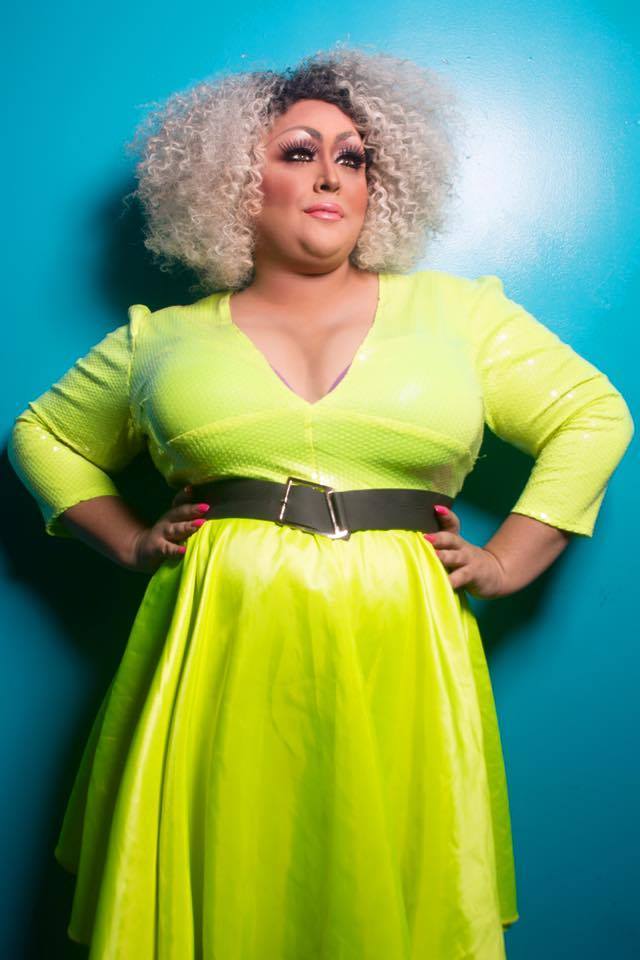 What does your male alter ego do when Vicky is not on stage? Order delivery and play with my dog, Biscuit. I also watch all the "Real Housewives". I'm obsessed with make over shows. If it included plastic surgery I'm watching it. Oh, and I meditate a lot.
The gay community has had a very trying 2016. What do you think are the biggest issues facing our community and what do you see as your part in helping to address them? The biggest issue I have seen with the gay community is the strange phenomenon of taking the racism, bigotry, body shaming, HIV status shaming, misogyny, and self loathing that we have all been fighting against most of our lives and projecting it onto each other. The phrase "Well at least I'm not that gay." is a huge problem for me. I'll combat this shit the only way I know how. I'm going to be my god damned self in all my fat fabulous glory and call it the fuck out.
What does "pride" mean to you? Are you asking about Pride events? I think they are necessary. I also believe they could be doing more to show solidarity and less to sell tickets to a carnival. Other wise "pride" to me is the ability to live authentically. There is strength is truth.
Most importantly'-where can people see you perform?! You can find my ass performing where ever they are willing to pay me. From San Diego to Riverside to Ontario to Santa Ana to Long Beach to DTLA to Hollywood proper and West, This Jersey girl calls Southern California home. If you email info@thevickyvox.com we can workout the arrangements to come to where ever the hell you me.
https://twitter.com/TheVickyVox
Photo 2-Courtesy of Marco Marco
Photo 3-Courtesy of Davide Laffe
Calling all HuffPost superfans!
Sign up for membership to become a founding member and help shape HuffPost's next chapter