Ever the showgirl, Shannel first wowed us with her makeup skills and elaborate costuming during the first season of RuPaul's Drag Race. When Drag U premiered last summer, we were thrilled to see her grace our TV screens once more as part of the Ru's colorful "fal-culty". Now she's back for season 2 of the hit series, working on that tenure and ready to change lives through the power of Drag. We couldn't be happier.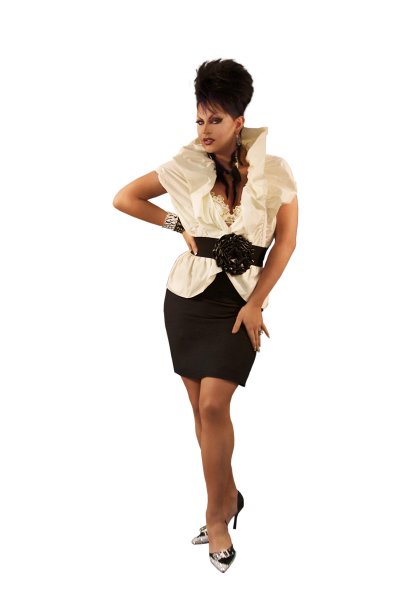 JG: What is your favorite part of being a RuPaul's Drag U professor?
Shannel: As a Drag U professor I love the challenge of "the Makeover". Recreating beauty both internally as well as externally. Changing these women's lives and making them realize they do have the strength to confront these issues and see their beauty.
JG: This is season introduces a number of new professors. Are things any different in the faculty lounge?
Shannel: Honestly, no. As for all of the professors - we all work very well together and have the same goal in mind: helping these women!
JG: The past week's episode dealt with dating skills. What 3 items should a woman on a date have in her purse?
Shannel: Breathmints for sure, a tube of lip-gloss, and if all else fails mase or pepper spray, a girl just never knows where a man might take her!!!
JG: Sex on the first date, yay or nay? Shannel: Never, ever sex on the first date, if you come across that easy to the man then by all means you are that easy, but he won't take you seriously and in turn you end up being used as nothing more than a play toy; however, for some women this may be what they want.
JG: What should a woman never leave home without?
JG:RuPaul's Drag U requires that students perform on stage in order to "draguate". How do you bring a shy personality out of their shell?
Shannel: Essentially I have found that no matter how shy the woman is, when she sees the transformation, she instantly becomes the super diva. I think all women have the power within them, but unfortunately they don't realize it. We simply help to show these women that they have the strength and the power, even though they just don't realize it, or felt as though they had lost it. The power of the makeover is the most beautiful fairy dust a girl could ever wish for!!JG: Any simple tips/tricks on how a woman might pick her spirits up on a day when she's down?
Shannel: I find it very important for all women whether single or married, children or no children to take a day dedicated to themselves. Go get your hair done, get a manicure, sit in the bathtub with a great book, or just pour a glass of wine and relax. I find it always helps me to realize when I am down that no matter how tough things may seem, there is always someone else out there in a much worse condition than I am, perhaps a bad way to think, but it always helps me.
JG: What women inspire you?
Shannel: Women of power and substance inspire me. Oprah Winfrey is the most amazing woman ever to me. I like women who are confident and successful, without being bitchy and dominate. I believe a woman has the most amazing power to change the world with just a glance, utilize this power to your benefit, and I promise it will work.
JG: Tell us about the first time you ever did drag.
Shannel: Halloween at age 15 in West Hollywood - dressed as Elvira, I entered a contest and won. I thought to myself, "wow you look pretty damn good." My career took off from that point. I always was extremely artistic and creative through painting and drawing. I figured that drag was just a further extension of that. If I could use my face as a blank canvas and fill in the lines with paint, then it would be no different than painting a picture. Shannel was born!JG: If you weren't a fabulous drag queen and TV personality, what would your career be?
Shannel: One of two different careers -- first being an interior designer, I just love to decorate and when it comes to interior design I have a great eye for it or I would love to do special effects makeup for movie studios. I love the gruesome and grotesque makeup using prosthetics and blood. Total opposite from what Shannel does.JG: Are you still performing in Vegas?
Shannel: No more Vegas for me. My show ended there about 4 months ago. I gave them over 7 great years of shows and then the show was cancelled and they didn't even give me the common courtesy of a phone call! Pretty shady, but a learning lesson. I still go to Vegas often though to work with my amazing costume designer Coco Vega, she makes almost everything I wear, and is the best designer ever!JG: How have RuPaul's Drag Race and RuPaul's Drag U changed your life?
Shannel: My life has changed in every aspect, from the financial gain of shows and traveling to the prestige of being recognized all over. Most importantly though I love when I receive emails from people of all ages saying how I have helped to inspire them in one way or another. I believe the ability to use a "star power" for a good cause is the best thing ever. I am very blessed to be where I am in my life and have worked extremely hard my entire life to achieve the goals I have set for myself. This is only the beginning - there's much more to see and I await the future.
Popular in the Community