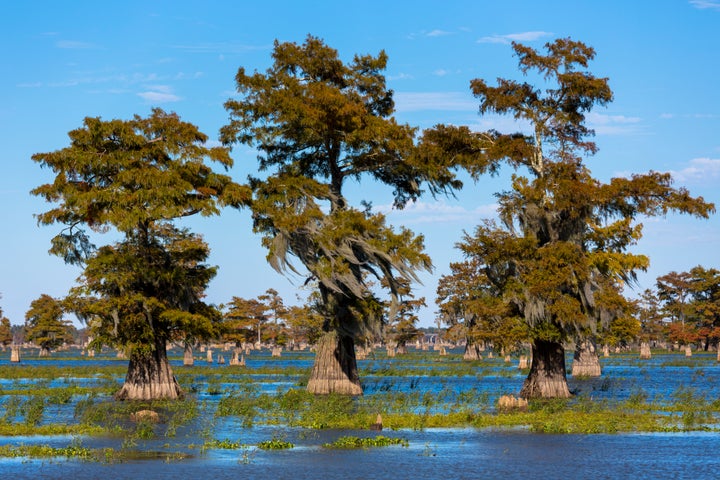 WASHINGTON ― President-elect Donald Trump is vowing to "drain the swamp" in Washington. He talked it up during his campaign, and when a couple of his advisers suggested Thursday that it's not a priority for him, he responded by reaffirming his commitment to purging the city of its proverbial alligators.
But alligators, whether Washington-based or not, have to live somewhere, don't they? And come to think of it, aren't swamps kind of important? Ecologists say the president-elect is giving them a bad rap.
"It's a terrible analogy to use 'draining the swamps' because, literally, a swamp and its foliage and its growth basically hold land in place," said Jeffrey Chitek, the head tour guide at New Orleans Kayak Swamp Tours. "When they essentially drain the swamps down here, by use of levies and water defense programs, what they are doing is cutting off the lifeblood to these habitats that keep Louisiana in place."
Chitek, who has led more than 1,000 kayak tours, said his swamp is home to alligators, freshwater mussels, huge varieties of turtles, more than 200 types of birds, bobcats, white-tailed deer and more than 20 kinds of snakes. Bald cypress trees thrive there too, and they withstand flooding better than all other tree species.
"Donald Trump is not very environmentally considerate anyway, but that's a crazy swamp metaphor," he said. "It's kind of an anthropocentric view of nature as a wasteland, rather than an essential ecological feature to keep together landmasses and deter erosion and keep saltwater out of freshwater regions."
Jango Bhadha, an assistant professor at the Everglades Research & Education Center at the University of Florida, said the Environmental Protection Agency has been pushing for the opposite of swamp draining.
"Restoring wetlands allows biodiversity to grow and thrive," he said.
Bhadha, whose research focuses on soil, water and nutrient management, said swamps are such an integral part of Florida life that Ben Hill Griffin Stadium at his university is known as "The Swamp." It got its nickname from a past football coach who said it was such a humid environment for opposing teams to play in, only alligators could survive.
He said he's heard people say "drain the swamp" in the context of politics, too, during "break room conversations." And it gives him the chills. His description of what it would look like if an actual swamp were drained was akin to the aftermath of a nuclear attack (which, coincidentally, is another image Trump required us to entertain on Thursday).
"Any fishes would be gone instantaneously. Any sort of aquatic critters would be highly stressed. There is some aquatic vegetation that would be completely wiped out," Bhadha said. "A completely different landscape can emerge."
So, here's to swamps. May they be less maligned and more appreciated in the new year.
Before You Go
Deadly Louisiana Flooding Photos
Popular in the Community