Last week, the S|2, Sotheby's Contemporary Art Gallery debuted its selling exhibition I Like It Like This, which features work from African American artists, along with a curated playlist by Grammy-Award winning rap artist Drake. On view now until June 12, the 36-piece exhibition encourages visitors to listen to Drake's song selections at listening stations through Beats By Dr. Dre Pro Headphones. The show brings together over 70 years of influential Contemporary black American artists, including Kara Walker, Betye Saar and Jean-Michel Basquiat.
As one of the first mainstream exhibitions to incorporate of-the-moment hip hop music, the show serves as a crossroad for how black art and black culture are connected. Specifically through music, television, film and social media, black art is not just for the "African American" museum space. And here's where Drake's curated playlist comes to life. In I Like It Like This, the rapper matches a Jacob Lawrence piece (The Lovers 1946) with the song Lucille by singer Anthony Hamilton, and Rihanna's hit single Bitch Better Have My Money has been paired with a Lorna Simpson portrait. Though it's hard to understand how some musical pairings are relational at first glance, it's precisely what makes experiencing art so abstract and personal to the individual. In an interview with Vulture, Drake says that his creative process for this collaboration was to think of each painting as a potential album cover and match songs with what he felt complimented each other.
In general, black art is going through a "transformative period," thanks to huge influences like Drake, whose interest in learning about how to appreciate art, has helped market to a wider demographic. (Think about the influence of Beyonce's selfie with the Mona Lisa and how many people flocked to Paris to take that same picture). Public consumption of art mixed with the biggest drivers of culture are known to promote endless opportunities. Moreover, it spurs dialogue and change. So, there's no denying that Drake's involvement with Sotheby's has attracted a younger crowd of nouveau art aficionados and dilettantes, which made (at the very least) the opening night a success. As proof during the opening party co-hosted by MILK studios, the crowd was a mix of people from all different backgrounds, including: Sotheby's hand-picked clients, many of Drake's friends like Vashtie Kola who also DJ'ed the event, to Andy Warhol muse Jane Holtzer and other notorious downtown socialites.
Perhaps the most notable show participant was the lovely Betye Saar who was posing for pictures in front of her mix media piece called The Birth of Blues, 1926, which is a 19th century washboard with a clock serving as the handle and a collage-like picture of a blues band engraved on the washboard. Saar's contributions to the art world has won her many awards including the prestigious 2014 Edward MacDowell Medal. Her photo-op with Drake has since went viral.
By the end of the opening party, as guests slowly made their way downtown to Milk Studios (where the official afterparty was being held), photos and videos from I Like It Like This were already circulating on social, surfacing on millenial fan pages and other unique brand pages that wouldn't of known about such amazing black artists if Drake wasn't involved. And that is what's most important: disseminating historical pieces of culture to new audiences.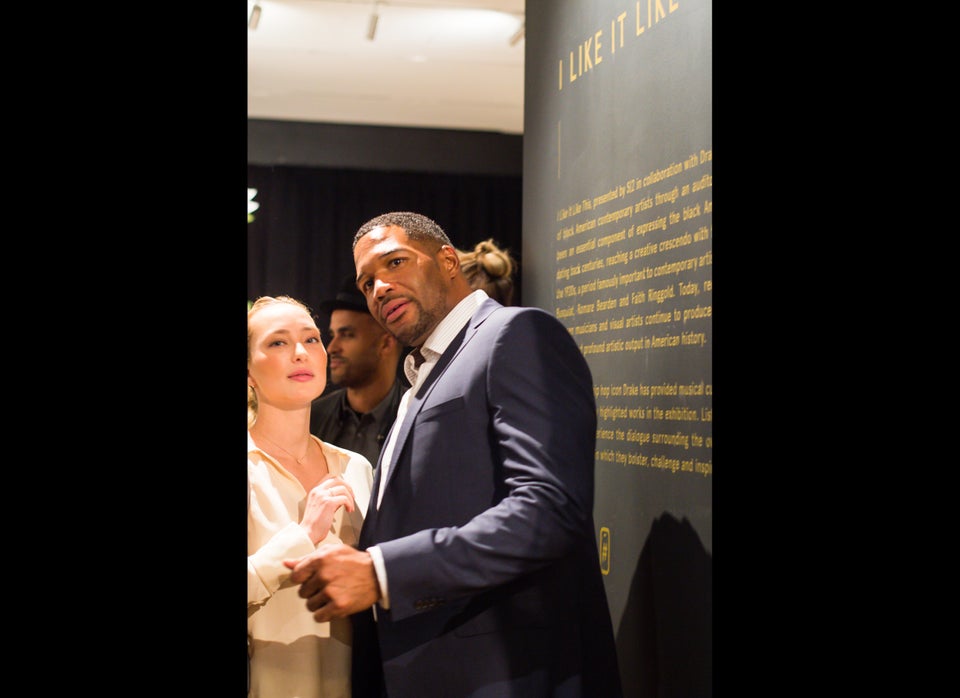 Drake x Sotheby's Exhibit
Related