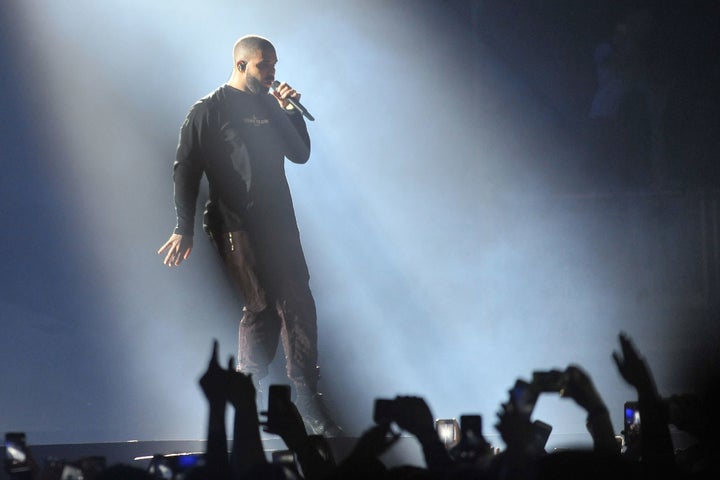 Started from the bottom, now he's fake news.
Drake, the Canadian rapper whom people love to hate, has responded to the rumors spread this week that he told a fan to take off her hijab while he was performing in London on his Boy Meets World tour.
Although the woman in the crowd can't be seen from the video and Drake never mentions the words "Muslim" or "hijab," people assumed that he was talking to a Muslim woman in a hijab and denounced the rapper.
But, according to a new Instagram post by Drake on Friday, the information shared with the video is misleading. The rapper claims that the woman he was talking to was wearing a "jacket and a winter scarf" ― not a hijab, as some fans had assumed. 
"I make a point every night to end my shows on tones of unity and love," Drake wrote Friday evening. "So, to find out that I am being utilized in a fake media story about me disrespecting Muslims is devastating to me."
"I am well aware of what a hijab is and I would never make a disrespectful comment like that in my life towards someone who is wearing one," Drake explained.
"I am proud that my closest friends and fans come from all different religions and races. Perhaps whoever made up this story should spend more time learning about other cultures and less time trying to divide us."
Only people standing near the stage would know for sure whether the woman Drake was talking to was wearing a hijab, but the anti-Muslim comments Drake is being dragged for certainly don't reflect the words of wisdom he imparted on his fans at another concert.
"So tonight, my proudest moment isn't selling tickets or having people sing my songs. My proudest moment ... if you take a look around in this room, you'll see people of all races and all places," the Canadian said to his fans during a show.
"If you think one man can tear this world apart, you're out of your motherfucking mind," he added. "It's on us to keep this shit together. Fuck that man."
Watch that full speech below:
REAL LIFE. REAL NEWS. REAL VOICES.
Help us tell more of the stories that matter from voices that too often remain unheard.
BEFORE YOU GO
PHOTO GALLERY
Celebrity News & Photos: 2017