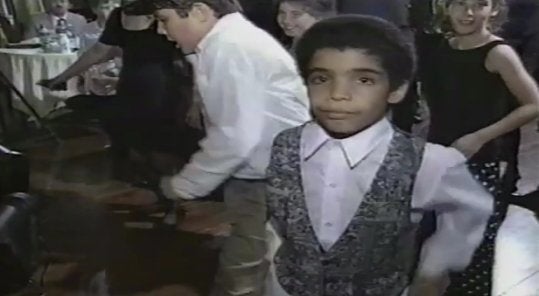 It's a big time for Drizzy Drake! The rapper kicked off the weekend by releasing the videos for both "HYFR" and "Take Care," the latter featuring Rihanna.
The video for "HYFR" (which stands for "Hell Yeah, F-----g Right") is certainly the more notable of the two, as it opens with a young Drake dancing and saying "Mazel Tov." After a dose of baby Drake and brief stop by temple, the party really kicks off.
Yep, there's Drake making his friends drink more than they should (both Manischewitz and Patron, of course). And there's the hora! Just like any bar mitzvah we've ever attended. What fun.
A number of members of Drakes circle appear in the video for "HYFR," including Canadian rapper and producer OB O'Brien (he's the gentleman in the blazer in the outdoor scenes). Of course, Drake's YMCMB boss Lil Wayne also stops by the celebrations to provide his guest verse.
The visuals for "Take Care" have none of the carefree tomfoolery of "HYFR," but instead feature former real life lovers Rihanna and Drake looking longingly into the camera and hugging each other. For what it's worth, it looks like a pretty good hug.
WATCH: Drake - HYFR (featuring Lil Wayne):
WATCH: Drake - Take Care (featuring Rihanna):
CORRECTION: A previous version of this article identified the gentleman in the blazer in the outdoor scenes of the "HYFR" video as Noah "40" Shebib. A commenter raised doubts as to whether or not the man in the video is actually Shebib, and it appears he's actually OB O'Brien. The error has been corrected above.
REAL LIFE. REAL NEWS. REAL VOICES.
Help us tell more of the stories that matter from voices that too often remain unheard.
BEFORE YOU GO