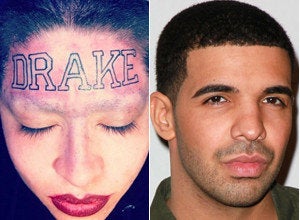 She tatted his name on her forehead, and, as promised, Drake has confirmed that he knows she is for real. He's not 100% pleased, though.
"I want to meet her and understand what happened," he told LA radio host Mando Fresko. "That's cool though, I feel you 100%, that to me is absolutely incredible."
As for the artist, Kevin Campbell, Drake put out a warning.
"The guy who tatted is a f*cking as*hole though, I will tell you that," he said. "I don't f*ck with that guy. F*ck you to that tat artist by the way. And you should lose your job and should never do tattoos again and I don't f*ck with you. And if I ever see you, I'm a f*ck you up."
"She was really psyched about it. She had the sh*tty font all picked out on her iPhone ready to go and was pretty adamant about putting it on her forehead," he said. "She acted as if she had planned it out for a while, but I'm not really sure how much extended coherent thought could actually go into getting such a stupid tattoo on your forehead."
However, that mea culpa will probably get drowned out by this: "The funny thing is, I didn't know who Drake was," Campbell admitted. "I figured it was her hood or some shit, not some goofnugget R&B dude."
Support HuffPost
The Stakes Have Never Been Higher
Popular in the Community