It's not everyday that a city official sounds the alarm by claiming a city plan could "inadvertently displace tens of thousands" of New Yorkers from one neighborhood alone. That's what a report from City Comptroller Scott Stringer spelled out last month, undermining the promises of Mayor Bill de Blasio, who insists his 'affordable' housing plan will help protect from, not fuel, gentrification. This sort of displacement, driven by developers and embraced by the mayor, should be fought at every turn. However, when longtime neighborhood groups back city hall and development firms are asked to capture the cultural spirit of the city, eyebrows are raised.
So who's in favor of the mayor's plan, which includes the rezoning of key neighborhoods like East New York (the subject of Stringer's report), East Harlem and some areas of the Bronx?
In El Barrio (East Harlem), there have been some contentious debates around rezoning. Some neighborhood groups, like immigrant-led Movimiento Por Justicia en El Barrio, have been fighting the rezoning for some time. Last month, during a city-hosted "scoping" hearing at Hunter's School of Social Work on East 119th street, dozens of Movimiento members showed up to protest moments after City Council Speaker Melissa Mark-Viverito had arrived to plug her East Harlem Neighborhood Plan, an alternate plan which asks for a few concessions but still accepts rezoning.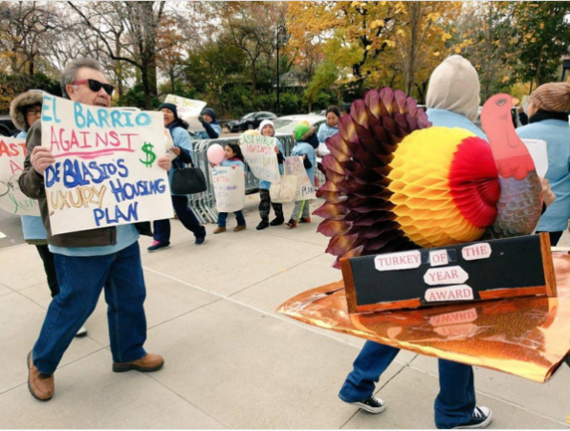 Members of Movimiento Por Justicia en El Barrio protest outside Gracie Mansion with an honorary 'Turkey of the Year Award' for Mayor Bill de Blasio (Photo: Andy Mai/Daily News)
In a statement read by some of its members, Movimiento said, in part:
"We are 100% against the Mayor's luxury housing plan because it's a plan that favors big developers and rich landlords. That is why REBNY (the Real Estate Board of New York) supports the Mayor's luxury housing plan. His plan in no way favors the simple and humble people that live in our beloved Barrio. Quite the opposite, the result of his plan will be the displacement of our community from East Harlem."
Key local groups support the rezoning of El Barrio, whether by the city's plan or Viverito's 'community' plan (which is really her plan): Community Voices Heard, Union Settlement, El Museo del Barrio, etc. El Barrio Unite, a group that opposes rezoning, recently put one of those groups, El Barrio's Operation Fightback, on blast with an open letter. In it, El Barrio Unite's Roger Hernandez asks why the group backs a proposal that will "gentrify and displace our poorest families."
"Why do you support this plan to rezone El Barrio? You do realize that very few units of this Mandatory Inclusionary Housing Rezoning Program will be allocated for families making less than $ 32,000. You do realize that community nonprofit organizations are being iced out of the action by the big private developers who will be taking advantage of these $ 48 Billion public monies directed at households making greater than $ 45,000. You do realize how this will entirely change the make-up of El Barrio--our people, our clubs, our neighborhood. What is it about this rezoning plan that appeals to El Barrio's Operation Fight Back and why?"

Operation Fightback, some may remember, co-developed an artist residency space located in an old school building, now known as El Barrio's Artspace PS 109. The controversial project, which had the support of key local politicians, like Viverito, was initially billed as an effort to create affordable housing for artists but has been criticized for not providing space to enough local artists and for potentially adding in another layer of gentrification--that of outside artists.
The intersection of art and gentrification has also come up with a group of artists who've called out a city "cultural plan" that aims to define and harness the power of the arts without talking about displacement. They point out that two out the four partners for CreateNYC are real estate development firms: James Lima Planning + Development, who they say worked on and stand to benefit from the city's rezonings, and BJH Advisors, who helped plan the controversial BQX connector streetcar (which was supported by developers who're throwing cash at the mayor). They sent me a statement, which reads, in part:
"As working artists and community activists, we are concerned that this plan doesn't address the multiple crises facing the arts community in our rapidly gentrifying city, and we are also disappointed that actual artists, makers, and cultural workers were not the original shapers of this plan."
On the BQX streetcar, the rezonings and Mandatory Inclusionary Housing plans of the city (the mayor's 'affordable' housing plan):
"Each of these projects spell displacement: the MIH rezonings will raise the average rents to unaffordable levels in poor communities, and the BQX trolley car will destroy the working waterfront in Brooklyn and Queens, which will cause mass displacement, ironically, of working artists' studios. In NYC, there is a problematic relationship between real estate and art (for example, the Brooklyn Museum hosted a real estate conference in 2015, and real estate developers invented the "piano district" in order to rebrand the South Bronx as a high-rent "artsy" neighborhood)."
One of the artists who signed on to that statement was Jenny Dubnau, an artist who grew up in Washington Heights and is now based in Queens. Dubnau says that displacement is partly "fueled by the appropriation of 'artiness' by the real estate industry... it's upsetting to see that two real estate development firms are consultants on the plan." She contends that "we should be questioning the connection between art and gentrification, not furthering it." Another signatory is Alicia Grullon, a visual artist based in the Bronx. Grullon says that with the incoming developer-in-chief in the White House, any cultural plan should have "foresight and be supportive" of groups that serve communities of color. "Real Estate and economic development has no place in this. They only see profit and use displacement as a tool in continuing inequity."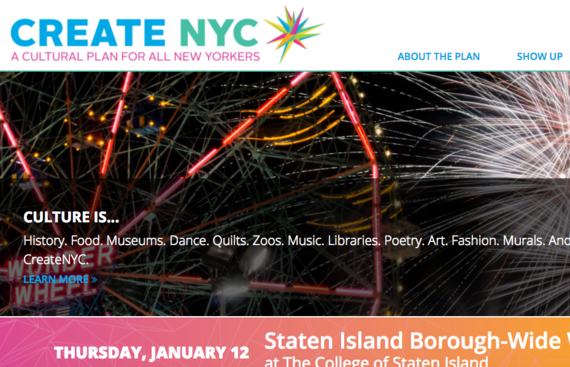 "CreateNYC" is a city-led 'cultural plan' supposedly developed with community participation but with developers as key partners
Shellyne Rodriguez, a Bronx-bred artist who led protests against the aforementioned "Piano District", says there's an "overwhelming disdain" for city's housing plan. "Poor and working class communities of color have rejected that facade of a plan which plants unaffordable development in our neighborhoods and it is widely accepted that this is the city's attempt at aiding the gentrification of the city."
The night of the scoping hearing in El Barrio, Movimiento also drew a line in the sand. "We, as the community of East Harlem that we are, are unconditionally against the Mayor's rezoning plan," one of their members said. "We do not want any of his displacement plan. We also do not want trees or parks in exchange for his luxury housing plan. We do not want what you call 'beautification plans' because our beloved Barrio is very very beautiful and we want to preserve it exactly the way it currently is."

"There are others that are willing to accept crumbs in exchange of the Mayor's luxury housing plan. But we are very different."
Popular in the Community