9:40 - Wednesday September 17, 2014
59° 19.396 n, 2° 58.563 w - 14°C
After lashing down the drawing machine at the ships bow we sailed out of Pierowall Marina at 9:40am, two hours later than we had intended to sail due to heavy fog. We had awoken early to get things ready to leave, but the fog was too thick and we waited hoping it would lift. Finally the Captain decided we would push off and hope for the best. We sailed out of the bay and north to round Noup Head. The fog restricted visibility to between ½ to 1 mile at best for the first part of the sail.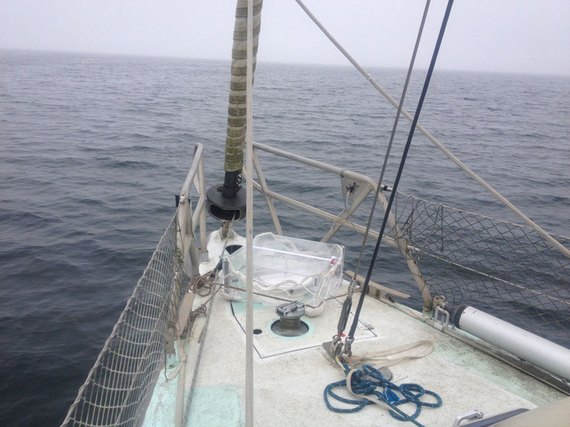 Soon we were sailing through open sea between the northern islands of Orkney and the Orkney Mainland. Through light rain and dense fog we continued sailing south alternating between sail power and motoring when the winds go too strong or too weak.
We were sailing in seas with waves swelling more than 2 meters high to our starboard side before gently flowing beneath Selkie and continuing on towards land. The large but gentle seas were slowly traced as thin blue lines by the drawing machine, which held its post as we took turns on watch.
Relieving the Captain I took the helm so she could check our bearings and the radar. Celia (Captain of the Selkie) explained to me that when sailing in fog you sail entirely from the compass because staying on course was of the utmost importance since we could not see land. Letting the lookouts on watch warm of me of unknown dangers I fixed my eyes on the compass and did not stray from the bearing of 220°.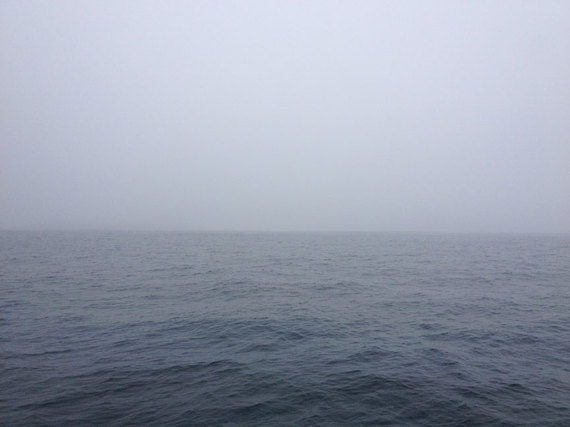 As we sailed along Mainland Orkney we caught glimpses of the coast and the waves cresting on its rocks. Just before we reached our last waypoint nearest to Stromness we hear a distant blast of a large ships horn. The Captain checked the radar and said there was something heading towards us at about 11 o clock, we strained our eyes to see, everyone on deck, nothing appeared. A second blast came MUCH LOUDER AND MUCH CLOSER than the first we all squeezed our grips tighter and squinted to see any hint of the ship, but all we could see was dense fog with ½ mile of visibility. Soon we could hear engines of a large vessel off of our starboard side and the Captain quickly corrected our course. The sounds of the engines slowly faded and none of us ever even saw a shadow of the ship that had passed.
Finally we sailed between a red and a green Cardinal Buoys marking the opening of the harbor. The picturesque village of Stromness slowly came into view. It was remarkable and even more beautiful in the fog with two church steeples raising above a tight row of old stone homes, each with a boat ramp that came down and met the sea. Certainly my favorite town in Scotland thus far and I couldn't have been happier to see it for the first time by ship.
16:58 - Wednesday September 17 2014
58° 57.626 n, 3° 17.896 w - 15°C
Popular in the Community