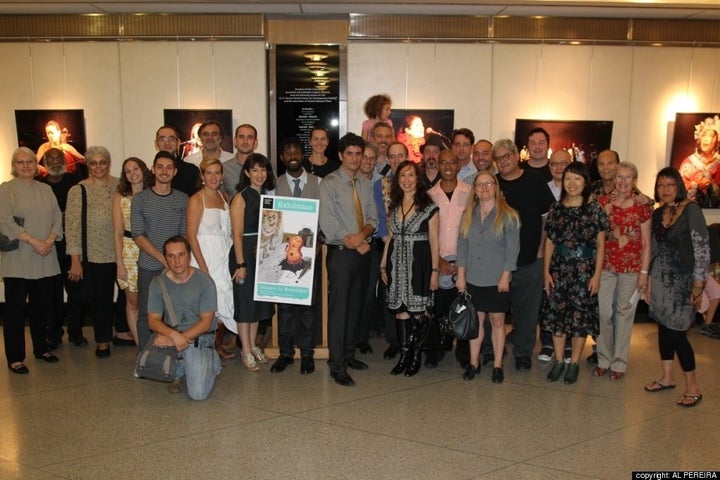 Where does inspiration come from?
The prompt itself sounds like a would-be children's book. Fittingly, this Sunday at the Brooklyn Public Library four picture book writer/illustrators, as well as one editor, posed answers to the question. In conjunction with the "Drawn In Brooklyn" exhibition up there now through January 23, panelists R. Gregory Christie, John Bemelmans Marciano, Sophie Blackall, John Rocco and Melanie Cecka tackled the question as to what inspires them. And while answers from panelists varied, the varied nature of the responses themselves was, well, inspiring.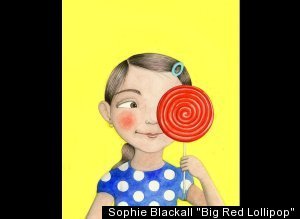 Sophie Blackall gave a particularly exciting answer to the proposed question. Just a few things she listed included: Rome, meringues, suitcases, flea markets, suitcases from flea markets in Rome, Japanese books, Japanese prints, clouds, type, type design, Vogue, Vogue cover design, antiquated anatomical studies, disembodied dolls, whales, Moby Dick, taxidermy, tattoos, engravings, Little Nemo, comics, letterhead, backs of heads, soles of shoes, feathers.
Like her list of inspiration, Blackall's art has a patchwork quality, living somewhere between Edwardian fashion plates, Japanese woodcuts and a more colorful Chas Addams. Her work is delightfully subtle with an almost subversive edge -- charming, but not too delicate.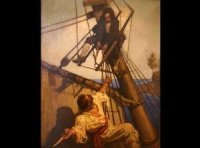 John Rocco, in contrast to Blackall's meanderings, spoke passionately about two specific illustrators: N.C. Wyeth and Howard Pyle, two iconic American illustrators from the turn of the 20th century. The composition, weight, dramatic lighting and shadows that Wyeth, Pyle and other artists in the Brandywine School mastered taught Rocco many of his tricks. Rocco also noted the movies as a prime inspiration for his artwork.
Different still, Gregory Christie finds inspiration not from things, but places. All he needs are his paints, a canvas and a radio, and Christie can get to work. As a result, he has traveled from Thailand to Canada to Oregon creating his distinctive paintings.
These three different approaches to the idea of inspiration led me to think about how the concept applies to the unique medium of the picture book. As a synthesis of text and image, the picture book must spark a dialogue between two distinct storytelling tools (that is, both sequential pictures and words). In this way, picture books provide a great opportunity for thinking about inspiration because the words in the text must inspire the pictures (or, in more unusual instances, pictures must inspire the text).
On top of this, picture books carry the reputation of inspiring children in various ways -- inspiring them to play, to imagine, to draw, to build, as just a few examples. The way we interact with picture books, too, carries this burden because parents usually read picture books aloud to a child.
"It's a three way conversation," John Marciano said at the panel, referring to the fact that picture books form a relationship between child, adult and text. There is a common perception that with performance-oriented storytelling an adult can inspire a child in various ways. The text interacts with the child vis-a-vis the adult; the adult interacts with the child vis-a-vis the text; while the text also interacts with the pictures and, of course, vise-versa.
Melanie Cecka, Bloomsbury's editorial director for children's literature, noted that despite their interdependence, each element of a picture book must somehow also retain its own independence.
"The words should makes sense to a child with their eyes closed, falling asleep," Cecka said. The pictures, too, must make sense if you leaf through the pages.
The "Drawn In Brooklyn" exhibition at large provided great insight into this dynamic. The exhibit features incredible original illustrations from 36 different artists living in Brooklyn, both "exciting newcomers" and "publishing legends," as the catalog states. Highlights of the show include a large painting by Brett Helquist from "A Christmas Carol" (the vivid hues of aquamarine and sea foam move on the page), a few cows by Betsy Lewin (the gestural lines come alive), and three pieces by Peter Brown (his deft use of shadow make the figures seem three dimensional).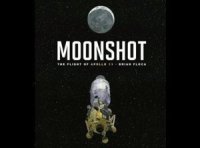 The standout image, though, was an 11 by 14 inch painting in gouache by Brian Floca from his "Moonshot: The Flight of Apollo 11." Against a mesmerizing background depticting outer space, a shuttle floats in the bottom center of the image. The space shuttle looks at once massive by human standards and minuscule in the context of space. A flurry of tiny white dots liters the picture. In the top center of the image, however, a neat, black rectangle sits absent of little white stars, in the place where words would be printed in the book. Seeing the original artwork without words like this, I was free to imagine whatever words I wanted to fit in that space. Indeed, the picture inspired words.
Has an image ever inspired you to write? Has a book ever inspired you to draw? How have picture books inspired you?
"Drawn In Brooklyn" can be viewed now through Jan. 23 at the Brooklyn Public Library, Central Library, Grand Army Plaza, Brooklyn, NY 11238.

Support HuffPost
The Stakes Have Never Been Higher
Related
Popular in the Community