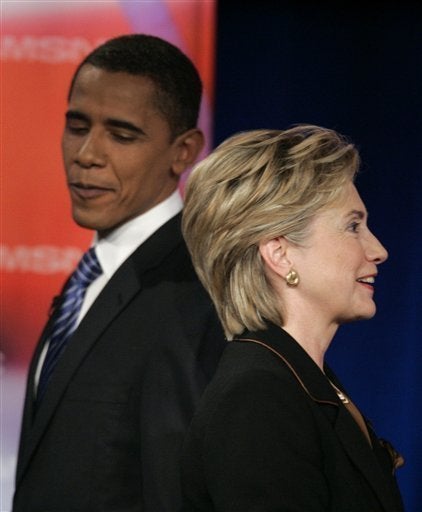 DNC Executive Director Tom McMahon issued a response to this article, which you can find at the end of this post.
The longer the primary fight between Hillary Clinton and Barack Obama stretches out, the more it will weaken the fundraising capacity of the Democratic National Committee, a crucial source of financial and staff support for the general election nominee.
While energized rank and file Democrats have turned out in record numbers, the DNC, nevertheless, ended 2007 nearly broke, after embarking on two expensive projects -- the building of a national voter file and a 50-state staffing program -- according to reports filed at the Federal Election Commission.
DNC chair Howard Dean has not been able to transfer the fundraising prowess he demonstrated during his 2004 presidential bid to the national party.
Some sources said many donors stopped contributing in retaliation for the failure of the newly elected Democratic House and Senate majorities to stop, or force major cutbacks, in the war in Iraq. In addition, many of the donors Dean brought in during the 2004 campaign have transferred their loyalties to Obama.
That leaves unexplained, however, why the Democratic Senatorial and Congressional Committees are breaking all records, while the DNC has effectively stagnated.
The DNC's bottom line, according to most experts, will not improve significantly until the party settles on a nominee. Once that happens, many donors, if past history is a guide, will give to the DNC to boost prospects of taking over the White House.
At the moment, however, both the Obama and Clinton campaigns are gearing up for the fight to continue at least until early June when the last primary is scheduled, and perhaps all the way to the August convention in Denver.
The delay could prove particularly damaging to Obama, if he wins the nomination, because he is considering taking a limited amount of public money to finance his general election campaign. If he does take public money, he will be looking to the DNC to provide hundreds of millions of dollars to help pay for both staff in battleground states and for pro-Democratic radio and television advertising.
Clinton has made it clear that she is very likely to reject public financing if nominated. Even so, she would be looking to the DNC to raise cash. Donors who have "maxed out" to either Clinton or Obama, by giving a total of $4600 to be split between the primary and the general elections, can still give as much as another $25,000 directly to the party committee.
The importance to the DNC of settling on a nominee early was clearly demonstrated in 2004. Then, John Kerry effectively won the nomination in March.
In February and March of that year, DNC receipts were a modest $5.7 million and $6.6 million, respectively. In April 2004, with a nominee in place, the cash flow nearly tripled to $16.2 million. By August, it was at $27.6 million, and by October it reached $63 million. Overall, for 2003-4, the DNC raised a massive $360.6 million.
By the end of 2007, the Democratic Congressional Campaign Committee had a net balance (cash on hand minus debts) of $33.7 million. The DSCC had a net of $27.9 million. Both of these committees raised substantially more than their Republican Congressional and Senatorial counterparts, and began 2008 with millions more dollars to spend on the election.
Alone among Democratic committees, the DNC has been substantially bettered by its Republican counterpart, the RNC. The RNC raised $85.7 million in 2007 to the DLC's $54.8 million, and had a net cash balance at the start of 2008 of $17.3 million compared to the DLC's $730,000.
In January, according to Stacy Paxton, DNC spokeswoman, the flow of contributions improved modestly with the beginning of the primaries and caucuses, pushing the balance in the bank up to $3.3 million as of February 1.
At the same time in 2004, the DNC was in a significantly better cash position with over $10 million in the bank.
Paxton argued that the cash balance does not take into account the creation of a nationwide field staff assembled through Dean's "50 state program" -- financing four staffers in each state, at a cost of up to $10 million annually.
In addition, Paxton said, the DNC has developed and refined a national voter list at a cost of more than $10 million.
Others, including Democratic House Caucus chair Rahm Emanuel, have been sharply critical of the 50-state program, arguing that it is a waste of valuable resources in many states that will never vote for a Democratic presidential candidate.
Some of Dean's harshest critics are now top advisers to the Clinton campaign.
Neither Clinton nor Obama, however, wants to do anything to offend Dean at this moment, because his decisions could play a crucial role both in determining whether the disputed Florida and Michigan delegations will be seated, and in shaping the debate over the potentially decisive role of "superdelegates" in picking the nominee.
Asked to comment on the currently weak position of the DNC, Howard Wolfson, Clinton's communication director, said "Democrats are incredibly energized and both candidates are raising record amounts. Money is not going to be problem for the DNC."
Top aides to Obama declined to comment.
--------------------------------------------
DNC Executive Director Tom McMahon: "A few points were missing from today's post by Thomas Edsall and Amanda Michel, "Drawn-Out Primary Fight Will Weaken Crucial DNC Fundraising Efforts." First, make no mistake, the DNC will have the resources to compete and win in November. We raised $8.5 million more in 2007 than in 2003, and in January, we raised $5 million and retired all but $250,000 of the debt the DNC took on to help take back the House and Senate in 2006. What's different this year is that the DNC is making early investments in infrastructure and technology so our nominee can hit the ground running. One key lesson learned from past presidential elections was the importance of making early investments in infrastructure, planning and staff. It's true that fundraising hasn't taken off as it will once we have a nominee. Our strong Democratic candidates are raising record amounts, which may limit contributions to the DNC now, but will create more opportunities to raise record amounts once we have a nominee."
Popular in the Community