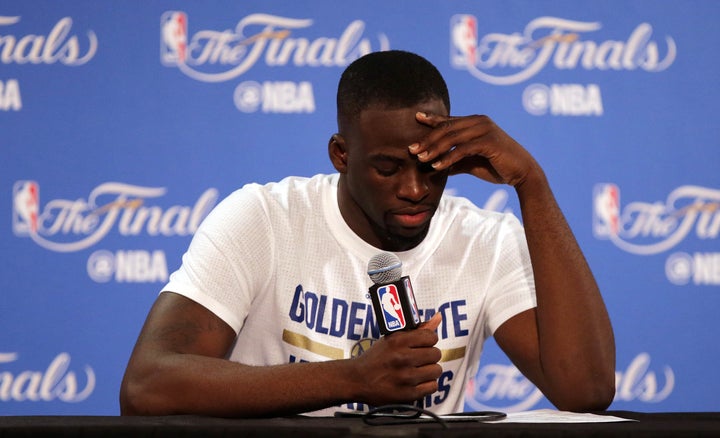 New details have emerged surrounding Draymond Green's fracas in Michigan last weekend, suggesting that the events leading up to the inebriated Green's arrest were worse than previously believed.
Initial accounts from the scene pegged Green as slapping a "taunting fan" at an East Lansing restaurant early Sunday morning. But according to the police report released Wednesday, the bad blood between Green and the man, now identified as Michigan State football player Jermaine Edmondson, began more than 24 hours earlier, when Green physically bumped into Edmondson inside a bar.
Tensions rose quickly. Per Edmondson's written statement, he turned to Green and asked him to watch where he was walking. The Golden State Warrior forward reportedly rebutted by saying, "I pay for n*****s' like you scholarships," before two men in Green's party "choked out" Edmondson.
From there, Edmonson claims he was escorted away from Green by three of the bar's employees ― but he wasn't far enough away from the group to miss hearing his girlfriend yell out.
"[She] said she was choked by another one of the guys who were with Draymond for trying to calm the situation down," Edmondson wrote. 
That was Friday night. In Sunday's early hours, both Green and Edmondson ended up at Conrad's Grill, a restaurant just a few hundred feet away from the scene of the previous night's altercation.
Edmondson says that he spotted Green from a distance, but didn't speak to him until about five minutes after he noticed Green "[looking] up and down and smirking" at his girlfriend, he approached him and told him that "last night wasn't cool."
Green then "poke[d]" Edmondson's shoulder. Edmondson says he told him he didn't need to lay a hand on him. And then Green punched him. Right hand to left cheek, per Edmondson's initial verbal statement.
It bears repeating that this is all from one man's (necessarily partial) perspective. We have no corresponding statement from Green on the series of events that led up to his arrest. 
Edmondson's girlfriend did corroborate several parts of his story, however, including that both of them had been grabbed by the throat on Friday night and that Green struck Edmondson early Sunday morning.
Two of the officers on the scene Sunday both recalled and relayed hearing a loud "slap sound," leading them to approach Green and Edmondson. Green was then handcuffed and placed under arrest ― with a .1 blood alcohol level.
The police held Green until he sobered up.
While Green has largely remained mum on the incident, the public information officer for the East Lansing Police Department indicated to The Huffington Post that the forward's arraignment will take place within the next week.
The police report can be read below. 
REAL LIFE. REAL NEWS. REAL VOICES.
Help us tell more of the stories that matter from voices that too often remain unheard.
BEFORE YOU GO
PHOTO GALLERY
Iconic Sports Photos