And that's held true, until recently. At first glance, nothing appears crooked at all: Holding a 3-1 NBA Finals series advantage, the Warriors are on the precipice of winning a second straight NBA title against LeBron James' Cleveland Cavaliers. It'd mark their 89th win this season -- an all-time NBA record. Right now, however, the Warriors no longer wear the white hat.
It's largely because of one player: Draymond Green, who's suspended for Monday night's potential title-clinching Game 5 matchup at home. Given his playoff run full of virtuoso play mixed with his own brand of kickboxing, it's befitting. In just a matter of weeks, Green's image has transformed from spirited working-class hero to nefarious, dangerous villain. And he's earned it, too. 
After getting stepped-over by James, Green went for the low blow.
The circumstances of Green's deserved suspension and ensuing criticism are pretty inarguable. The NBA upgraded one of Green's fouls in Friday's Game 4 to a flagrant one on Sunday, because, as replays showed, he clearly swiped James — the NBA's ultimate hero-turned-villain-turned-hero again — in the groin in a "retaliatory fashion," as NBA's executive vice president of basketball operations Kiki VanDeWeghe told USA Today. As Green's fourth flagrant foul of the 2016 playoffs, per NBA rules, he was suspended on Sunday for Game 5. 
Stunningly, this isn't Green's first rodeo with knocks to the crotch, and playing in a league dominated by male voices, Green's naturally received more anger than his targets have empathy. Against the Oklahoma City Thunder last month, Green kicked Thunder center Steven Adams down there on two separate occasions -- that we've noticed, at least. 
 Green knees Adams during Game 2 of the Western Conference Finals.
 Green gets Adams again the very next game!
Warriors fans have argued that Green's kicks are a totally inadvertent, natural part of his game: It's how he keeps his balance! Rational people generously giving Green the benefit of the doubt (he's not doing this on purpose) have pointed out the obvious: Making a habit out of high-kicking empty air space doesn't absolve Green of responsibility when those kicks connect with an opponent.
Green nearly kicked Kyrie Irving in the face during NBA Finals Game 1 
His persistent leg kicks are now well-known by fans and media. His preferred on-court insult of choice, "b***h," which he's now barked at both Adams and James, is well-known by fans and media. He's a meanie. To be frank, Green has always operated this way. Before he was villainized, Green was the league's darling underdog story.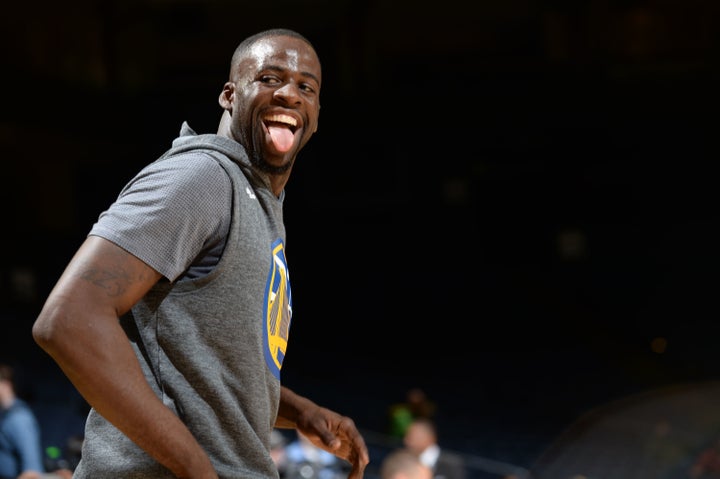 Everything about Green is expressive, a gift from his voluble mother, Mary Babers-Green, and from his hometown, Saginaw, Michigan. Deep in the Rust Belt some 100 miles north of Detroit, with a poverty rate hovering near 35 percent, "Sagnasty" left its mark on Green. It made him brash enough to walk into a convenience store as a 4-year-old and demand juice. "Don't you know who I am?" he shouted, according to his mother. "I'm Draymond Green!"
These once-positive attributes are now, to many, the root cause of Green's suspension, and the split in his image. But there's no separating Green, the brash crotch-kicker, and Green, the dervish of emotion whose play essentially acts as a hack that allows the Warriors to play unstoppable basketball as one unit. They're the same player, but when national television cameras capture Green's abject insolence on the NBA's biggest stage, the narrative changes. Every dramatic moment is magnified within the playoff vacuum, and as an effect, Green has willfully fallen on the sword for the Warriors. 
This is all to say that the popular Christopher Nolan line -- "You either die a hero or live long enough to see yourself become the villain" -- applies to Green in a way the NBA hasn't seen since LeBron left Cleveland. Green's now done both, and it's the villainous, vengeful narrative -- given his history of slights against evidence of excellent play -- that the NBA, and the Cavs in a potential Game 6, should fear the most. 
Calling all HuffPost superfans!
Sign up for membership to become a founding member and help shape HuffPost's next chapter
BEFORE YOU GO
PHOTO GALLERY
Epic Shots From The 2016 NBA Finals