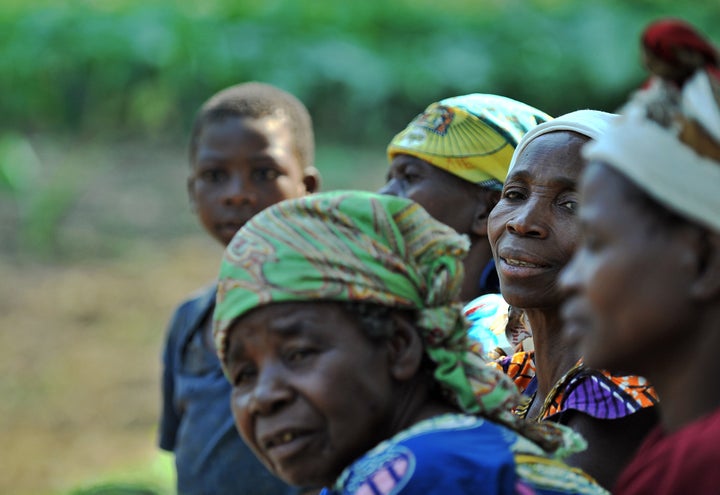 A day in an Internally Displaced People Camp, on the outskirts of Goma (DRC)
It's like the whole of North Kivu (DRC) is in motion, on the road, fleeing fighting, arriving to or leaving camps. There is fighting, fleeing. And raping.
But you don't know that yet. Not palpably, anyway. You travel on the outskirts of Goma town, on bumpy, green lined roads between gentle hills. The landscape around you is like a botanical wonderland, in which people were allowed to settle. There are fields of beans, banana trees, sunflowers.
Then you reach Lac Vert camp. It's a grim address -- an internally displaced people's camp that has been providing refuge to people who have fled violence, fighting across North Kivu.
As soon as you step out of the car, you're surrounded. First, by groups of kids. The shy ones just want to look at you or touch your arms, your clothes. The bolder ones shout out: "Mzungu, mzungu! Give us biscuits!"
Then, by men and women. The same interaction takes place, except that adults ask for money or want to talk to you, or want you to look at a child who has been sick.
You walk through the camp.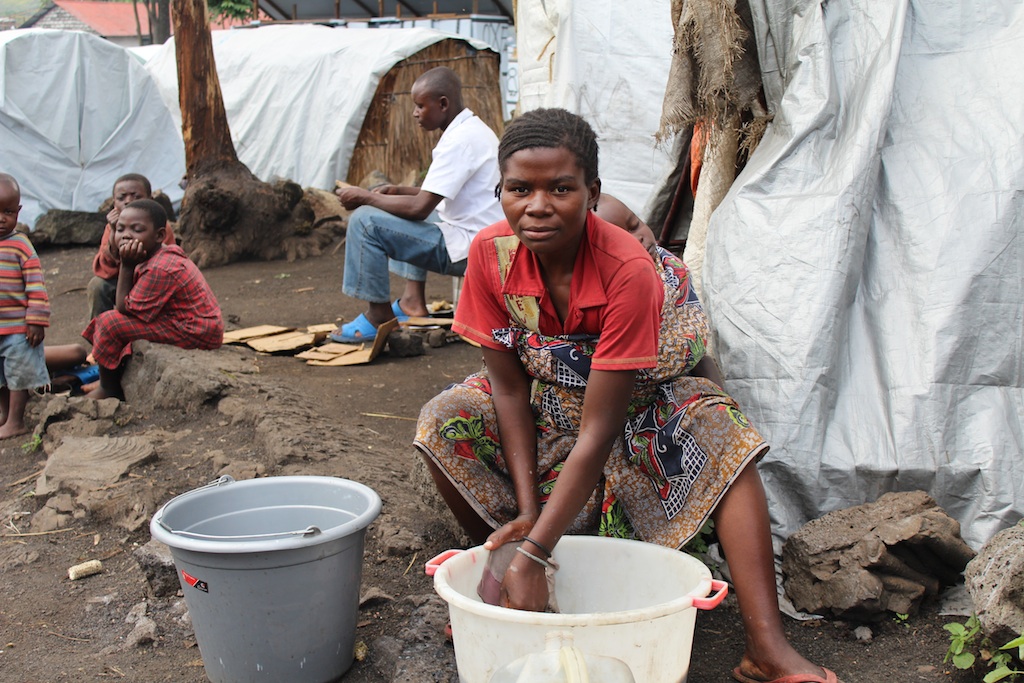 You're told that there are about 24,000 people. Some have been here since last August, some arrived yesterday. How many? Heads shake. Who knows? Many. There are people arriving every day. More recently from Kitchanga (about 80 kilometers, west of Goma), where fighting between armed groups in early March led to about 100,000 people fleeing, seeking refuge in camps such as this.
Those who have been here longer stay in tents. Those who have just arrived gather in the center of the camp, a hilly patch of land covered with small bundles of clothes, pots -- whatever people could carry on their backs when they fled, or whatever they could find on their way -- pieces of furniture, a used mattress.
As soon as they arrive, they take out their pots. Women look for firewood, start cooking. Clothes have been just washed and are laid out to dry on the rocks or on the ground. A group of children play in pools of rain.
You walk in the camp. Everywhere you look, there are small tents, or skeleton of tents, people bundling long sticks together for the frame. You speak to Mahindule, a man in his 50's who has been here with his wife and eight children since last September. The one tent they have is just too small, he explains. So he is building this second one with his eldest son, Ishar. It will be ready by tomorrow -- the frame, that is, as he has no plastic sheeting to cover it with for now.
You hear kids crying in one of the tents. You stop for a few minutes in front of another. A mother is diligently washing her young child from a blue washing basin. He is visibly malnourished, his round belly like a stretched out balloon. It makes him lose his balance, and the mum is gently pushing him down to sit on a wooden bench. She wipes his frail, little body, and puts a T-shirt on him. In bright green on a white backdrop, feverish letters announce: "This is my lucky T-shirt." You walk more until you reach la maison pour les mamans ("the house for mothers"), a bigger, white tent where sexual violence survivors come to seek help. It's their first stop. Inside they speak to a "psycho-social agent" who offers them emotional support, and refers them to a nearby health clinic for medication and treatment.
Sitting on the ground, right next to the entrance, you meet Rose. She has a difficult story to share. But, sadly, her story is too common in DRC. She came to the camp four months ago. Yesterday, she got raped in the forest nearby as she was collecting firewood.
She feels pain everywhere, she says, in her abdomen, her back. But she hopes that once she receives some medication, she would feel better.
War brings the worst out in people, she continues. "You'll find bad people on your way and the women suffer the most... Life would be different if there was no war."
You sit and nod, words piling up in your head, and saying nothing. It occurs to you that Rose is the first survivor of sexual violence that you've met. She is not a statistic; she is here, in front of you, searching for some help, for a solution.
You catch her big, moist eyes. They seem full of anxiety. In constant motion, running this way and that, as if they were feverishly searching for a way out.
And here she is, seeking help. A way out. You tell her that she must be brave to have come here, to ask for help. That she is very strong. And she smiles. Despite...
You speak to more people. Their stories sound the same.
The fighting, the fleeing, the raping. And the nagging question: "When, how will this all end"?
Note: 2012 has seen up to half a million people displaced in North Kivu, fleeing clashes between armed groups and systematic attacks on civilians, properties and villages. The eruption of violence in 2012 was worse than at any time since the 1990s, leading to the displacement of up to half a million people (and over 800,000 people since 2009) in North Kivu and bringing the total number of internally displaced persons in eastern Democratic Republic of Congo to 2.6 million.
Despite recent peace agreements, renewed conflict in Kitchanga in March, has further displaced nearly 100,000 people who have sought refuge in camps on the outskirts of Goma or in Masisi. There is a great need for more and better emergency medical care for women who have suffered sexual violence. They are also in urgent need of shelter, psycho-social support, and access to water and sanitation in the camps.
REAL LIFE. REAL NEWS. REAL VOICES.
Help us tell more of the stories that matter from voices that too often remain unheard.