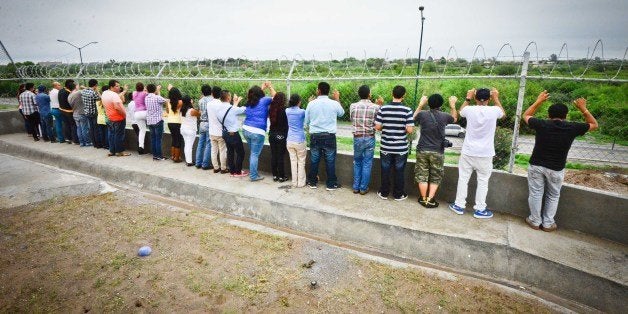 Elsy Nuñez, a Honduran national who had once resided in the United States, tried three separate times since Aug. 23 to convince immigration authorities in Laredo, Texas, to allow her into the country. She brought documentation detailing the multiple health health problems her 4-year-old, U.S.-born daughter Valeria suffers, including cerebral palsy and a ruptured eardrum. Three times, border officials turned her away.
On Monday night, she finally got her wish.
"Thank God they finally let me in," Nuñez, 23, told The Huffington Post in Spanish. "The first thing I'm going to do is take my daughter for a medical visit."
Nuñez's luck changed when she joined a group of activists staging the second round of a protest action against deportations that is thought to be unprecedented. Originally branding themselves as the "Dream 30," a group of people who had spent part of their lives in the United States as undocumented immigrants crossed the border from Mexico at the legal port of entry in Laredo on Monday and asked for humanitarian parole. If that request is rejected, they plan to apply for asylum.
As of Tuesday, immigration authorities had used their discretionary authority to release eight of the participants into the United States for a one-year, renewable period, rather than turning them back, according to the group's attorney David Bennion.
"It's kind of a broad, discretionary parole -- the technical name is 'parole for significant public benefit,'" Bennion told The Huffington Post. "Because of all the attention and the organizing, the government basically said 'We're going to let you go because we feel like it.' And that's what we're asking them to do for all of them."
The ones who have been released so far all have one thing in common -- they are parents and children traveling together, and the kids are minors.
Brandow Gonzalez, 15, Javier Gavilán Cortes, 16, and sisters Jessica Gallegos, 16, and Ingrid Gallegos, 13, all crossed the border with one parent.
A fifth minor, 17-year-old Luis Lopez, traveled unaccompanied and has been transferred to the Office of Refugee Resettlement, according to Mohammad Adbollahi, an organizer with the National Immigrant Youth Alliance. His parents live in Los Angeles. It is common for ORR to release unaccompanied minors into the custody of their families.
The Dream 30's title no longer fits. They picked up six people along the way, including Nuñez's daughter, who is a U.S. citizen. The remaining 27 undocumented protesters will likely be placed in immigration detention in Texas, activists say, though they may also be released as their asylum applications move forward.
"They've already made it into America," Abdollahi HuffPost. "The question now is whether the Obama administration is going to let them fight their cases for the next five, six years from detention, or if they're going to let them fight their cases at home with their families. None of these people are a flight risk. None are a danger to the community."
The government shutdown made it difficult to get a comment from Immigration and Customs Enforcement.
ICE referred HuffPost to spokeswoman Nina Pruneda in San Antonio for information about the protesters, but she didn't pick up the phone.
"I will be out of the office starting Oct. 1, 2013, due to the federal funding hiatus," her voicemail message says. "I am not able to access or return voicemail messages during this time."
For the first border-crossing protest in July, Lizbeth Mateo, Lulu Martinez and Marcos Saavedra traveled to Mexico, then returned through the legal port of entry at Nogales, Ariz. -- an audacious move for people who live with the daily fear of deportation. They were joined by six others along the way and adopted the name "Dream 9."
Once across the border, they asked for humanitarian parole, a little-used exception to normal immigration procedures usually granted as a temporary measure to deal with emergencies. When immigration authorities declined to offer humanitarian parole, the Dream 9 applied for political asylum, arguing that their lives were endangered in Mexico. The nine were released from detention into the U.S., but will likely be litigating their asylum cases for years.
"For all intents and purposes, they are Americans, except for on paper," the Dream 9's attorney Margo Cowan said on a conference call with reporters in July. "And given the instability of Mexico today, they have no idea how to defend themselves and they stick out like a sore thumb."
The remainder of the Dream 30 plan to follow the same path.
"They're getting persecuted [in Mexico] because as soon as they speak Spanish because people know they're American," Abdollahi said.
Mexican nationals rarely receive asylum, partly because the U.S. doesn't normally view organized crime as a reason to grant it. From fiscal years 2007 to 2011 -- years that coincide with the onset of Mexico's frontal assault against its drug cartels -- 21,104 Mexicans filed asylum applications at U.S. ports of entry, according to The Los Angeles Times. Only 2 percent of the requests were granted, well below the 24 percent figure for asylum seekers from all countries combined.
But Suzanne Goldberg, a professor at Columbia Law School with expertise in asylum cases involving gender and sexual orientation, says it's not outside the realm of possibility that the courts would grant asylum to Dreamers.
"This is not so far removed from other asylum cases," Goldberg told HuffPost. "The question is, why are they targeted? The way asylum law has been constructed is to protect people who are targeted based on an aspect of their identity."
Before You Go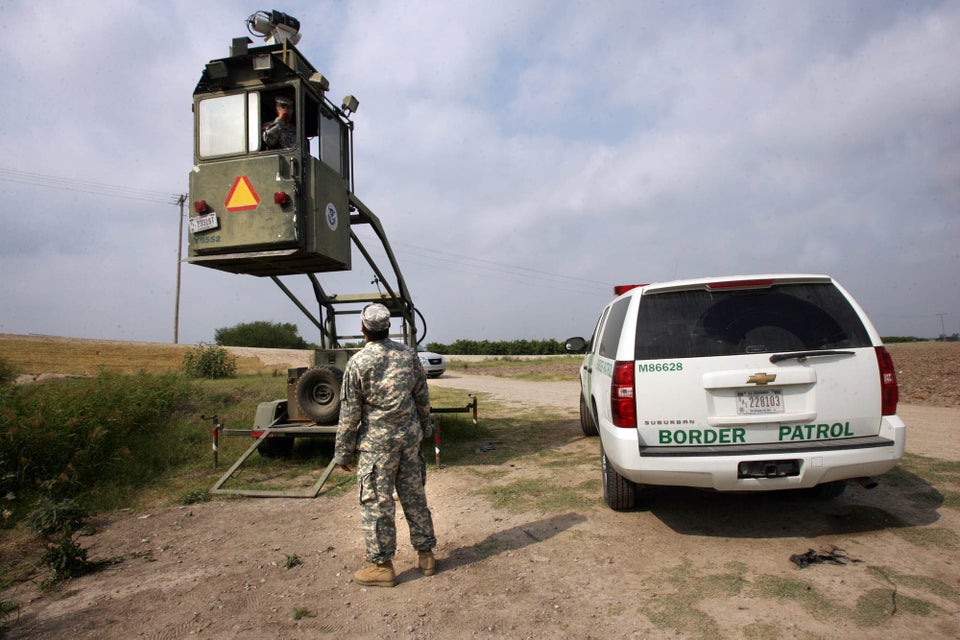 6 Misconceptions About The Border