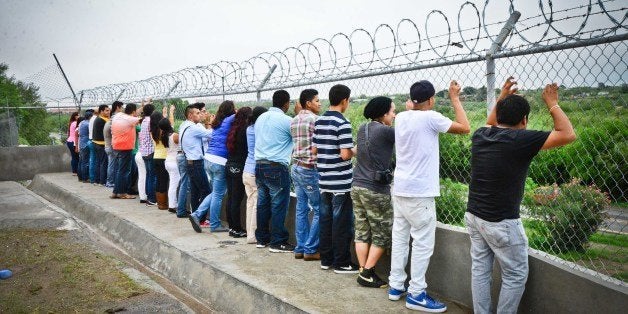 Thirty undocumented immigrants who lived part of their lives in the United States attempted to cross back into the country on Monday through a legal port of entry at Laredo, Texas.
By mid-day Monday, the 30 protesters clad in caps and gowns and chanting "Undocumented! Unafraid!" had assembled on the Mexican side of the border at Nuevo Laredo, where they livestreamed the event. The stream only functioned intermittently, however.
"These kids are de facto Americans. They have grown up in the United States and call it their home," Claudia Munoz, an organizer with the National Immigrant Youth Alliance in Texas, said in a press release. "They are asking the administration to bring them home."
"I have a lot of faith that I'm going to succeed this time," Gavilán told El Nuevo Herald.
Lorena Vargas, 19, was brought to Tucson, Arizona, as a 6-year-old child by her mother, who became a U.S. citizen in 2010, according to ColorLines. Vargas traveled to the U.S. Consulate in Ciudad Juárez, Mexico, with her mother last year to apply for a visa to normalize her status, but she was denied entry at the border and told she could not reapply until 2022.
She says that since returning to Mexico she has been sexually assaulted. She reached out to her paternal grandfather, but he disowned her because she is a lesbian.
"I know people will say we're doing this for attention, but unfortunately they're just ignorant to what our reality is" Vargas told Aura Bogado of ColorLines. "This is a really delicate and difficult situation."
It's not yet clear whether the Dream 30 will make it into the United States, but the experience of the Dream 9 can give clues to how immigration officials will handle Monday's protest.
They were joined at the border by six others who had either been deported or left the United States voluntarily.
The protesters didn't take such a radical step this time. None of the 30 crossing at Laredo on Monday traveled to Mexico to join the demonstration, NIYA told the Huffington Post by email. All 29 are Mexican nationals and one is Peruvian.
When the Dream 9 crossed into the United States, they first requested humanitarian parole, a little-used provision that allows people to enter the United States temporarily because of an emergency. After U.S. authorities refused to grant it and placed the group in detention, the Dream 9 applied for political asylum, arguing that Mexico was too dangerous for the applicants to live.
The Department of Homeland Security ruled that the activists had a "credible fear" of returning home and released them from detention while they wait for their asylum cases to proceed in immigration court.
Mexican nationals rarely win asylum cases, partly because the U.S. government doesn't normally recognize organized crime as a valid reason to grant asylum. From fiscal years 2007 to 2011 -- years that coincide with the onset of Mexico's bloody war against drug cartels -- 21,104 Mexicans filed asylum applications at U.S. ports of entry, according to the Los Angeles Times. Only 2 percent of them were granted, compared to 24 percent for asylum seekers from all countries combined.
But applying for asylum buys the group time. The lawyer for the Dream 9, Margot Cowan, says its asylum litigation may last a decade.
This is a developing story. Check back for updates.
Calling all HuffPost superfans!
Sign up for membership to become a founding member and help shape HuffPost's next chapter
BEFORE YOU GO
PHOTO GALLERY
6 Misconceptions About The Border