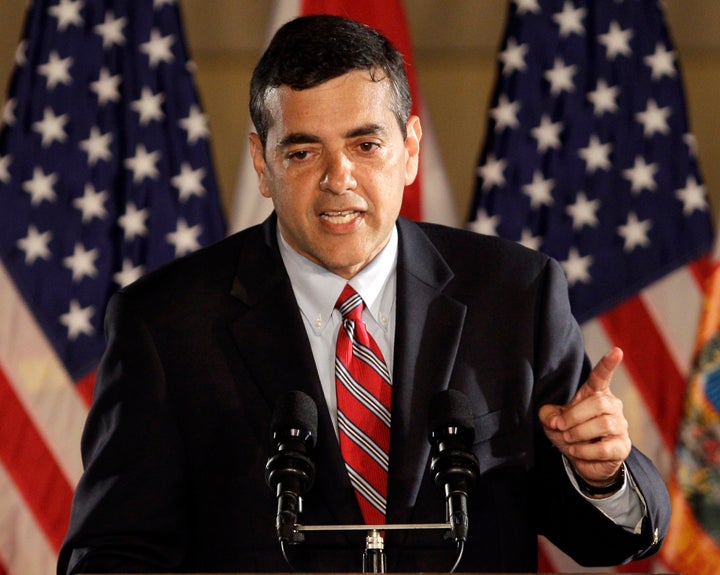 WASHINGTON -- Republican Rep. David Rivera (Fla.) introduced a bill on Wednesday that would help some undocumented young people stay in the U.S. legally, jumping into a ring dominated by Democrats for most of the year.
Democrats said they're happy to have company. But supporters of the Dream Act, a more sweeping bill to give some undocumented immigrants legal status, said they were concerned that an age cap in Rivera's bill would exclude a huge number of young people who have long advocated for such legislation.
"It's not quite there yet, but it is the first real amnesty bill we've seen from the Republican side," Rep. Zoe Lofgren (D-Calif.) said. She added one concern: "You have to be 18 or younger, and that is going to leave a lot of people out."
Rivera's Studying Towards Adjusted Residency Status Act -- STARS -- would only allow undocumented immigrants to apply for residency until they turn 19 years old, among other limitations. The 2010 Dream Act, which passed the House, but failed in the Senate, would cap the age of eligibility at 29, which would still help some students targeted in the first iteration of the bill in 2001.
The Rivera legislation comes in advance of a much anticipated proposal from Sen. Marco Rubio (R-Fla.), which the senator has billed as something of a compromise between Democratic and Republican plans for dealing with undocumented young people. His legislation hasn't been released yet, and it's unclear whether it will mirror Rivera's. Still, the two have spoken about the bill, an aide told The Hill on Wednesday.
"Congressman Rivera has had discussion about the STARS Act with Sen. Rubio, but the congressman recognizes that the House and Senate each have their own legislative process," the aide told the newspaper. "The STARS Act is meant to start the conversation in the House of Representatives in the hopes of achieving some sort of immigration reform in the 112th Congress."
The STARS Act seems to differ from Rubio's stated plans for his legislation. Rubio has said his bill would give those eligible the right to stay in the U.S. temporarily, but would have no special pathway to become citizens. That means they would continue to face the difficulties of living in the U.S. as undocumented immigrants. The STARS Act, like the Dream Act, allows students to eventually apply for citizenship.
"This legislation can make the American dream a reality for young people like Daniela, who through no fault of their own, are prevented from realizing their full potential in this land of opportunity," Rivera said Wednesday on the House floor, speaking about a constituent named Daniela Pelaez, who entered the U.S. as a child and has now been accepted to Dartmouth College.
Rigo Padilla, an undocumented 24-year-old graduate student who organizes on the issue, would be ineligible under the bill. Still, he said in an email that Dream Act-supporting students, who call themselves DREAMers, "are willing to work with either party to pass legislation that helps undocumented youth." He said he was concerned that many people who will be ineligible because they can't afford college.
Another DREAMer, 27-year-old Gaby Pacheco, said the bill is a good first step toward broader legalization and may be worthy of support -- even if it leaves out people like herself.
"If this has real possibilities of it passing, then I think we shouldn't get in the way of at least some of our DREAMers achieving their dream," Pacheco said. "My dream is to see as many people as we can pursue their dream and contribute to society. ... But the end goal should be something broader."
Rep. Luis Gutierrez (D-Ill.), a strong proponent of the Durbin Dream Act and comprehensive immigration reform, met with Rubio in April to discuss the bill. He said in a statement on Wednesday that he has not met with Rivera, but "keep[s] an open mind" about the legislation and is anxious to see more details.
"The DREAM Act and immigration reform used to enjoy strong support in both parties, but the Republicans have walked away because of the anti-immigrant faction in their party," Gutierrez said. "But I am open to talking to anyone who has practical ideas about how to end the deportations that are splitting up families and destroying the dreams and futures of our young people."
Even if Rivera's bill doesn't become law, another advocate said it could help the push to end deportation of Dream Act-eligible youth, which proponents say President Barack Obama could do with an executive order.
"From the president's perspective, he can now point to Republicans who have made a statement, in essence, to end the deportation of DREAMers," Ali Noorani, executive director of the National Immigration Forum, said. "At the end of the day, regardless of what happens legislatively, the president has the authority and ability to do that."
Watch Rivera's remarks on the House floor on Wednesday:
Calling all HuffPost superfans!
Sign up for membership to become a founding member and help shape HuffPost's next chapter
BEFORE YOU GO