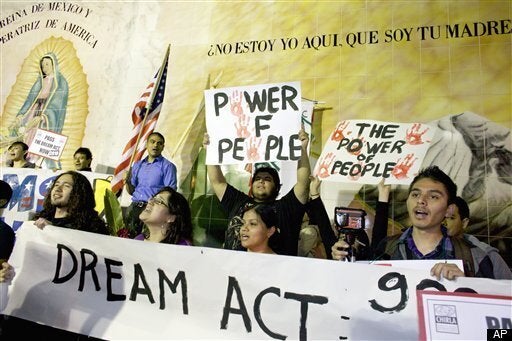 Trivia question for all you policy wonks: before the DREAM Act passed Wednesday night, when was the last time you read the headline, "House passes historic immigration bill?"
Answer: December 16, 2005.
But December 16, 2005, was a night that lives in political infamy among supporters of progressive immigration reform. That was the night the Republican-controlled House passed a notoriously anti-immigrant bill authored by Rep. Jim Sensenbrenner (R-WI).
The Sensenbrenner bill would have turned undocumented workers and anyone who helped them -- including their priests and pastors -- into felons. It was also the day that the Republican Party made a dangerous move: siding with its hard-core nativist wing over moderate members and Latino voters. The Sensenbrenner bill sparked a backlash that continues to fester. It became one of the reasons Republicans lost control of Congress in 2006, lost the White House in 2008, and lost the chance to take back the Senate in 2010.
This week, however, after years of organizing, citizenship drives and voter mobilization, the words, "House passes historic immigration bill" finally took on a tone of courage and hope. The DREAM Act passed the House on Wednesday by a 216 - 198 margin. Eight brave Republicans joined with most Democrats to stand up for high-achieving young people who are American in all but paperwork. The measure even attracted support from a number of conservative Democrats, some of whom, like Chet Edwards (D-TX) took to the House floor to speak on its behalf.
The House-passed DREAM Act would turn a highly deserving group of undocumented young people who want to go to college or serve in the military into legal residents and eventually citizens. Authored by Reps. Howard Berman (D-CA), Lucille Roybal-Allard (D-CA), and Lincoln Diaz-Balart (R-FL), the DREAM Act allows young people who were brought to the U.S. as children, grew up as Americans, and did everything asked of them a chance to become citizens and give back to the only country they call home. It is estimated that some 800,000 young people -- all of whom who are here and have lived here for at least five years -- will qualify.
Speaker of the House Nancy Pelosi even took to the House floor to make a passionate speech for DREAM :
If you listened to the full House debate, however, it was clear that there are still a gang of nativists who want to take up the mantle of Sensenbrenner. Lamar Smith (R-TX) and Steve King (R-IA) are chief among them. Leaving aside their egregious distortions of a narrow, bipartisan, and deficit-reducing bill, they have a warped sense of political reality. These Congressmen may as well start every speech by saying, "We want to ensure that no Latino voter ever votes Republican again." Their vitriolic anti-immigrant rhetoric pits white people against a "menacing" and "lawless" minority, a strategy guaranteed to further alienate the fastest growing voting demographic.
In the coming weeks, Senate Majority Leader Harry Reid -- who has long championed the bill -- plans to take up the House-passed version of this legislation. We've got a chance to make history again in the Senate. To read the papers today, however, you'd think the DREAM Act died in the Senate on Thursday.
In fact, this past Thursday the DREAM Act was given new life by a deft procedural move by Majority Leader Harry Reid. Following that historic House vote Wednesday night -- which caught many pundits in Washington by surprise -- Reid made the strategically smart decision to table the Senate bill in order to hold a vote on the House-passed DREAM Act in the coming weeks.
Why? For one, Senate Republicans had claimed they would vote in lock step against the bill over "process" objections. The Senate can now deal with the all-consuming tax cuts issue before it takes up the House-passed legislation. Secondly, DREAM backers have more time to round up swing votes. Also, by taking up the House bill, Reid is following the shortest road to turn DREAM into law, instead of starting over with a new piece of legislation that hadn't cleared either chamber. Repeat: Reid's move to table the Senate version of DREAM makes the chances of the DREAM Act becoming law much better, not worse.
Mainstream journalists, who likely already had their stories written, are doing a terrible job explaining this to the American people. Not so in the Latino blogosphere or Spanish speaking media, where the movement on DREAM has been getting wall-to-wall coverage in print and broadcast.
Those of us who work this issue day in and day out -- and the young leaders who have courageously led the fight to pass this legislation -- know that we're closer than ever to success. We're heartened by the latest Gallup poll that reaffirms what research has told us time and again: a solid majority of Americans back the DREAM Act. We're also heartened that Senator Lugar (R-IN), a long-time champion of the bill, has again become a firm yes vote on DREAM today.
Passing the DREAM Act in the House was not a fluke; it was a sign that the growing movement for immigration reform is getting stronger every day and that immigration reform isn't nearly as scary as Washington likes to think. In fact, it's inevitable.
Harry Reid understands this better than anyone, and he just positioned DREAM to give it the best chance possible to cross the finish line this month. Now, we just need a handful of Republican Senators to step up to the plate and turn this historic, bipartisan House victory into law.