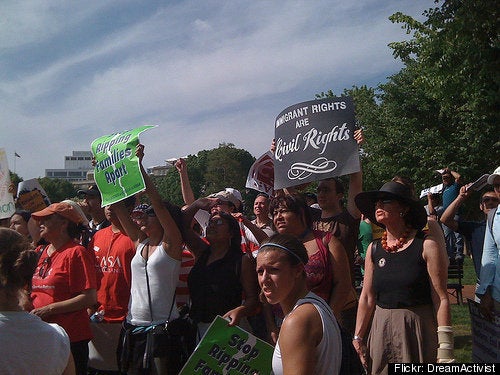 Yesterday, in Tucson, Arizona, a group of undocumented immigrant students staged a sit-in at the Arizona offices of Senator John McCain, urging him to support the Development, Relief and Education for Alien Minors Act (or DREAM Act), which would "provide certain undocumented alien students who graduate from US high schools, who are of good moral character, arrived in the U.S. as minors, and have been in the country continuously for at least five years prior to the bill's enactment, the opportunity to earn conditional permanent residency." Applicable students would have to prove their academic mettle or serve honorably in the U.S. Armed Services in order to qualify for this proposed path to citizenship.
But, Arizona! Not the most amenable place to undocumented immigrants to practice civil disobedience these days, is it? Naturally, a bunch of protesters were detained. The organization that supported the demonstration, TheDreamIsComing.org, issued the following press release:
Tucson, Arizona. May 17th, on the anniversary of landmark civil rights case Brown v. Board of Education, Arizona law enforcement arrested four undocumented leaders of the immigrant student movement in addition to Arizona native Raul Alcaraz. Lizbeth Mateo of Los Angeles, California; Tania Unzueta of Chicago, Illinois; Mohammad Abdollahi of Ann Arbor, Michigan; and Yahaira Carrillo of Kansas City, Missouri; were detained Tucson, Arizona, after staging a sit-in at Senator John McCain's office. With this challenge to local and federal law, these youth hope to highlight the urgency of legislative action in Congress, and catalyze mass grassroots mobilization to pass the DREAM Act before June 15th.

These four leaders are risking deportation from the United States in the hope that this action will make a significant contribution to the fight for immigrant rights. In response to the onslaught of enforcement-based immigration law, they staged a sit-in at Senator McCain's office, and urged congressional leadership to champion the DREAM Act and the values it represents: hard work, education, and fairness.

Lizbeth, 25, an organizer with DREAM Team Los Angeles, states, "There are already ten other states across the country considering immigration legislation similar to Arizona's: legislation that is anti-family, anti-democratic, and anti-freedom. Police states and enforcement are quickly becoming the standard, and we are running out of time. We are going to pass the DREAM Act because it is based on freedom and equality."

Mohammad, 24, co-founder of DreamActivist.Org, a resource web portal for undocumented students, said in a statement: "Never in our history has it been American to deny people their civil rights. We have decided to peacefully resist to encourage our leaders to pass the DREAM Act and create a new standard for immigration reform based on education, hard work, equality, and fairness."
Mohammad Abdollahi, 24 of Ann Arbor, was one of a group of protesters who were arrested Monday at the Tuscon, Arizona offices of Sen. McCain after trespassing and sitting in the office in protest of the Arizona law targeting illegal immigrants, according to activist and social media sites. He could now face deportation proceedings.

Abdollahi is an illegal immigrant who moved to the U.S. with his family when he was young. Now openly gay, he says he fears deportation back to Iran because of that country's stringent laws against homosexuality, which call for execution in some cases.
Popular in the Community