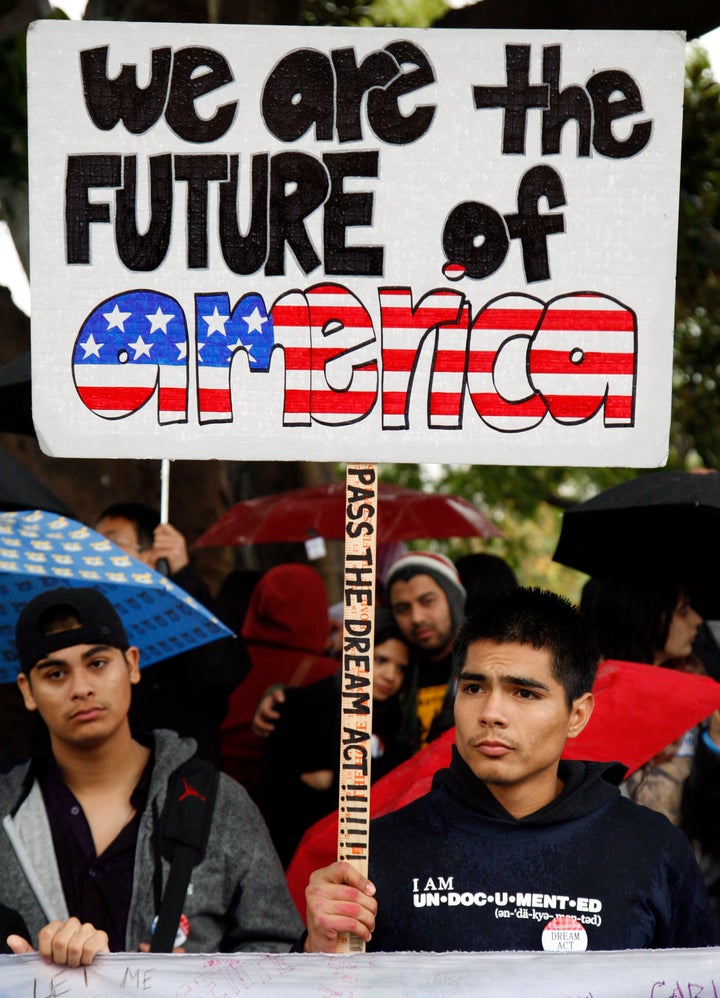 NEW YORK -- Elier Lara, 19, has a lot riding on the Dream ACT, legislation that Senators Harry Reid (D-Nev.) and Dick Durbin (D-Ill.) reintroduced this morning.
Lara traveled by car from Mexico to Minnesota with his family when he was four years old, moving with them to Ohio in the first grade. He's a freshman at the University of Cincinnati now, majoring in Information Technology. Eventually, he wants to work on the country's digital infrastructure, "like a pioneer," he said, for a company like Google. He'd also settle for being a CEO.
"I'm a DREAMer," he said. "I did everything right, but I've never been able to get a license or any sorts of ID. … There's no guarantee that I won't be arrested at any given time."
The DREAM Act would allow Lara and other immigrant students -- who have lived in the U.S. since they were children for five continuous years, have a clean criminal record, have graduated from high school, and have completed two years of college or military service -- to curtail the looming fear of deportation by giving them the chance to become permanent residents.
"Now I'm rooting for it," Lara said. "It's my only salvation."
"We're going to keep fighting for the DREAM Act," he said. He used the platform to criticize congress for failing to pass the DREAM Act, calling for a bipartisan push for immigration reform.
Late last week, the Departments of Justice and Education wrote a co-signed letter to the country's schools, reminding them of their obligations to educate all students, regardless of immigration status. The letter specified which documents schools are and are not allowed to request from students.
Ola Kaso, 18, a high school senior in Michigan, also has a lot to gain from potential federal legislation. She was born in Albania, and moved to the U.S. when she was 5. Now, she's an aspiring surgical oncologist, registered to attend the University of Michigan in the fall.
But her family received a deportation notice on March 28.
"My parents wanted me to have opportunities they didn't have," she said. "They just wanted me to be able to be free to pursue any career I wanted to pursue, any dream I wanted to pursue, and have an excellent education."
Her family came over on a visa and immediately filed for asylum, but lost it, she said, because of a lawyer's failure to file necessary court papers.
"We need more people that are willing to stay in the country and help it progress," she said. Her family will probably move back to Albania, where Kaso would be functionally illiterate.
Kaso is having friends sign a petition to allow her to stay, otherwise she won't be eligible to return to the U.S. for 10 years.
The reintroduction of the DREAM Act does not necessarily spell relief for undocumented students like Lara and Kaso. Given previous failures in passing the bill, and the subsequent Democratic losses in Congress, few expect the legislation to pass this time around.
"This is a pretty bad congress, so I'm not sure it has a chance of passing," said Mohammad Abdollahi, 25, co-founder of DreamActivist.org. "At least it shows that there are senators who are still working for us."
Abdollahi, born in Iran, said he rallied around the DREAM Act when he realized that "until it passes, I wouldn't have access to college, or I'd have to pay a lot more for it." He added that while he can't count on the DREAM Act's passage now, a legislative push may bridge other relief measures, such as an executive order to defer the deportation of DREAM-eligible students.
While the DREAM Act may have slim chances on the federal level, some states have begun to pass their own "DREAM Acts."
On Tuesday, Maryland Governor Martin O'Malley signed into law his state's "DREAM Act," which gives undocumented immigrants who grew up in Maryland in-state college tuition rates. But opponents are already seeking a referendum, gathering signatures on a petition that would allow voters to greenlight or revoke the law in 2012. Some of those critics assert the law would encourage illegal activity.
And in California, a bill that would allow undocumented immigrants to receive some financial aid from public colleges is making its way through the state's Senate after passage in the House.
Related
Popular in the Community