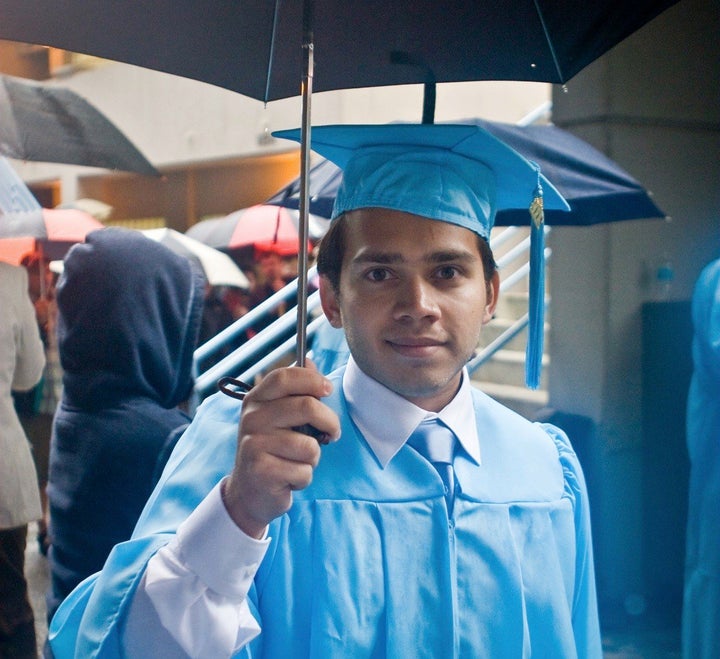 WASHINGTON -- The Obama administration is quietly halting some deportations of undocumented young people, after a memo in June that directed immigration officials to consider reprieve for students and would-be military members. Meanwhile, young people facing deportation are still forced to jump through hoops to stay in the United States.
Monji Dolon, a 25-year-old born in Bangladesh, is slated for deportation and applying for deferred action from the government, which would allow him to stay in the U.S. legally for another year. He's a poster child for the DREAM Act, a failed bill that would allow some immigrants legal status in exchange for two years of college or military service. Dolon has a clean criminal record and graduated from University of North Carolina at Chapel Hill in 2008.
Dolon's story caught the eye of DREAM Act supporter Sen. Dick Durbin (D-Ill.), who spoke about him on the Senate floor in June. Durbin is attempting to reignite support for the DREAM Act after it failed in the Senate in December.
"I think he deserves a chance," Durbin said. "Would America be better off if we sent him back to Bangladesh, a country he hasn't been to in 20 years? Of course not. ... We could use people with Monji's talents in America."
WATCH Durbin talking about Dolon on the Senate floor:
Dolon is hoping to be granted deferred action, a status that would allow him to avoid deportation for a year and work legally in the United States. He is a skilled web designer and developer, and a Silicon Valley technology company tried to recruit him for work before they found out he can't be legally employed.
"What's happening right now to so many people is completely unfair," Dolon said. "There's so many really smart, really talented individuals who are in a very unfortunate situation that's resulted from not what they've done."
If he were deported, Dolon would have to go back to Bangladesh and wait a decade to get a green card. Instead of working full time, Dolon lives with his parents and does freelance web design work to make ends meet. He said politicians and the public do not realize how difficult it is to gain legal status or live as an undocumented person.
"It might seem like it's a matter of moral standards, but I don't think they understand it's really affecting our lives," he said. It makes life incredibly difficult to be like this."
Other undocumented young people understand, and have formed a network across the country of DREAM Act supporters.
Erick Velazquillo, 22, was arrested in October 2010 for driving with an expired license, after new laws in North Carolina made it impossible for him, as an undocumented immigrant, to renew his license. He was pulled over while driving home from school because he had his high beams on, a usually minor offense that now could lead to his deportation.
Velazquillo was granted a 45-day reprieve in July so federal authorities could consider whether to allow him to stay in the States. His case was administratively closed last week, and he is no longer facing deportation, but is still awaiting deferred action.
Velazquillo fits the profile of many DREAM Act students who have been granted last-minute relief from deportation: He entered the United States in September of 1990 when he was two years old. He attended Central Piedmont Community College and graduated with an associates degree, then was accepted to University of North Carolina. He has no criminal record.
Velazquillo has spoken out in support of the DREAM Act and has the support of a tightly-connected group of young immigrants who have advocated against deportation nationwide.
"I've been living here for 20 years and I basically grew up as an American," he said. "I should have a chance to contribute back. I'm not a person with a criminal record, I'm a person who has been active in the community and has given back."
His sister, Angelica, who is also undocumented, said she is disappointed that Erick entered removal proceedings in the first place, because he is not the type of person Immigration and Customs Enforcement officials say they are targeting.
"I am very disappointed in what I hear from President Obama and the administration," Angelica Velazquillo said. "Programs that we're being told are to protect the community are being used to criminalize students. ... I just find it extremely frustrating and humiliating to be treated this way, as criminals, when that's not what we are."
"We want the opportunity to study and to work like everyone else," she said.
Even if undocumented young people are eventually granted deferred action and allowed to stay in the United States, the process costs thousands of dollars in legal fees and years of their lives-- partially because Congress has failed to enact the DREAM Act or comprehensive immigration reform.
CORRECTION: An earlier version of this article stated Velazquillo would face a judge in September after a 45-day reprieve. His case was administratively closed on Friday, without a grant of deferred action. The story has been updated to include that detail.
Popular in the Community