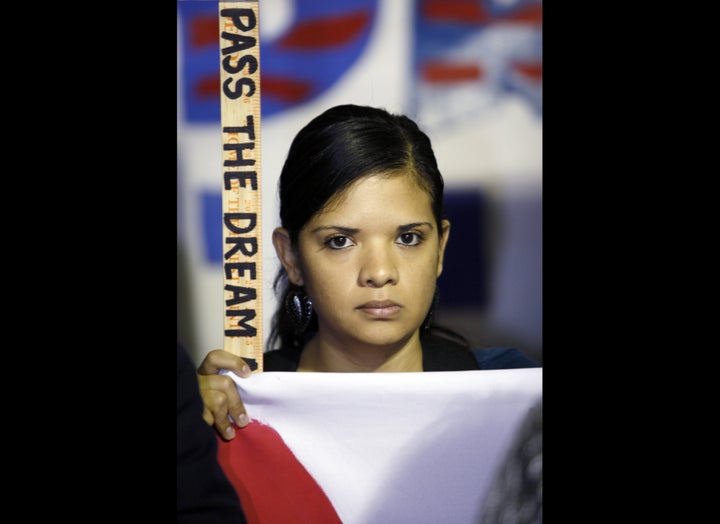 WASHINGTON -- Six months after the Senate voted down a bill to provide legal status to some undocumented students, DREAM Act supporters are mobilizing for 2012, hoping to hold Democrats accountable for failing to pass the bill last year.
Immigration activists say they are tired of Democrats assuming they have support from immigrants, particularly after the failure of the DREAM Act in December. The bill, which would have provided paths to legal status to undocumented youth in exchange for two years of college or military service, failed to pass a filibuster in a 55 to 41 vote.
Five Democrats -- Sens. Ben Nelson (D-Neb.), Mark Pryor (D-Ark.), Jon Tester (D-Mt.), Max Baucus (D-Mt.) and Kay Hagan (D-N.C.) -- voted against the DREAM Act, while Sen. Joe Manchin (D-W.V.) did not vote on the measure.
"Since North Carolina is playing host to the convention, being shy of our criticism for the Democratic approach is not something we plan on doing," Domenic Powell, a member of the North Carolina Dream Team, a group of student supporters of the DREAM Act, said Thursday. "They're crazy to think that we're loyal to them at all."
Powell and other DREAM Act supporters in North Carolina pushed for Sen. Hagan to change her position on the DREAM Act after her "no" vote in December. Hagan had previously said she was unsure about the DREAM Act, but now says it should be included in comprehensive reform of the immigration system.
Still, he said immigration advocates are eager to show they are not beholden to the Democratic Party, particularly if politicians support policies such as expanding the enforcement program Secure Communities.
"We're not interested in being under any particular political tent," he said.
In Montana, home to two of the senators who voted against the DREAM Act, advocates are mobilizing against Sen. Tester to pressure him into changing his immigration stances.
"What we'd really like is to change his mind, but we know that it's going to take a lot for that to happen," Montana immigration attorney Shahid Haque-Hausrath told HuffPost on Thursday. "One of our major goals is for Tester to get the message that it's not going to be politically expedient for him to be raising immigration as a campaign issue."
Tester is up for reelection in 2012 against Republican Rep. Denny Rehberg, putting activists in the odd position of fighting against a Democrat who assumes he will get their support. Although they do not want Rehberg to be elected, they see it as important to send a message to Tester, Haque-Hausrath said.
In addition to voting against the DREAM Act, Tester also voted to take away funding from the Department of Justice to block it from challenging Arizona's contested immigration enforcement law.
"Rehberg's positions are certainly no better than Tester's," Haque-Hausrath said. "But they're also no worse."
DREAM Act supporters are also targeting President Barack Obama in his 2012 run, arguing he is partially to blame for the failure of the bill. Immigrant advocates called on Obama in May to stop referencing his support for the DREAM Act in campaign literature, arguing it is disingenuous as he still allows undocumented young people to be deported.
At Netroots Nation, a conference of progressive bloggers and activists, DREAM Act supporters said they plan to mobilize against Obama to show him he cannot take Latino and immigrant votes for granted in 2012 while continuing record-level deportations.
"Everybody is fighting for some method of accountability right now," Juan Rodriquez of the Florida Immigrant Coalition said from the audience of a panel discussion at Netroots. "I'm not going to allow myself, my family and my community to be used."
Correction: An earlier version of this article misspelled Montana Rep. Denny Rehberg's name.
Calling all HuffPost superfans!
Sign up for membership to become a founding member and help shape HuffPost's next chapter