 ORLANDO, Fla., Aug 23 (Reuters) - The shooting of unarmed black teenager Trayvon Martin in Florida last year shook the foundations of Phillip Agnew's comfortable life selling erectile dysfunction drugs and anti-depressants.
Outraged at police who cited Florida's "Stand Your Ground" self-defense law as a reason not to arrest neighborhood watch volunteer George Zimmerman, Agnew felt compelled to make a stand of his own.
The 28-year-old from Miami led the longest sit-in in memory at the Florida Capitol this summer. On Wednesday he will step up to the microphone in Washington to add his voice to those of President Barack Obama, former presidents Bill Clinton and Jimmy Carter, and others commemorating the 50th anniversary of Martin Luther King Jr.'s "I Have a Dream" speech.
Now a salaried field organizer for the Service Employees International Union, Agnew represents a generation of civil rights activism half a century removed from King's iconic address.
Martin's killing prompted Agnew and many others to question whether equal justice in the United States was still only a dream.
The group he helped start, which calls itself the Dream Defenders, camped for 31 days in the office of Governor Rick Scott to protest Zimmerman's acquittal in July.
"We think the political landscape of America is turning very much in favor of young people now," Agnew told Reuters. "We want people to come together and talk about the future of Florida."
Many people blamed Zimmerman's acquittal on the Stand Your Ground law, under which people in fear of their lives no longer must try to retreat before defending themselves with potentially lethal force.
As the protest progressed, the Dream Defenders broadened their platform to include other issues, including educational opportunity and drug incarceration rates.
The Dream Defenders' protest surpassed by two weeks the 2011 pro-union sit-in at the Wisconsin Capitol, which was cut off by court order.
The group, which has established chapters on six of Florida's major public college campuses, is positioning itself to play a role in the 2014 midterm elections in a state that will be pivotal in the presidential campaigns that launch soon after.
"They planted the seeds for issues and mobilization efforts that clearly are going to be evident in the 2014 election cycle," said Susan MacManus, a political science professor at the University of South Florida.
Agnew met fellow Dream Defenders founders Gabriel Pendas and Ahmad Abuznaid a decade ago, when he was a student at Florida A&M University in the state capital, Tallahassee.
They got a taste of activism in 2006 while participating in marches and a two-day student-led sit-in at then-Governor Jeb Bush's office over the death of another black teen, Martin Lee Anderson, at a juvenile boot camp.
The Florida legislature subsequently closed all five state camps.

As a child of poverty, Agnew said he felt obligated upon graduation to use his business degree to secure a spot for himself in the middle class, and he took a sales job with pharmaceuticals company Eli Lilly & Co.
But his experience in the Anderson case kept tugging at his conscience.
So within weeks of Martin's killing, Agnew said he gave up his $52,000 salary ($63,000 with bonuses), rented out his house and reconnected with Pendas, who was working as a union organizer in Miami, and Abuznaid who was vacationing in Amsterdam after passing the Florida bar.
Agnew draws a connection between the Dream Defenders and the anti-war and civil rights movements of two generations ago, especially after some of the 1960s leaders such as Jesse Jackson and Julian Bond joined them briefly in the Florida Capitol.
Bond agreed. "I think it's fair to say that, in many, many ways, what happened here over the last several days is very much like what happened across the South in the days when I was a young guy," he told Reuters as the Dream Defenders were decamping on Aug. 15.
Despite ending the sit-in, Agnew said the Dream Defenders had accomplished some of their goals, including getting the speaker of Florida's House of Representatives to call for a committee hearing next month on the Stand Your Ground law.
He said it was fitting that the 50th anniversary of King's speech was only a few days away.
"There are many comparisons to be made between today and yesterday," he said. "This is the same struggle, the same fight, the same eagerness to do something about it. And we're lucky to have these spirited young people involved in it." (Additional reporting by Bill Cotterell in Tallahassee; Editing by David Adams and Lisa Von Ahn)

Before You Go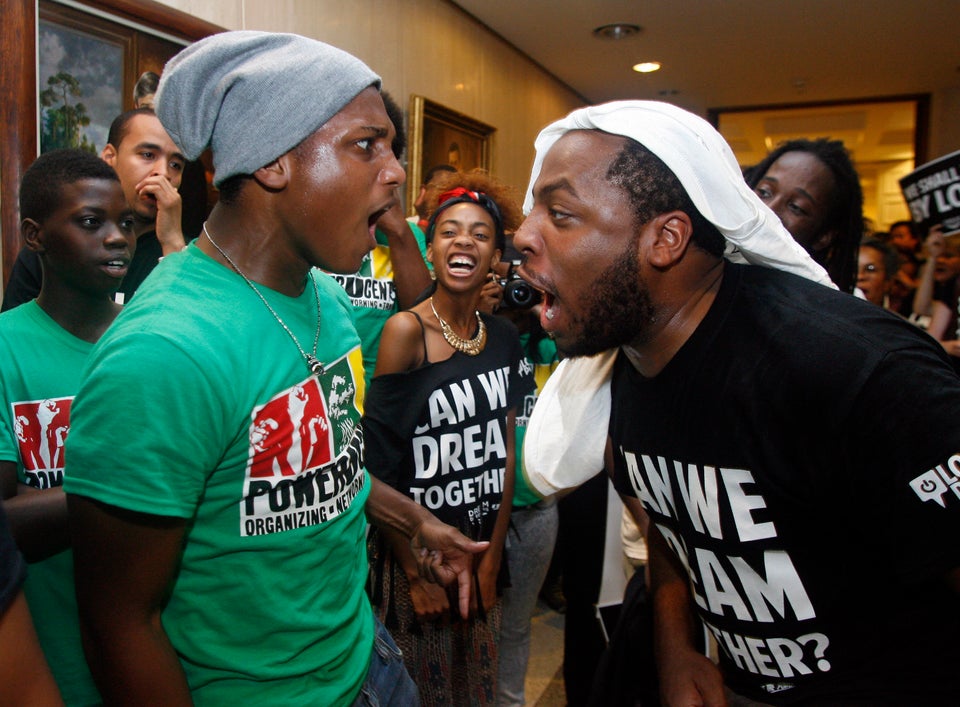 Dream Defenders
Popular in the Community