Minutes before the hip-hop trio Dream Junkies stepped on stage at El Rey Theater in Los Angeles this week, its members huddled in the green room to pray. One of them, Ruslan, said a short blessing, asking God to soften the hearts of the audience.
The group -- whose members include Ruslan, Beleaf and John Givez -- opened on Wednesday for Murs & 9th Wonder, a rapper-producer duo whose large fan base was evident at the sold-out show. Ruslan said before the performance he wasn't sure how many people in the audience were actual Dream Junkies fans.
"By the end of the night, hopefully they will be," he told The Huffington Post.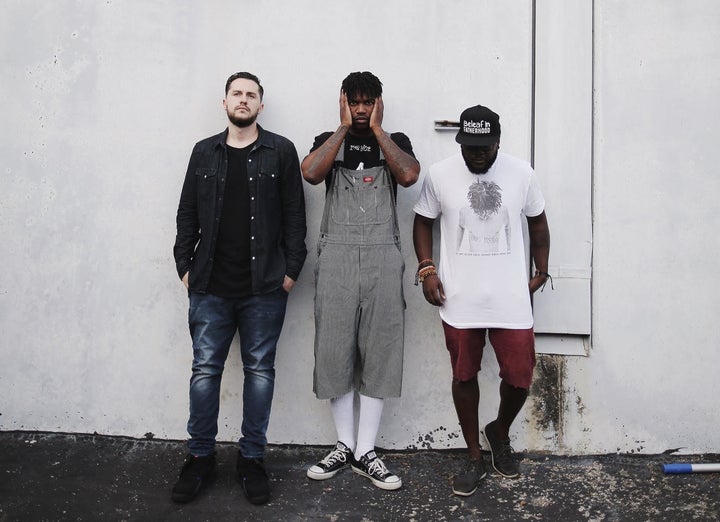 Dream Junkies released their first album as a collective, titled "Good Religion," on March 4 and begin their official album tour in April. The record is a collage of friendship, life experiences and, perhaps most notably, faith. All three members are devoutly Christian.
"We all go to the same church, and we're all in the same community, but we're all at different stages in our walks with God," Beleaf said. 
All three members of the group spoke of the importance of community in their work. Beleaf and Givez are brothers-in-law; Ruslan and Beleaf share day care for their children. All three attend a 1,000-person church in San Marcos, a suburb of San Diego, called theMovement, where the senior pastor, Pat Lynch, plays an active role in group members' spiritual and personal lives.
"I've known Ruslan for years," Lynch said. "I have a picture of him from when he was 17 years old, fresh out of high school and trying to rap."
That relationship blossomed over the years. When Ruslan began collaborating with Beleaf and later, with Givez, Lynch became a part of their lives, too.
Ruslan, left, and Lynch celebrate Christmas Eve at theMovement Church:
Givez and Ruslan attend a men's Bible study group, and Beleaf and his wife host a life group at their house. Despite their deep faith, infused in everything from their lyrics to the name of their album, the rappers said they don't want Dream Junkies to be labeled as "Christian rap" or "Christian hip-hop."
"Jesus and church are a huge part of who we are. It's very important to us, but it's not how we define the genre of music we make," Ruslan said. "We want to make music that speaks to people in normal day-to-day situations. People who identify with our faith are going to rock with it, but we just want to make great music and speak to people from all walks of life."
Even Lynch said that "the church might not be a big enough platform for them."
"People could start judging them based on that label of 'Christian hip-hop' that they didn't necessarily ask to be put on them," he said.
This isn't a new phenomenon for Christian rappers, or for hip-hop as a genre. Lecrae is one artist to make made the transition from a Christian fan base to a wider audience -- with considerable success. But even outside of the church scene, Ruslan noted, hip hop has long been influenced by faith, from Tupac to Nas.
With prominent rappers like Kendrick Lamar declaring their faith in God, the music world seems open for "alternative hip-hop" or "positive hip-hop" -- genre labels Givez and Beleaf offered in the place of "Christian hip-hop" to describe Dream Junkies.
The group's music delves into some serious territory, addressing abuse, addiction and family histories, in addition to their relationships with God and with one another. The name Dream Junkies addresses that duality.
Each of the members has had experiences of "desperation, need, and feeling like a junkie," Givez said. "We carry this junk with us. The dream aspect is, 'What if we were as addicted to the dream God had for us as we are to the things that are bad for us?'"
Dream Junkies released their album on the label King's Dream, founded by Ruslan, which represents the group and each of its members as individual artists. The name draws from a biblical passage, John 10:10, Ruslan said, in which God says: "The thief comes only to steal and kill and destroy; I have come that they may have life, and have it to the full."
"It comes from our desire to see people encouraged, impacted, and empowered to live out God's dream in their life," Ruslan said. "We hope to be the soundtrack for that, for others pursuing and finding their purpose."
Givez, despite his personal success with his 2015 album, "Soul Rebel," said he's less interested in fame than in having an effect on the audience.
"The rewarding part is going to the show and seeing people actually engaging with the music," he said. "At our church we always say, 'Love God, love people." And we get to see people from all walks of life at our shows, whether they're gang bangers or theologians."
Still, the group hasn't been wholeheartedly embraced by the Christian community. Those who object to their music are "people who would be against a Christian smoking a cigarette or having a drink -- all the people who are very into the rules," Givez said.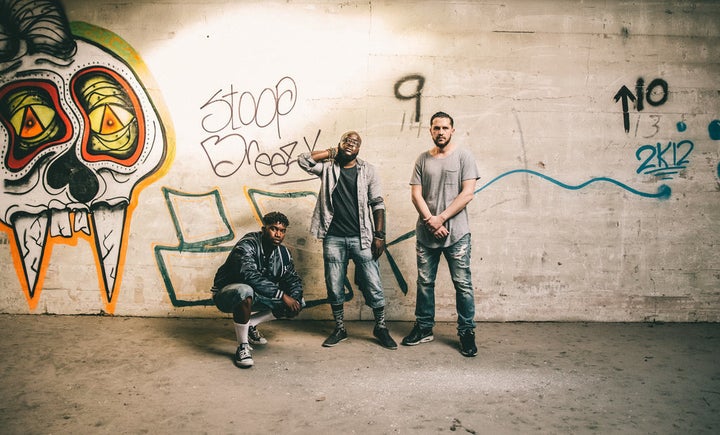 Lynch said he's seen the same thing happen with other Christian artists. The Christian community has "marginalized" artists in the past, he said, trying to control them at the outset and then hypocritically leveraging their religiosity once the artist goes mainstream. 
"In religion we've done a really unjust thing by making artists feel they belong outside the four walls of the church," Lynch said. 
Without labeling themselves "Christian rappers," Lynch said, Dream Junkies members make no pretense of being perfectly devout or spokesmen for the faith. It's a safer route and one the group said feels more authentic.
"It's more about just being examples of how we're living out our dreams," Givez said, "and not hiding anything."
Calling all HuffPost superfans!
Sign up for membership to become a founding member and help shape HuffPost's next chapter
BEFORE YOU GO
PHOTO GALLERY
Our Readers Define God In One Word