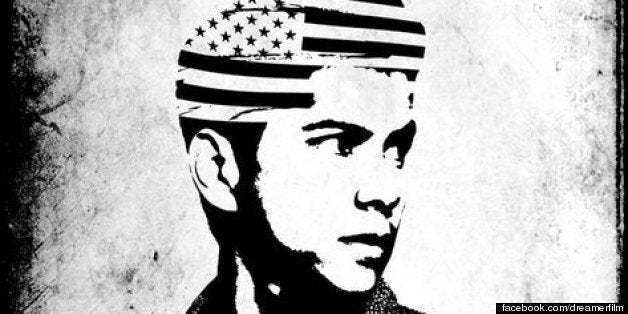 About a dozen Dreamers in Arizona sat around a table in Phoenix last week to share their stories of struggle as well as their dreams and aspirations.
A few of them spoke about their fear of being separated from their families. One spoke about her desire to continue her education and another about his dream of serving in the U.S. Marine Corps.
Actor Jeremy Ray Valdez was there to hear their stories. He told them, "I want to tell your story, and I want to get the message out about what Dreamers are going through."
Valdez is doing just that, through the independent film called "Dreamer" that was completed last month.
Jeremy Ray Valdez highlights the struggles Dreamers face
In the film, he plays the role of Joe Rodriguez, an undocumented young immigrant who is raised by a white family after his mother goes back to Mexico.
Joe goes on to attend the University of Texas, where he excels and earns a bachelor's degree in accounting, as did Valdez from the University of Arizona. He then begins to work for an accounting firm but is forced to leave the job when his employer finds out he is undocumented.
"The story really begins there, and it tells the story about his struggle of being a Dreamer, the things he goes through and the fear that he lives in from day to day," Valdez told VOXXI.
When asked what he hopes people will take away from the film, he said "the humanity of the Dreamer, of the undocumented immigrant."
"I want to show what they go through from day to day," he said. "I want to show that they are human beings who want a better life, and that's why they're here."
Valdez, who is of Spanish and Native American ancestry, was born in Santa Fe, N.M., and grew up in Arizona. He confessed that he wasn't fully aware of what Dreamers and other undocumented immigrants are facing until he heard their stories as he prepared for this "Dreamer" film.
"I was ignorant to what was going on in our country, but I did more research … and that opened up my eyes," he told VOXXI.
Now, Jeremy Ray Valdez travels around the country promoting the film and meeting with Dreamers to hear their stories, like he did in Phoenix.
Film inspired by the failure to pass the DREAM Act
The idea for "Dreamer" emerged after filmmaker Jesse Salmeron saw the heartbreak Dreamers felt when the DREAM Act, a bill that would've given undocumented youth a chance to become U.S. citizens, died in the Senate in December 2010.
Salmeron sat down to write the film the following month.
Valdez said the Dreamers' struggles are "near and dear" to Salmeron, especially because he himself was undocumented at one point and he grew up surrounded by undocumented families in Texas.
Salmeron and his family immigrated illegally into the United States from El Salvador when he was 3 years old. Eventually, they were given refugee status because they were fleeing the Salvadorian civil war.
Salmeron asked Jeremy Ray Valdez to play the role of Joe after seeing Valdez play the leading role of a gay young man in "La Mission." That 2009 film is about an ex-convict and recovering alcoholic whose path to redemption is tested when he discovers his son is gay.
Valdez said he told Salmeron he would star in the "Dreamer" film but only if he could help produce it.
"I read the script, and I thought it was timely," he told VOXXI about why he became interested in the film. "I thought that the story is happening in pretty much every city in the United States."
Completing the 'Dreamer' film wasn't easy for Jeremy Ray Valdez and Jesse Salmeron
The road to making the "Dreamer" film a reality was long and sometimes disappointing.
Salmeron and Valdez began to shop the script around for funding in 2011 but were turned away by several potential funders who claimed that Latinos didn't want to see their "soft stories" told on the big screen. Struggling to come up with money to produce the film, they started an online Kickstarter campaign through which they raised more than $50,000 in 30 days.
Valdez said they then took the $50,000 to producers who had rejected the film to show them that there were people who wanted to see the film.
"We raised that money because people believe in the DREAM Act and in immigration reform," Valdez said.
They eventually got enough funding from producers to complete the "Dreamer" film. It premiered in March at Cinequest Film Festival in San Jose, Calif., selling out two 650-seat theaters.
It also screened at Georgetown University in Washington, D.C. on April 10. That same day, thousands of pro-immigration reform advocates rallied outside the U.S. Capitol building and the "The Dream is Now" documentary, also about Dreamers, premiered. The "Dreamer" film was also shown April 10 at the Hispanicize Festival in Miami.
Check out the Dreamer Official Trailer below
Calling all HuffPost superfans!
Sign up for membership to become a founding member and help shape HuffPost's next chapter
BEFORE YOU GO
PHOTO GALLERY
7 Things To Know About Immigration Reform