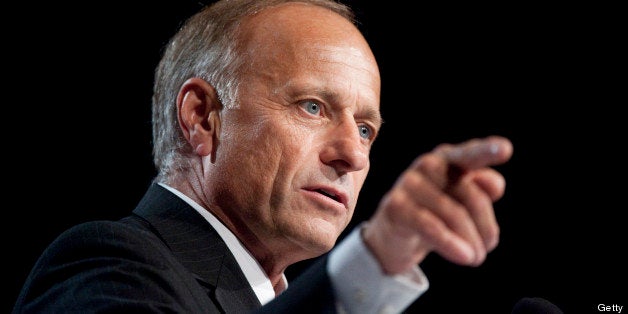 WASHINGTON -- Three undocumented immigrants delivered cantaloupes to Rep. Steve King's (R-Iowa) office Thursday and called for his removal from the House Judiciary Committee after the lawmaker insisted that many Dreamers are involved in the drug trade.
"For everyone who's a valedictorian, there's another 100 out there that weigh 130 pounds and they've got calves the size of cantaloupes because they're hauling 75 pounds of marijuana across the desert," King recently told Newsmax, referring to undocumented young people known as Dreamers. "Those people would be legalized with the same act."
Maricela Aguilar, a 22-year-old organizer for Dreamer group United We Dream, said that King was trying to "give this narrative of us being criminals and bad people, when we're not." Aguilar is a graduate student at Brandeis University in Massachusetts and said that she was in the top 10 percent of her graduating class in high school.
The Dreamers delivered two cantaloupes to King's staffers, but were not able to speak with the congressman because he was in a meeting. King's office did not respond to a request for comment.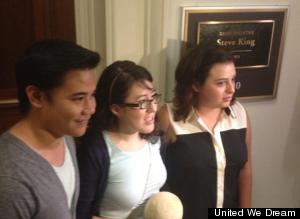 Three undocumented immigrants delivered cantaloupes to Rep. Steve King's (R-Iowa) office Thursday. (
United We Dream
)
"[King's staff] said we needed to make appointments," Aguilar said. "But the congressman doesn't make appointments to talk outrageously about our community, so we have to come in and deliver our message no matter what. We are here -- 11 million of us -- and we are here to stay because this is our home."
Before the Dreamers arrived with their fruit delivery, King arrived at his office flanked by reporters. They asked him to respond to comments made earlier in the day by House Speaker John Boehner (R-Ohio), who said King's remarks about undocumented immigrants made immigration reform "more difficult." King said he would have loved to stay and talk "because I have a lot to say on this topic," but insisted he had a meeting to attend. He did not reemerge from his office.
Aguilar also had a lot to say on the topic.
"The fact that Speaker Boehner also came out and said that this is just hateful, spiteful rhetoric ... says a lot," she said. "[Boehner] needs to get him out of the House Judiciary Committee. He's one of the key players in the committee that's talking about immigration reform, and he needs to be out of there."
Before You Go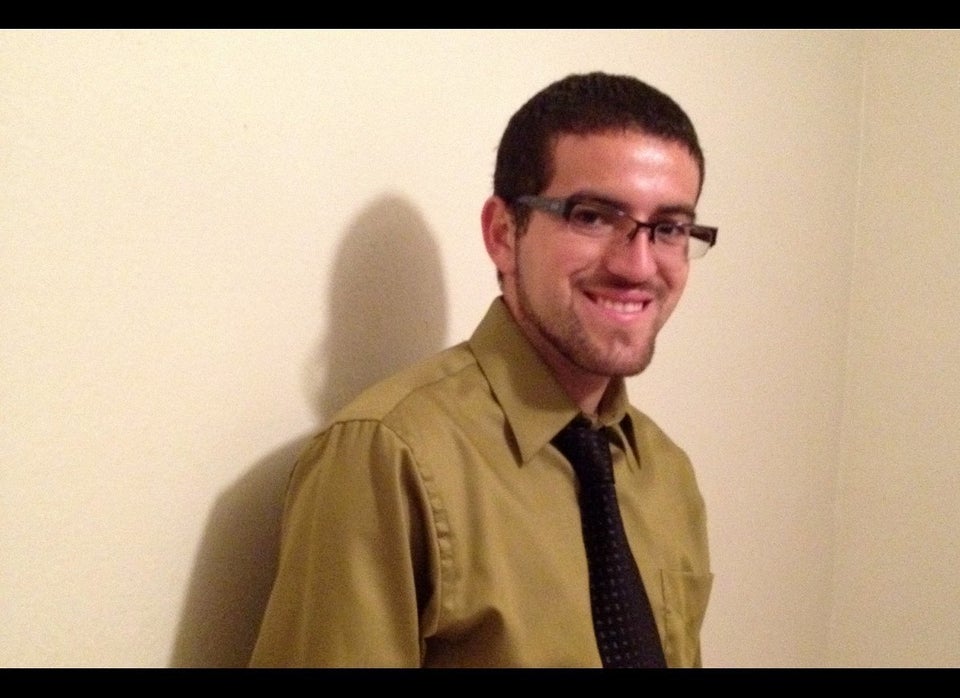 DREAMers Taking A Stand
Popular in the Community