WASHINGTON — If Congress does not pass an immigration bill, Jesus Perez will not be able to pursue his dream of becoming a doctor. Brisa Ledezma will have to quit her job as a sixth-grade teacher. Both of them, along with hundreds of thousands more who currently have protections, will be at risk of deportation from a country they've lived in since they were children.
They were two of more than 100 so-called Dreamers ― young undocumented immigrants who came to the U.S. as children ― who descended on Capitol Hill on Wednesday to ask lawmakers to support a bill that would allow them to gain legal status and eventual citizenship.
The clock is ticking. President Donald Trump last month rescinded the Deferred Action for Childhood Arrivals program, which means that without congressional intervention, 700,000 current DACA recipients will lose their two-year work permits and deportation protections. The administration will stop accepting applications for renewal for a small subset of those DACA holders on Thursday, and in six months recipients will begin to lose protections en masse as their permits expire.
Trump told Congress he wants lawmakers to act, and many from both parties say they want to. Now they just have to be convinced to follow through ― which is where the Dreamers come in.
"I hope they see that we're good people, the Dreamers are good people," Perez said in an interview.
The Dreamer movement has used personal stories for years to gain support for granting legal status to young undocumented immigrants who came to the U.S. as children. Even immigration hardliners sometimes adopt sympathetic language for them ― that they were brought here by their parents through no fault of their own, or that this is the only country they know. Sixty-three percent of Trump voters ― who supported a candidate who campaigned on mass deportations ― believe Dreamers should be given a path to citizenship, according to a recent Fox News poll.
Perez hadn't shared his story much before, but did so in a very public way on Wednesday: during a press conference with Sens. Dick Durbin (D-Ill.) and Lindsey Graham (R-S.C.) in support of the Dream Act, a bill that would grant legal status to Dreamers and eventually allow them to become citizens.
Perez flew into D.C. from Oklahoma early Wednesday with several other DACA recipients and allies for a day of lobbying organized by pro-immigration reform group FWD.us. He said he was a bit nervous about his speech beforehand, but his experience performing music made him a more comfortable in front of the cameras, and he felt confident people back home wouldn't think of him any differently for knowing his immigration status.
He told the reporters gathered that DACA has allowed him to work in a hospital, where he can help patients "feel comfortable and get the care they need in very scary moments in their lives," and has helped him pay for his pre-med courses at Oklahoma State University.
"When my DACA protections end, I would lose my job and won't be able to pay for class, putting my dreams and the care of patients at my hospital on hold," Perez said during the press conference. "If the Dream Act passes, I'll be able to continue my studies, apply for medical school, and become the cardiothoracic surgeon I know I am meant to be."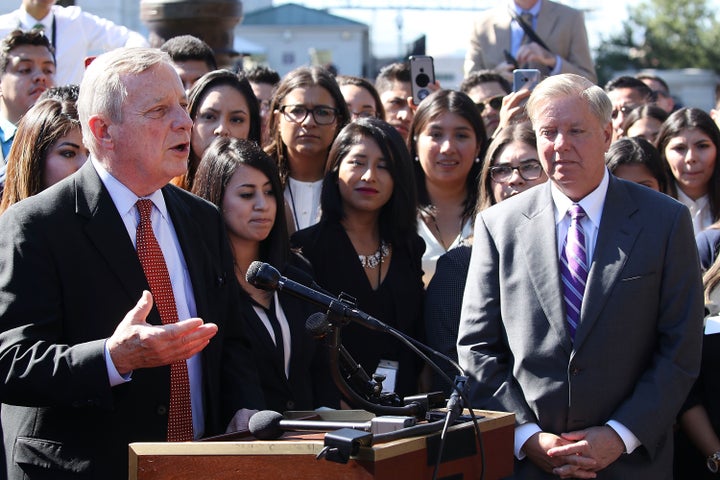 Afterward, he and the other Oklahoma Dreamers walked to the House office buildings to meet with two lawmakers from their state: first Steve Russell, and then Markwayne Mullin, both Republicans.
Neither member is sponsoring the Dream Act, which has five Republican backers in the House. Nor are they currently signed onto the Recognizing America's Children Act, a House Republican alternative to the Dream Act with narrower eligibility, which has 34 GOP co-sponsors.
But they seemed convincible. Russell has said publicly he believes Dreamers should be allowed to become citizens, and Oklahoma advocates said their time with him and a meeting with his staffer were encouraging.
The Mullin meeting was an even bigger success ― they said the congressman met with them for nearly 45 minutes, and said he would love to talk to them all day if he could. Mullin told the group that he knows undocumented immigrants and that the issue is personal for him, they said. He also told them that the fact DACA recipients will begin to lose protections in larger numbers should force Congress to act, Ledezma said.
"Having deadlines is very important to them, so this deadline makes it a priority," she said. "We want to trust that he means what he says."
The Dreamers said Mullin told them they could help back home by sharing their stories more with the community and encouraging others to reach out to members of Congress and ask them to support legislation.
The group was urging lawmakers to support the Dream Act specifically. But they say it would still be a good step if Congress backed another bill to provide legal status to Dreamers ― the SUCCEED Act from their home-state Sen. James Lankford (R), along with Sens. Thom Tillis (R-N.C.) and Orrin Hatch (R-Utah) ― even though Dreamers and advocates have concerns about that bill.
"Maybe we have a foot in," Ledezma said.
Perez said he believes the Dream Act is the best choice for them, but he might be willing to accept something else if it meant he could stay in the U.S. and become a doctor.
"The community in Oklahoma has given me so much that I want to give back to them," he said in an interview. "If I'm able to achieve that goal, then I'd be more than happy."
Before You Go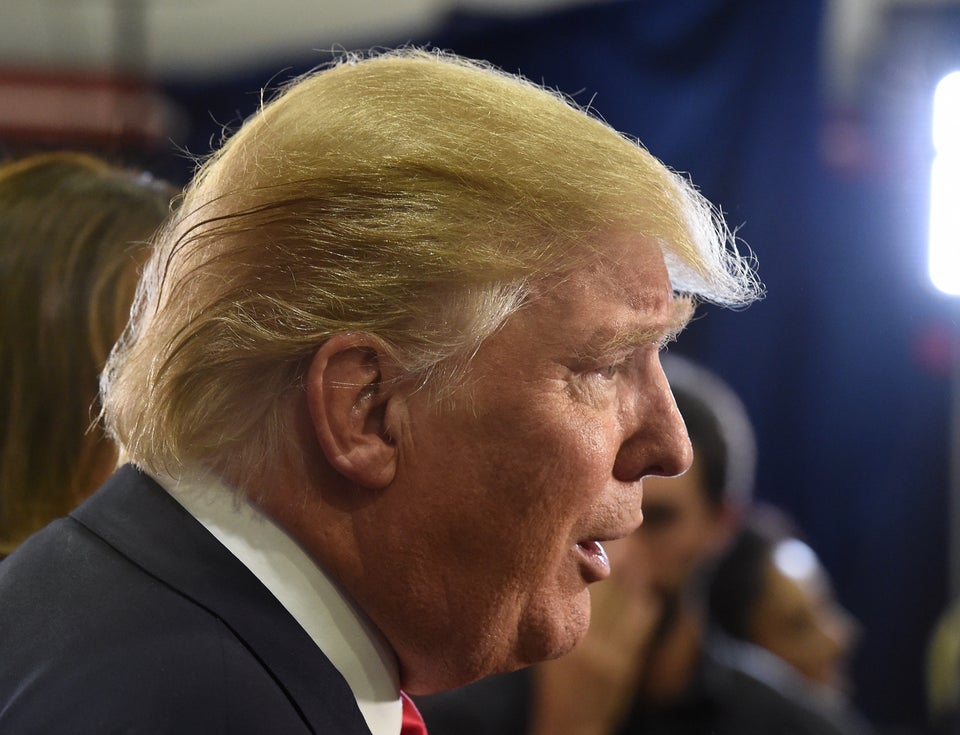 How Donald Trump Talks About Undocumented Immigrants
Popular in the Community