WASHINGTON ― The Trump administration has to stop revoking undocumented young people's deportation protections without due process, a federal judge ruled on Monday.
The new order does not affect President Donald Trump's effort — launched in September but currently on hold because of a separate court ruling — to end the broader Deferred Action for Childhood Arrivals program.
That's because in addition to rescinding DACA as a whole, the Trump administration has repeatedly terminated individual undocumented immigrants' deportation protections without providing notice or a chance to respond.
On Monday, U.S. District Judge Philip Gutierrez issued a preliminary injunction to halt that practice. Under the order, the government must reinstate deportation protections for certain individuals and cannot revoke them from others unless it first notifies those people, offers an explanation and allows them to respond.
If the government had done that, José Gil Robles, a 25-year-old undocumented immigrant who came to the U.S. at age five, wouldn't have lost his status in the first place, according to the suit.
"I just want to go back to school, make something of myself and show [that I] can contribute to this country."
Gil, one of the plaintiffs represented by the American Civil Liberties Union, was arrested in September for driving with a canceled license. In Minnesota, where Gil lives, DACA recipients have to go to the DMV to show their new paperwork when they renew their protections if they want to maintain their driver's license, and Gil hadn't done it after his latest DACA renewal. It slipped his mind, he said. He was released the next day, sorted out his driver's license soon after and went about his life working and helping out with his five younger siblings.
A month later, Immigration and Customs Enforcement showed up at Gil's work and detained him, ultimately opting to hold him for more than a month. While he was in detention, ICE issued him a notice to appear, a document that tells an immigrant they are in removal proceedings. U.S. Citizenship and Immigration Services informed Gil that it had revoked his DACA protections when it issued the notice to appear, without notifying him beforehand that he was at risk of losing his status.
Now Gil is out of detention, but he no longer has DACA, even though his misdemeanor driving charge is not something that should make him ineligible for the program, ACLU attorney Katrina Eiland said. Government attorneys said in court during the class-action lawsuit that Gil had been arrested and charged with two felonies ― something the ACLU demonstrated was incorrect. Because he was given no explanation for his DACA revocation or a chance to respond, Gil wasn't able to correct the record before losing his protections, Eiland said.
The ACLU argued against the government's practice of automatically terminating DACA status for individuals given a notice to appear ― after all, anyone eligible for DACA is in the U.S. without legal status and by definition could be issued such a notice. The judge sided with the ACLU, and temporarily barred the government from revoking someone's DACA protections solely because they'd been issued a notice to appear in court over their undocumented status.
The government now has 14 days to tell the court whose DACA status it has terminated since last Jan. 19 ― the day before Trump became president ― without providing them notice. The Trump administration must then reinstate DACA status and work permits for those individuals unless they have been convicted of a criminal offense that disqualifies them from the program, according to the injunction.
The ACLU identified 22 young undocumented immigrants who lost their DACA status without notice in the past year, but Eiland said there could be dozens more ― not to mention many others who would, should the injunction become permanent, be spared from seeing their own protections similarly terminated in the future. Although Trump rescinded DACA last September, individuals can still renew their protections under a court order.
The Department of Justice did not immediately respond to a request for comment on the Monday order on DACA revocations.
Gil is hoping that once he gets his DACA status back, he can work and then go to college, although he's not sure yet what he would like to study.
"I just want to go back to school, make something of myself and show [that I] can contribute to this country," he said.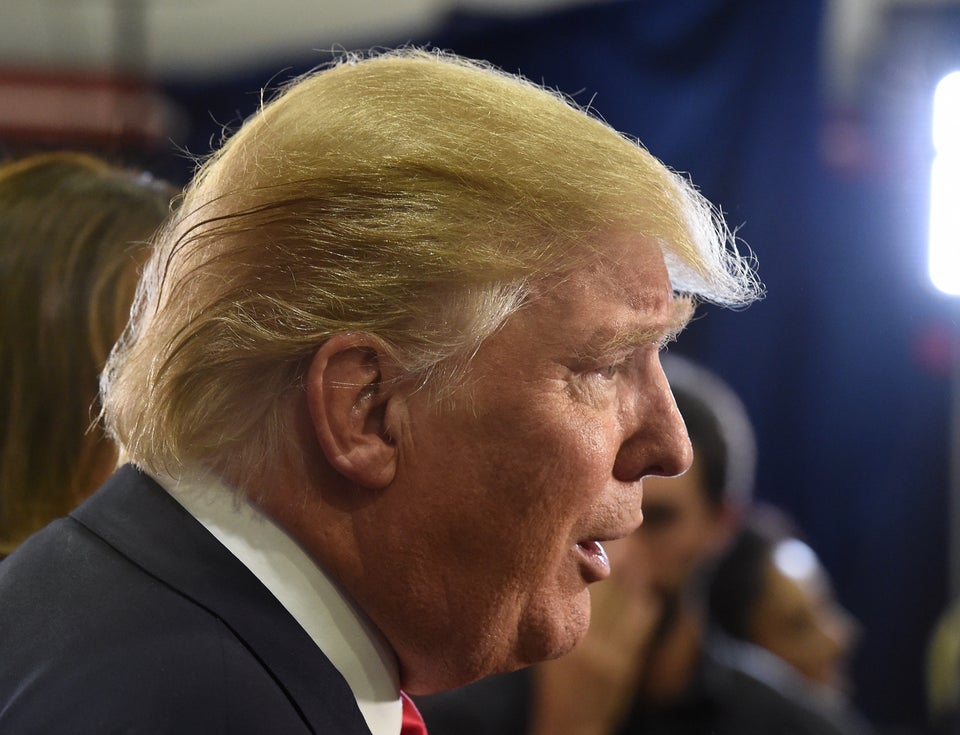 How Donald Trump Talks About Undocumented Immigrants