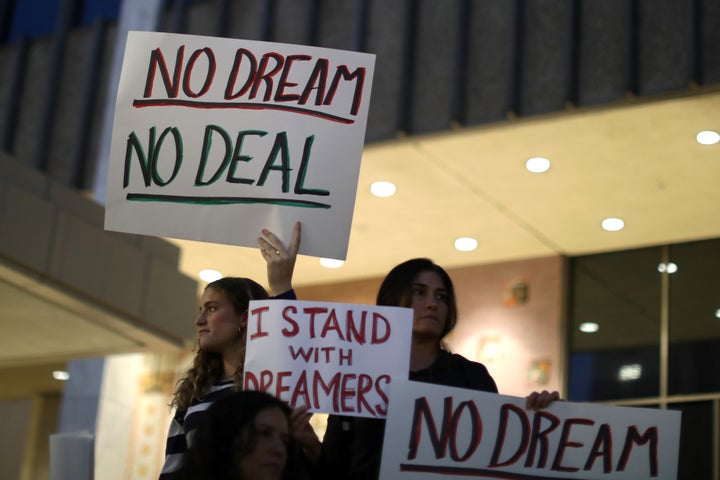 WASHINGTON ― Undocumented immigrants and their allies know that compromise will be necessary for Congress to broker a deal to help the 700,000 young people set to lose deportation protections under President Donald Trump.
But they don't want Democrats to sell out other immigrants to make it happen.
"Our safety can't come at the cost of our values, of our dignity and of having the back of black immigrants and standing up to white nationalist sentiment and racism," said Greisa Martinez, a Dreamer with the advocacy group United We Dream.
Democrats are pressing for a deal by midnight to help so-called Dreamers, hundreds of thousands of whom the president put at risk of losing their jobs and deportation relief when he rescinded the Deferred Action for Childhood Arrivals program. Many have threatened to vote against government spending until DACA is addressed, which could risk a government shutdown.
With hours to go, there is still a gulf between what the president and his immigration restrictionist allies want in a deal and what is acceptable to Democrats, and to the Dreamers they're trying to help. The president says he won't do anything for them unless he gets his border "wall" ― in whatever form that means ― and changes to restrict legal immigration.
Dreamer and immigrant community advocates have red lines, too. As the most visible members of the undocumented community, Dreamer activists have argued for years that their protections shouldn't come at the expense of others. Some say Democrats should not accept a deal that would put more border patrol agents into communities or other interior enforcement efforts such as adding detention beds. Some want to protect immigrants from Haiti, El Salvador and other nations who are already in the United States under temporary protected status. Some want to save family reunification visas or the diversity visa lottery.
It's likely that any deal ― if Congress makes one at all ― will have pieces that disappoint activists and Democratic lawmakers. But there's broad consensus between both groups on one thing: The idea that Republicans can receive a slew of immigration changes in exchange for only one from the left is a non-starter.
"Everyone has clear indication of what we've been saying for a while: that Trump's policy changes have racist motivations."
There are two major bipartisan proposals in Congress right now. In the House, there's a bill spearheaded by Reps. Will Hurd (R-Texas), Jeff Denham (R-Calif.) and Pete Aguilar (D-Calif.) that would pair Dreamer protections with various border security measures, meant to be a "narrower" approach.
That bill has concessions that Democrats and many activists are willing to swallow in exchange for DACA. Rep. Raul Grijalva (D-Ariz.) said he would probably support the bill "if it came down to it." His main non-negotiable issue is eliminating family-based visas, he said.
"I think we're going to cross a point where there's going to be that balance between the 800,000 lives [of DACA recipients] and let's say the Aguilar-Hurd legislation, and I would say Aguilar-Hurd would win that day," he told HuffPost.
The bill lacks some of the provisions border community advocates are afraid of. Andrea Guerrero, the chair of the Southern Border Communities Coalition, said their top concerns are preventing a massive increase in border agents and additional infrastructure ― or wall ― that isn't based on any analysis or input from people who live there. Guerrero said her group thinks the Hurd-Aguilar bill addresses border security in a responsible way.
Advocates don't see border communities as a good giveaway to get aid for Dreamers ― it's one thing to make concessions on technology, but another to approve more agents who can conduct arrests up to 100 miles from the border, including of young undocumented people. Guerrero said she and others from her group, including Dreamers, are lobbying Congress to not throw the border under the bus.
"We're always concerned that members of Congress are going to take a shortcut, are going to ignore the realities of our communities and are going to respond to the rhetoric," she said.
The other bipartisan proposal on Dreamers, this one from six senators, includes border security measures and tweaks to the legal immigration system, meant to meet Trump's demands. Trump rejected the bill when Sens. Lindsey Graham (R-S.C.) and Dick Durbin (D-Ill.) presented it to him last week, but they formally introduced it on Wednesday evening anyway, and said it has support from seven Republicans in total.
Advocates and Democrats in the House have some concerns with the bill, but stressed it was still a good step. Grijalva said he does not like its changes to family-based immigration system. Rep. Luis Gutierrez (D-Ill.) said Wednesday that he did not see how the Congressional Hispanic Caucus would embrace it, but did not fully rule out the possibility that could change with the final language.
A potential piece of contention is the fact that the bill would make significant changes to the diversity visa lottery, as requested by Trump. The Congressional Black Caucus has been particularly opposed to past efforts to end the lottery because African immigrants make up a large proportion of the people granted green cards through the program.
Trump strengthened the resolve of supporters of the diversity visa lottery last week when he reportedly referred to African nations as "shithole countries" and dismissed senators' proposal to help Haitians living in the U.S., said Jonathan Jayes-Green, a Dreamer and the co-founder of the advocacy group UndocuBlack Network.
His organization, which represents black immigrants, believes a deal should protect the visa lottery and grant relief to people who are losing temporary protected status, including from Haiti.
"Up until last week, partners and the general public might have been willing to compromise on it [the visa lottery]," he said. "But where we are right now is everyone has clear indication of what we've been saying for a while: that Trump's policy changes have racist motivations."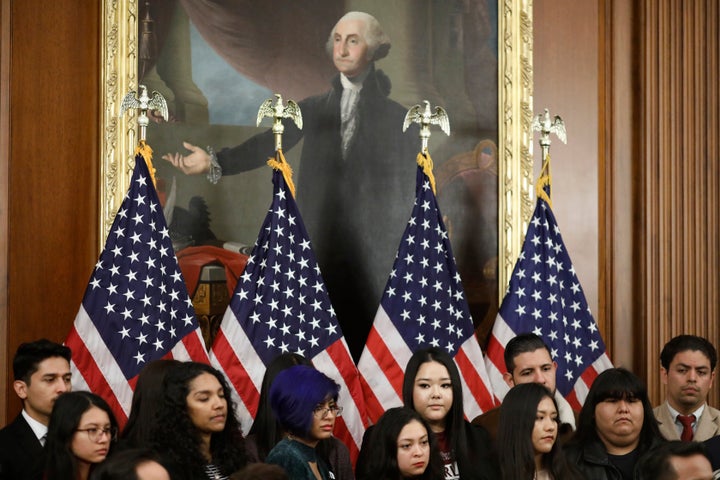 The entire bill put forward by another group of House Republicans, led by Bob Goodlatte (R-Va.), the chairman of the Judiciary Committee, is a non-starter for both Democrats and advocates for reform, both from the left and libertarian-leaning side. That bill would make a host of changes to the entire immigration system, including cutting legal immigration, criminalizing being in the U.S. without legal status and mandating that employers check immigration status and provide massive funding for the border.
One of the items Democrats and advocates find most disturbing is that it would change the law for asylum-seekers. Durbin said on Wednesday that Republicans had said narrowing protections for asylum-seekers was part of border security, something he rejected.
"I told them it's unreasonable," Durbin told reporters. "We can't fix the entire immigration system in a matter of hours."
Rep. Zoe Lofgren (D-Calif.), a former immigration attorney, said Thursday that changing asylum law as part of a deal was "not going to happen."
"We're not going to throw out settled law that the world has been proud of since the Nazis as a hostage payment for saving the Dreamers," she said. "The Dreamers wouldn't agree to that."
Before You Go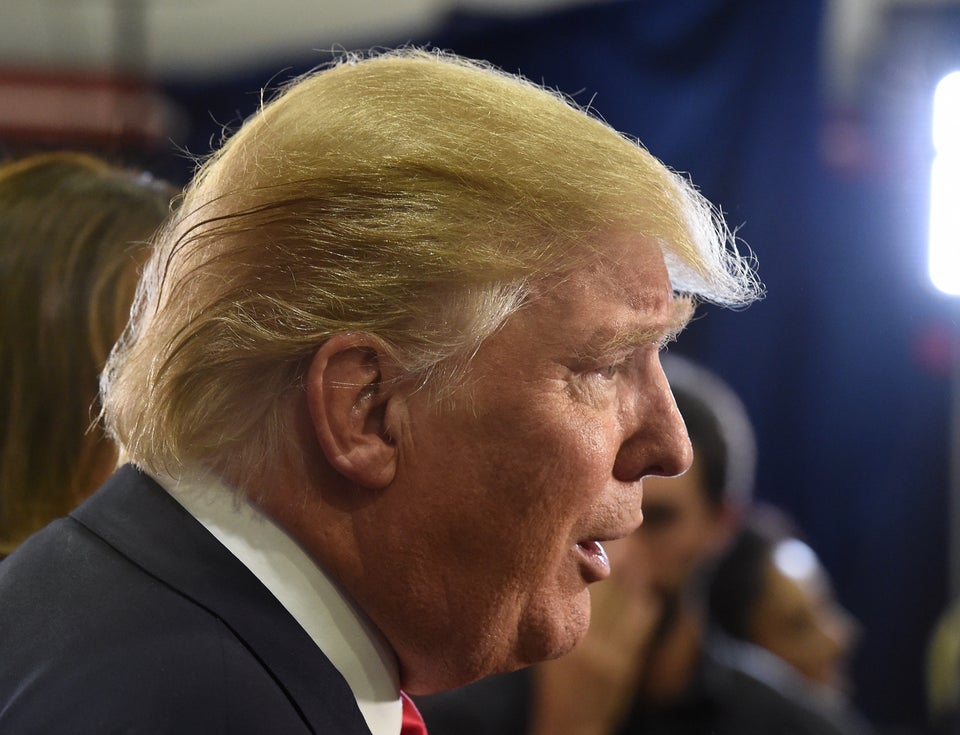 How Donald Trump Talks About Undocumented Immigrants
Popular in the Community