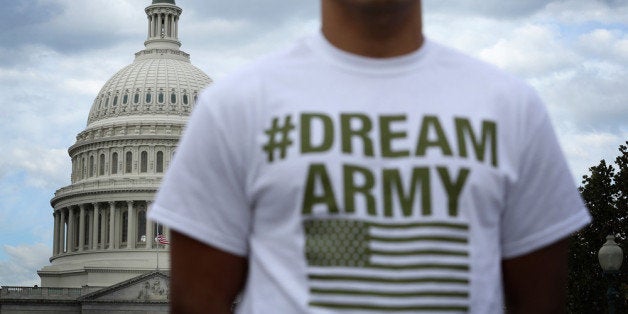 Over the past years, the immigrant youth movement has become an integral part of the body politic of this nation. From working with civil rights leaders to working in Congress, Dreamers -- undocumented immigrants brought to the country as children -- are now a formidable voice in the immigration reform debate such that both parties vie to procure the support of DREAMers to secure a political edge. But as elections near, Dreamers will remind Republicans and Democrats that our loyalty is to our communities, not a political party.
Democrat politics have been far friendlier to immigrants. Republican immigration polices like "self-deportation," Arizona's discriminatory "papers please" law, and a filibuster of the DREAM Act are still fresh in the minds of the American people, especially Latino and Asian voters who voted over 70 percent for President Obama, partially against Romney's harsh immigration rhetoric.
And it's no secret that Republicans continue to be the main obstacle to immigration reform by the fact the Tea Party-led House of Representatives has been unable to function, let alone pass major legislation.

President Obama, however, has yet to offer administrative relief to families separated by an arbitrary deportation machine like terminating programs like "Secure Communities" that has damaged the relationship between the police and Latino communities.
Additionally, some Democrats are using the immigration reform debate to win elections going so far as establishing political hard lines (e.g., "citizenship or nothing") all while ignoring the urgency millions of American families face due to record deportations. At times, Democrats, like some right-wing Republicans, have also sided with more detentions than pressing for humane reform such as when Democratic Senator Robert Byrd (D-WV) established the requirement that Homeland Security aim to detain an arbitrary number of undocumented immigrants each day.
Nevertheless, we have seen that champions and legislators with genuine intentions can emerge from both parties to address a problem. This fact forces us not to blindly side with a party. For example, the DREAM Act -- legislation to provide a pathway to citizenship for DREAMers -- was championed by Republicans and Democrats including Sen. Dick Lugar (R-IN) who we saw first-hand defend Dreamers as he faced an extreme Tea Party challenger. Additionally, Rep. Luis Gutierrez (D-IL) and Majority Leader Eric Cantor (R-VA) are attempting to craft legislation to provide immediate relief to the 11 million undocumented immigrants.
As DREAMers continue to pressure President Obama, partisan voices have criticized DREAMers for unfairly targeting the administration while letting Congress off the hook. These misguided voices fail to grasp that our Constitution not only permits questioning our leaders, but also makes it a responsibility. Accountability of all policy makers ensures the vitality of our democracy.
We will side with President Obama as he confronts obstructions from the Tea Party. But as Americans, we also expect genuine leadership from our President to act in the face of obstruction just as the President, at the behest of the American people, announced that he would no longer deport Dreamers.
It is quite easy to only blame Republicans for the lack of action on immigration; however, it is more challenging to hold accountable an "ally" in the face of political games. To challenge both parties to provide solutions to the country's pressing problems is the mark of an American conscious of our privileges and responsibilities.
In the end, Dreamers have chosen a side: We are siding with our families, our communities and our country. And we are committed to working with statesmen and stateswomen from both parties to modernize our immigration system. Most importantly, as elections near, we will side with legislators and candidates who put their districts and constituents first, not their parties.