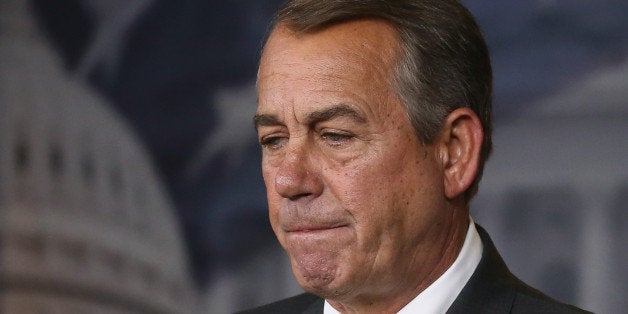 WASHINGTON -- Asking the Department of Defense to consider allowing young undocumented immigrants to enlist proved a bridge too far Thursday in the Republican-led House of Representatives.
Members voted 221 to 202 to strip a measure from the National Defense Authorization Act that asks the secretary of defense to review policies on whether certain undocumented young people, often called Dreamers, can join the military if they have work authorization.
Republicans gave a variety of reasons for opposing the Dreamer provision, offered by Rep. Ruben Gallego (D-Ariz.). Some critics, including Armed Services Committee Chairman Mac Thornberry (R-Texas), said the measure was inappropriate in the NDAA, and should be discussed elsewhere.
But the opposition went deeper than just when and where military service for undocumented immigrants should be debated.
Many Republican opponents said keeping the measure in the defense authorization act would be tacit endorsement of President Barack Obama's 2012 Deferred Action for Childhood Arrivals policy, or DACA. That policy has granted temporary work permits to hundreds of thousands of Dreamers.
House Republicans have voted multiple times to end DACA, and some members argued on the House floor that it would be hypocritical to allow Gallego's measure to remain in the NDAA.
Democrats and some Republicans argued that work authorization should also allow DACA recipients to enlist in the military. Gallego's provision, however, only asks the Defense Department to consider a policy change.
"All this bill is saying is that the available pool [for recruiting] may also be Dreamers," Gallego told reporters at a press conference earlier Thursday, rejecting claims that he was pushing for "amnesty." "But there is no teeth to this."
Rep. Mo Brooks (R-Ala.) introduced the amendment striking the DACA-related provision. He sent a letter Thursday to colleagues urging them to vote for his amendment, framing it as a jobs issue because the military is currently downsizing.
"Each time an illegal alien takes an enlistment opportunity, an American or lawful immigrant loses an enlistment opportunity," Brooks wrote. "The ratio is one-to-one. Period. That is the math."
Brooks said Gallego offered his amendment to the House Armed Services Committee in the "early-morning, sleep-deprived portion" of its markup of the NDAA, and six "wayward Republicans" voted in favor. Gallego said it was "patently false" that the GOP committee members didn't know what they were doing.
Not all Republicans supported Brooks' amendment to strip the Gallego provision. CQ Roll Call reported that Reps. Jeff Denham (R-Calif.), Mike Coffman (R-Colo.) and Adam Kinzinger (R-Ill.) circulated a letter urging fellow GOP members to oppose Brooks' amendment. In the end, 20 Republicans voted against it.
Before the vote, Rep. Jaime Herrera Beutler (R-Wash.) took to the House floor to voice her opposition. She said allowing Dreamers to serve wouldn't be "amnesty," and praised those with "the courage and conviction" to enlist.
"If someone through their merit and their hard work earns acceptance into that elite fighting force, where they could die defending you and me, then I leave you with this question: What country's flag would you have draped on the casket of that brave soul?" Beutler said.
To Democrats, the fact that most Republicans voted to gut the provision presented another opportunity to hammer the GOP for voting against bills that would help Dreamers. House Minority Leader Nancy Pelosi (D-Calif.) said at the press conference with Gallego before the vote that the controversy "is yet another example of anti-immigrant attitude on the part of the House Republicans."
After the vote, Gallego issued a statement expressing his disappointment.
"There was no reason to have this fight; this amendment should not have been controversial," he said. "But Mr. Brooks and his band of extreme, anti-immigrant Republicans put their extreme politics ahead of the best interest of our military and our country."
Democratic presidential candidate Hillary Clinton's campaign got involved as well, issuing a statement that she believes Dreamers who want to serve "should be honored and celebrated, not discriminated against."
Dreamers aren't going to give up, said Cesar Vargas, a co-director of the advocacy group Dream Action Coalition and a would-be military service member.
"We are urging the President to step in as this is unnecessary legislative drama; President Obama already has statutory authority to allow Dreamers into the military," Vargas said in a statement. "Dreamers, like myself, will not stop until we have our commitment to serve the country we call home acknowledged."

Calling all HuffPost superfans!
Sign up for membership to become a founding member and help shape HuffPost's next chapter
BEFORE YOU GO
PHOTO GALLERY
Why Latin Americans Really Come To The U.S.