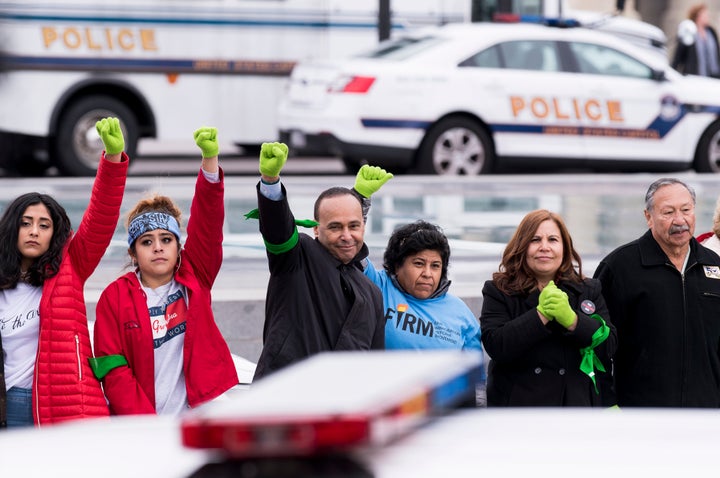 WASHINGTON ― More than 180 people, including two Democratic House members, were arrested Wednesday in an act of civil disobedience on the U.S. Capitol steps, while demanding that lawmakers inside the building take swift action to help young undocumented immigrants.
They were trying to draw attention to the plight of the so-called Dreamers, whom Democrats and Republicans alike have said they wanted to help after President Donald Trump ended the deportation protection program Deferred Action for Childhood Arrivals. Even Trump, who frequently disparages undocumented immigrants, has expressed some sympathy.
The difficulty for immigrants and their allies has been to convince lawmakers of the need to act immediately, and specifically to include Dreamer protections in year-end spending measures.
"What do we want? The Dream Act. When do we want it? Now," protesters chanted, raising fists clad in matching green gloves as U.S. Capitol Police led them away from the steps. Two lawmakers, Reps. Judy Chu (D-Calif.) and Luis Gutiérrez (D-Ill.), were arrested along with the advocates.
But inside the Capitol building, the Dreamer issue remained at a standstill. Republican leaders have shown little inclination to do anything for Dreamers immediately, and it's not clear whether Democrats have the votes to force the issue as part of a government funding bill that must pass by Friday, or in a subsequent bill if Congress approves a two-week funding extension.
Those arrested on Wednesday, the thousands of people who participated in an immigration rally in D.C. before the civil disobedience, and other allies won't accept a delay until next year, Gutiérrez said.
"There will be no tolerance [for delay]," he told reporters. "That would be an act of betrayal. You can't do it ― it's got to be this year."
Gutiérrez said he's optimistic. He and 24 other Democratic House members vowed in November to oppose government funding bills if they did not get a fix for Dreamers who will or already have lost DACA protections. One Republican, Rep. Carlos Curbelo of Florida, has said the same. Gutiérrez said that on Wednesday afternoon, a member of the Democratic whip team had asked him if he would vote against a two-week funding extension if it didn't include help for Dreamers ― which Gutiérrez said was a good sign.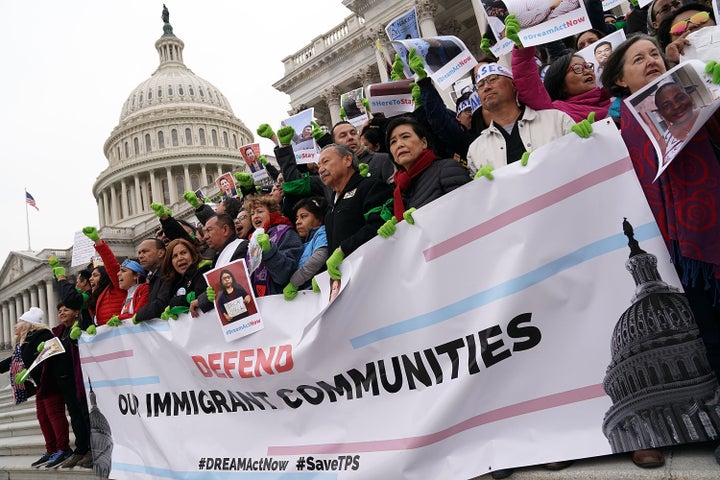 But Democratic lawmakers aren't united on the matter. Some have said they would not be willing to vote to shut down the government, and in the Senate, Republicans would need only eight Democrats to vote yes on the funding bill if they kept their own party together.
Sen. Dick Durbin (D-Ill.), the leading advocate of the Dream Act and the Democratic whip, gave no firm answer when asked whether his caucus would hold firm against a spending package without DACA measures, as he has previously said he would do.
"We'll see," he told reporters. "We're working on trying to come up with a bipartisan approach."
Sen. Kamala Harris (D-Calif.), who is often cited as one of the Democrats who would vote against government funding over the DACA fix, did not give a yes or no answer when asked whether she would be willing to support a bill without Dreamer measures. She had said in October that she would "not vote for an end-of-year spending bill until we are clear about what we are going to do to protect and take care of our DACA young people in this country," which includes some wiggle room: Being "clear about" what to do isn't necessarily the same thing as passing legislation.
"I'm hoping that we still have room for that to happen," Harris told HuffPost when asked how she would vote if DACA wasn't in the deal. "It's a critical issue. I'm going to wait and see how we progress."
The most recent proposal from Senate Republicans on DACA ― temporary protections with no path to citizenship, coupled with a slew of conservative priorities for border measures, easier deportations and lower legal immigration ― was rejected by Durbin as soon as it was publicly announced on Wednesday.
The critical moment may come Thursday in a meeting among Trump, Senate Majority Leader Mitch McConnell (R-Ky.), Senate Minority Leader Chuck Schumer (D-N.Y.), House Speaker Paul Ryan (R-Wis.) and House Minority Leader Nancy Pelosi (D-Calif.). Ahead of the meeting, Trump again said on Wednesday that Democrats want "to have illegal immigrants pouring into our country," an inauspicious framing of the Dreamer proposals for those who want them in the deal.
McConnell and Ryan each said in the past week that it was not an immediate necessity to address the DACA program, which Trump rescinded in September with a call for Congress to act by March 2018. DACA recipients whose protections will expire after March 5, 2018, were not permitted to renew those protections this year. Should Congress fail to act by March, about 1,000 of them per day would begin leaving the work force and become at risk of deportation.
But March isn't the real "deadline," immigrant rights advocates argue, because some Dreamers are already losing protections. An estimated 122 DACA recipients per day have seen their permits expire since Trump rescinded the program.
That's why, according to advocates, a Dreamer fix is needed urgently. If it isn't part of a spending deal, some of Wednesday's protesters had a suggestion on what lawmakers should do about government funding.
"Shut it down," they chanted.
Support HuffPost
The Stakes Have Never Been Higher
Before You Go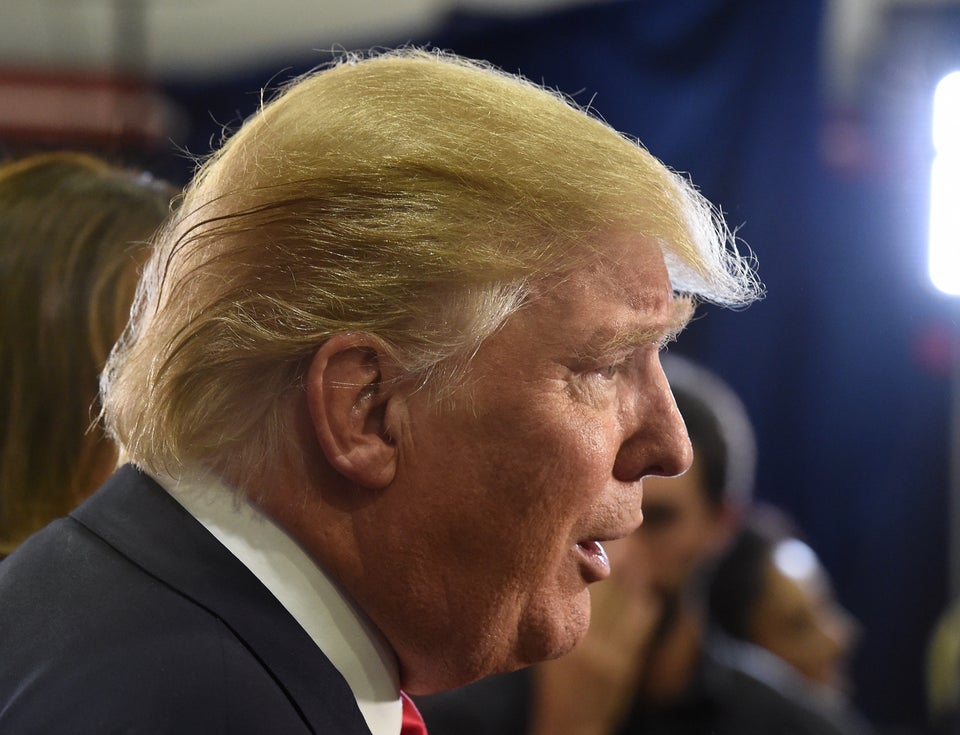 How Donald Trump Talks About Undocumented Immigrants
Popular in the Community