David Calderon, remembers receiving a call from his sister Kenia Calderon, one night after work.
"David just come. We need more DREAMers here."
The 19-year-old was reluctant; he didn't want to get involved.
David ended up following his 21-year-old sister; he went to the Iowa Freedom Summit protest.
A group of students gathered outside the Hoyt Sherman Place, holding signs and chanting at conservatives. Conservative leaders across the nation including Donald Trump, Chris Christie and Ted Cruz descended in Des Moines to talk economics, social conservatism and national defense.
David remembers his sister asking Donald Trump if he was going to build a wall to keep immigrants out.
"You'll be happy with me," said Trump.

A year later, the Calderon siblings are still politically active in Iowa, this time protesting Trump events.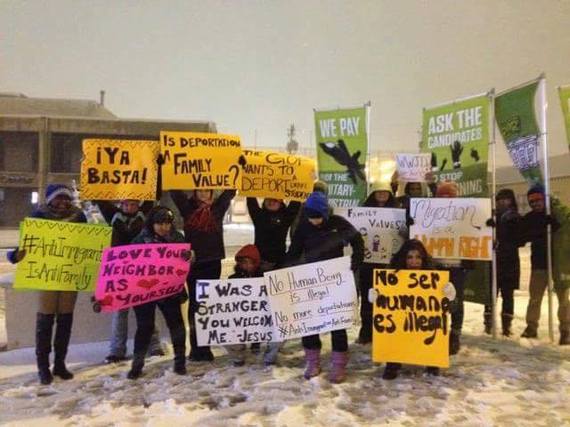 David and Kenia are DREAMers. They are immigrants who were brought into the country at a young age, and know the United States to be home.
On June 15, 2012 President Obama expanded a federal immigration policy, creating a new program called Deferred Action for Childhood Arrivals (DACA). DACA allows undocumented immigrants, like David Kenia a renewable two-year work permit and exemption from deportation.
Following DACA, Kenia's political activism kicked off full gear. David says it was his sister's leadership that triggered him to get involved.
"She went at it full steam, and I went right behind her" he said.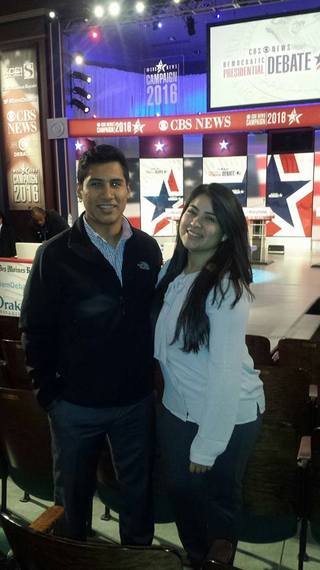 Since then, Kenia and David have shared their story with people across the state and nation. VICE, an online website, is currently working on a documentary about Kenia's activism. From protesting Trump to the GOP family forum, the Calderon siblings have paved the way for other DREAMers to follow.
"I knew I needed empower other DREAMers , to embrace their status and I knew I had to start at home" said Kenia.
Kenia and David, El Salvadorian natives still remember their journey to the U.S. more than 10 years ago. By 2005 gang violence has plagued the country, forcing the Calderon's to relocate. After obtaining travel visas to Mexico, the family of 5 including, Kenia, David, their parents and younger sister Fatima spent two months in Mexico. From there they took a three-day journey through the Mexican desert. Although he was only nine years old, David understood the journey his family was about to embark.
"I knew what we were doing our parents were really frank with us" David said.
The family walked through the desert uniting the Mexican state of Sonora and Arizona. Their father carried 5 gallons of water. They traveled with a group of 40 people, sprinting for cover anytime they heard "la migra," Spanish for immigration.
For David, the voyage was just "another adventure."
On the third night, David saw city lights and immediately thought "We are almost there."
The future has not always been bright for David. Prior to DACA, he surprised his parents telling them he wanted to leave the U.S.
"I'm depressed I don't want to live in the shadows for the rest of my life."
With DACA, David knew he had a chance at being successful. He went from being a 2.7 GPA student to a 4.0 GPA student.
David, a secondary education and history freshmen student at Grand View University hopes to inspire others through education.
"My main goal with becoming a teacher is to inspire people of color, to see themselves in me, and realize that anything can happen and they can turn around like I did."
He wants others to be inspired through his story.
He hopes they will ask: "If it's possible for him, why isn't it possible for me?"
Calling all HuffPost superfans!
Sign up for membership to become a founding member and help shape HuffPost's next chapter