The colorful boots filled with pansies caught my eyes immediately as I started to explore the quaint little town of Honningsvåg, in the North Cape region of Norway, with three female passengers I met on our cruise. The brightly colored pansies beckoned us to discover the most intriguing store and art gallery while docked in the Land of the Midnight Sun.
I am glad I invited myself along instead of heading back to my cabin to write, as I feel Once Upon a Dream Gallery & Gift Shop has such an incredible story to share. Located in the most northernmost village in the world, this special place celebrates the work of Erica K. Haugli, artist.
In addition to her beautiful collages, watercolors, and objets d'art, Erica, an American expatriate, has projects that embody the phrase "one's person trash is another person's treasures."
The Ocean Trash to Arctic Art theme includes the One Step at a Time collages and other pieces made from 1,200 shoes, boots, sandals and flip-flops Erica and other community members collected as litter along the North Cape coastline. (Ocean currents really are a marvel, aren't they?) Every element of One Step at a Time serves to remind us of each footprint, metaphorically and otherwise, we take and leave on Earth.
Eystein Storoy, gallery and shop manager, shared some insight on Erica's environmental project. She started it in 2012. Nowadays, she collects shoes every two years because her garage is so filled with scavenged materials she is unable to add new items.
If Norway isn't in your future travel plans, a visit to Once Upon a Dream's Web site can give you a better idea of Erica's beautiful and wondrous projects. Be sure to check out the North Cape Shoe Project and the North Cape Angels. There's also the 10,000 Bottle Cap Campaign. Her sea glass installation is on exhibit in neighboring Tromsø. I really love her watercolors and collages, too.
Repurposing trash into art pieces is such a wonderful idea, and so healthy for our planet. If you are ever in this Honningsvåg, make it a point to swing by Once Upon a Dream. You'll be glad you did.
Upon opening the door to Once Upon a Dream, you are invited to stroll along the same coastline as the artist and her community and be inspired to make your dreams a reality. Erica is a firm believer that "Cinderella endings and second chances are possible." You have to dare to dream first, though.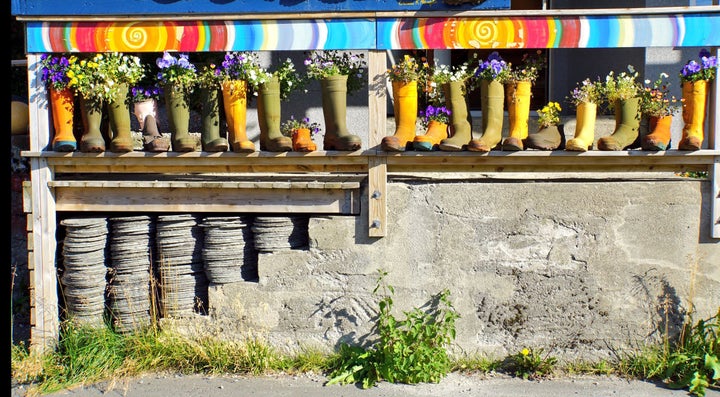 Popular in the Community