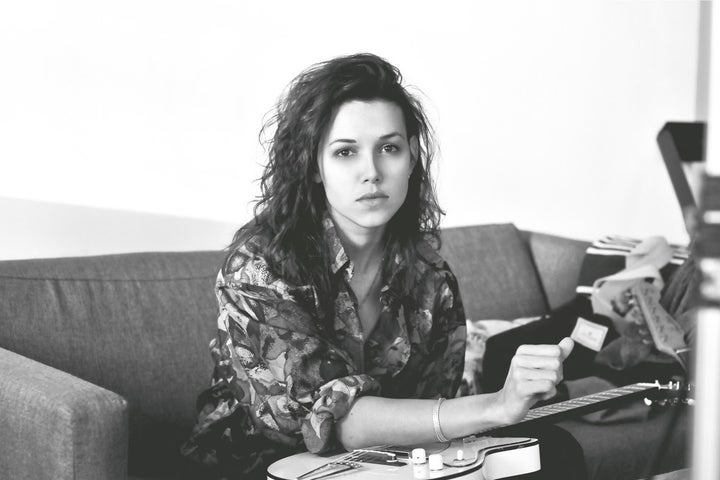 Aimee Bessada's music is a haunting, dreamlike mix of Fleetwood Mac-era Art Pop, 90's Grunge, and modern-day surf rock. However, following her debut album A Dream, A Coast, and extensive touring, she's put her solo career on pause to pursue the realms of film composing. I had a chat to talk to Aimee about her music, and why she made the switch.
What was the first instrument you ever learned, and when did you start writing music?
I was always into guitars. I've had one since I was really young but I didn't know how to play it - I didn't even know what the frets were for - until I was around 14 and started to read tabs. I think I was always sort of writing songs as a kid, but when I figured out how to play guitar in my teens, that's when I really started to put music to the ideas.
In the past you've opened for, and even played alongside, some big-name acts including Cyndi Lauper and Sia. Who's the most awe inspiring person you've had a chance to perform with?
Definitely Cyndi. I had a lot of exposure to her, because the band I was with at the time toured with her for two months. I got to see her consistently, night after night, going out on stage with the same energy, and the same high-level performance. With other bands I've toured with, I might watch their set from side stage the first few nights, to see it in action and be supportive. It's a testament to how engaging and good Cyndi is that nearly every night she played, we would come out and watch her sing "Time After Time" and "True Colors" at the end of her set. Her voice is just incredible, and she really loves her fans and performing, you can tell.
Your solo EP, A Dream, A Coast combines an incredible mix of folk, grunge, garage, and surf-rock sounds. Who were some of your biggest influences on the album?
It was a challenge for me to streamline the EP, because I do like to draw from a number of genres. I guess I was pretty influenced by Elliott Smith, Sheryl Crow, 90s grunge, Haim, Tom Petty, Fleetwood Mac, surf rock in general. I wanted to try to blend it all without just making a mess of it, while also having something that feels like a unified collection of songs…which I hope it does.
Is there a particular song on the album that you're most proud of?
"Empty Beaches". With some of the other songs, I really had to work them through; actively craft them from beginning to end. Which isn't a bad way to work - I like approaching things with that kind of discipline sometimes. But "Empty Beaches" was just one of those songs that I never really had to struggle with. It came easily, and made sense. I can sometimes be critical or fatigued, listening to my own stuff - I think that's just part of being an artist - but that song is exactly the way I wanted it to be.
You also released a music video for your song "Last To Know", which had an interesting mix of dreamy lighting and vintage video effects. What was the initial concept behind the piece?
The video was directed by a good friend of mine, Alyssa Pankiw. She's produced/directed a range of videos for people like Ariana Grande, Iggy Azalea, Flosstradamus, The Arkells. She had this idea to have me in a bunch of locations where it felt like I had just missed the party; like something great had happened and everyone had just left. She really guided the overall aesthetic, and wanted to choose a look that fit the song.
You've recently shifted your focus towards writing and composing music for film. What inspired this change, and did you find it a challenging space to create music in?
I guess what started it was being asked to make music for a friend's short film, and loving it. Collaborating that way was fun, and I realized I had a knack for it. What I really enjoy about scoring and songwriting for picture is that every piece has its own specific requirement, so I can really commit to different genres or sonic landscapes to serve different projects and filmmakers. It allows for a lot of experimentation, and variety. It can be a challenge to turn a director's vision into music but it's something I really enjoy taking on.
You've worked on both feature films and shorter pieces, which formed parts of web series and anthology films. Is there a particular type of project that you enjoy working on most?
I'm really into the idea of feature films, long format. Having the space to tell a story through music, being able to take time to build something. It's probably the most exciting thing for me right now. But shorts are also fun, because you have the opportunity for a quick impactful moment, which is also cool. People can walk away from short format stuff with a strong impression; shorts can resonate the same way features can, but you've got to make the impact quickly.
Do you see yourself returning to work on more personal projects in the future?
Definitely. As much as I get invested in scoring/composing for film, and I care about the projects, it's not about personal expression - if I'm doing my job right, I'm there to serve the director/serve the project. It's creative, in that it allows me to explore things I might not do for myself. That being said, after nearly two years of writing for other projects I'm also getting the itch to write for myself again. And it's cool, because both types of work fuel each other.
Popular in the Community