By Karel
Aka Charles Karel Bouley II

Dreams. We witness their creation, their completion and yes, their destruction almost every single moment often without realizing or acknowledging it; even when they're our own.
Every time you (or others) watch my show on Free Speech TV, Karel: Life In Segments you're taking part in my dream; or listen to my radio show or buy my records or read my articles. Every time you watch a TV show, you're watching many, many dreams come true for the writers, producers, actors, directors, crew, craftsmen and women of all kinds. And every time you walk into a small business or restaurant, you are fulfilling someone's dream. They can be found everywhere.
I found a dream coming true for young entrepreneur Samatha Grace Argosino in the form of The Brass Lamp Book Bar on the promenade in Long Beach, CA. She has taken the space at 245 Promenade North Ste. 100 and transformed it in to a playground for literate adults in the form a Book Bar, a place to write, eat, drink and, of course, read (or even buy a book).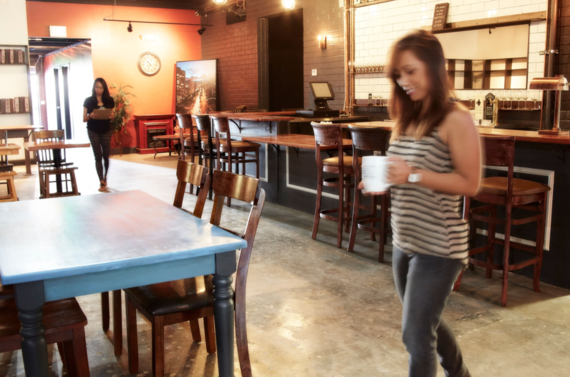 "It started as a Kickstarter campaign and a dream," Argosino told me recently at a pop up even of great interest: literary food or food of your favorite authors. "This place, in order to go from a dungeon-like office space in to a really creative environment for art, literature and fun, took a lot of time, and yes, money. But people really came together and helped me get it done, and I couldn't be happier," she added.
Pop Up Events, food, wine, various beers and books from 10 to 1am on most days is quickly establishing The Brass Lamp Book Bar as a place to unwind, to create, to enjoy friends and music and yes, to eat. Is it fancy? No. But is it functional, funky, creative, and delicious? Absolutely.
But more importantly you can tell it's part of Argosino's dream, it's a major goal, a life achievement, something she really, truly dedicated to: the concept of art merging with nightlife for adults in one friendly environment; a book bar, of which there are only a handful in the United States.
"I really want to reflect the city, this is a community space, and I want to help work with and foster the elements, the creativity, the people that are here in Long Beach," Argosino went on as a guest chef in the kitchen kept incredible literary-based edible creations coming. "I wanted to grab the feel of an Ivy League library, Harvard, Yale, and then hip it up, make it more urban, more chic, more funky, more fun. I think we are well on our way," she added.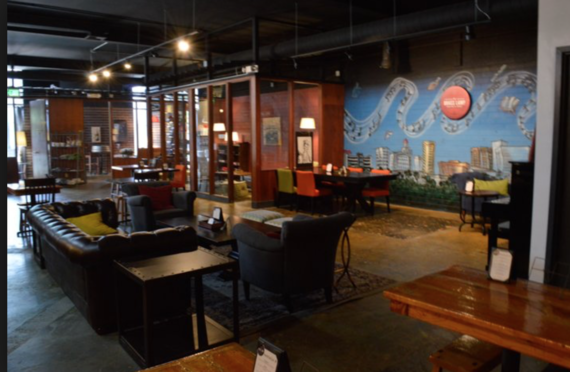 There's a comprehensive breakfast, lunch and dinner menu (the Mac and Cheese is to die for and Captain Ahab's Fish Tacos some of the best around) and the Book Bar is constantly doing Pop Up events with visiting chefs. The Brass Lamp is like no other coffee shop, bar or bookstore or library in Long Beach, or Los Angeles, for that matter. So to say it's fitting in the community wouldn't exactly be correct: it's establishing a new place, a new type of business or watering hole, a meeting place for millennials, boomers, seniors, anyone interested in good food, fun and literature. My only complaint? I have a back injury, pretty severe. I cannot sit in less than functional chairs or stools or other cute ways to laze about. I need a chair, with good support. But this isn't a sit down sort of restaurant with formal tables and chairs. My back was great for artistic environs in my 30s and 40s, now, give me a sofa, recliner or fully supportive dining chair! Of course, there was a bar, great bar stools and friendly bartender. Problem solved.
This is the first of a series of "dreams" that I encounter both in my city and around the world. Next up: Restauration: Elevating Long Beach Food Scene.
Watch Karel: Life In Segments weekly on Free Speech TV on ReallyKarelTube. To hear this or other interviews get the FREE Karel Cast App, subscribe in Spreaker to the Podcast or simply go to the most incredible website on all the planet, save this one, ReallyKarel
REAL LIFE. REAL NEWS. REAL VOICES.
Help us tell more of the stories that matter from voices that too often remain unheard.