An Idaho high school senior is speaking out after she was suspended with just minutes left in the school year because of a dispute about the length of her dress.
West Side High School senior Evette Reay, 18, said she was suspended Friday with just 30 minutes left in her final day of high school because she disagreed with a teacher who objected to her dress. The modest green shift appears to be a few inches short of meeting the school's kneecap-length rule.
The fashion showdown escalated, according to Reay, when she refused to obey a teacher who ordered her to go home and change into something that complied with the dress code.
The teacher, Legrand Leavitt, upped the ante by threatening to call the superintendent and withhold her diploma. Reay said she relented and called her mother to bring a different outfit, but by then school officials had already suspended her for insubordination.
Leavitt and the school's principal Tyler Telford told Reay's mother that her daughter conducted herself poorly during the argument. They allege that she got in Leavitt's face while she holds that she remained at least four feet away from him.
West Side School District superintendent Spencer Barzee told The Huffington Post that state and federal laws prevent him from discussing an individual student's discipline.
"In my own opinion, there must be a lull in news if you are covering this story," he added.
But punishing female students for violating rigid dress codes comes up again and again, and many see this as a chauvinistic way of treating girls and young women.
Last month, a dad took his 5-year-old daughter's school to task for forcing her to cover her sundress with a t-shirt and pants because of its spaghetti-straps. Last year, Haven Middle School in Evanston, Ill. made national headlines for banning leggings and yoga pants.
"It's certainly going to give women the idea that the exposure of their bodies is a negative thing," Carrie Preston, a Boston University professor in women's studies, told Boston.com earlier this month. "There's discomfort with the sexuality of minors, but these concerns are not best addressed by dress codes."
Related
Before You Go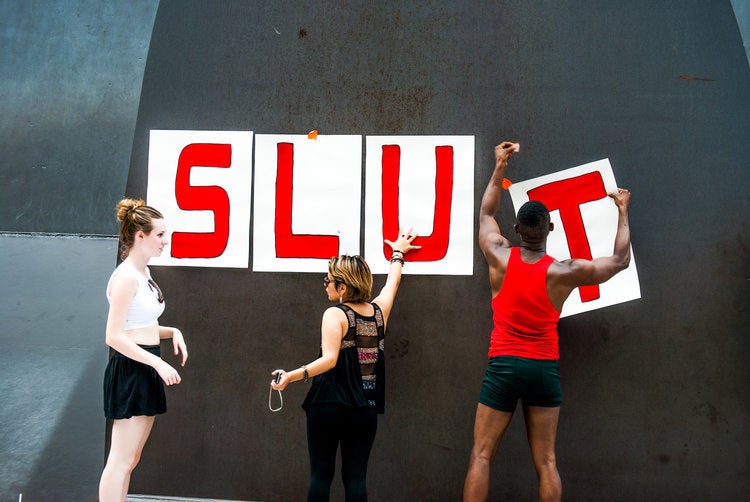 SlutWalk 2013 In Chicago
Popular in the Community