Are we what we wear? While this has been a question for artists since the 1960s, the summer exhibition at the Katonah Museum of Art shows that artists all over the world are now using clothing as a metaphor for shared, as well as personal, concerns. The 37 international artists in Dress Codes touch on issues dealing with ethnicity, community, commerce, immigration, and globalization, as well as the effects of natural destruction, war, and violence. Many of the works explore several of these subjects concurrently, reflecting the complexity of contemporary life. Whether it is a kimono made of Power-Ranger cards by Cat Chow, or a gorgeously decorative SoundSuit that terminates in an ominously peaked black hood by Nick Cave, the colorful, exuberant, and often bizarre works in Dress Codes carry numerous layers of meaning.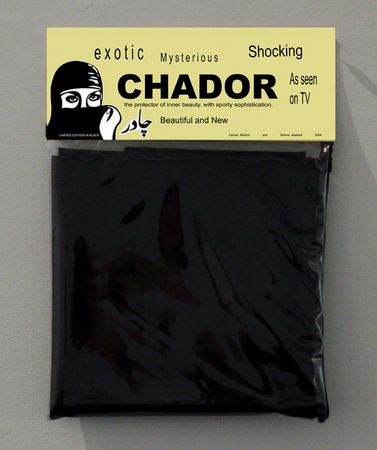 With the recent economic crisis and its revelation of the interdependence of global commerce, a number of the works in Dress Codes appear particularly prescient. Susan Stockwell's 18th-century gown made of stained coffee filters calls attention to the economic disparity between the wages of coffee growers and the profits of the baristas selling customized cappuccinos. Zoë Sheehan Saldaña's shop-dropping project raises questions about how we assign value to consumer products. Iranian artist Farhad Moshiri's packaged chador can be used to add an 'exotic' flavor to one's life. Mella Jaarsma's chador, on the other hand, is made from hundreds of embroidered patches from Indonesian sports teams, social clubs, and civic organizations to underscore the country's diversity of interests and activities. Mónica Girón's Trousseau for a Conqueror -- which consists of knitted protective clothing for endangered Patagonian birds -- is a metaphor for colonization: for every advance, something is always destroyed. Created in response to the thousands of deaths caused by Hurricane Katrina in 2005, Yael Mer's Evacuation Dress inflates to become a fully functioning kayak. Guerra de la Paz's looming but empty Vigilante, made from second-hand camouflage clothing, speaks to the futility of war, while Judith Shea's mannequin-like figures are covered with the dust and ash of an explosion.
In a world in which airplanes become bombs, and birds carry deadly diseases across oceans, very little can be taken for granted. In this environment, the artists in Dress Codes understand the need to move beyond personal identities and temporal political concerns. By using clothing -- something we all choose every day -- as their medium, they share a collective interest in bringing a greater awareness of the issues that affect our planet into our everyday lives.
Participating artists include: Ray Beldner, Sanford Biggers, Barbara Bloom, Louise Bourgeois, Maria Fernanda Cardoso, Nick Cave, Cat Chow, Sonya Clark, Willie Cole, Maureen Connor , E.V. Day, Mónica Girón, Guerra de la Paz, Joseph Havel, Oliver Herring, Bingyi Huang, Mella Jaarsma, Wang Jin, Rashid Johnson, Kate Kretz, Charles LeDray, Susie MacMurray, Derick Melander, Yael Mer, Farhad Moshiri, Luca Pizzaroni, Elaine Reichek, Freddie Robins, Zoë Sheehan Saldaña, Beverly Semmes, Judith Shea, Jean Shin, Mimi Smith, Susan Stockwell, Do-Ho Suh, Cheryl Yun.
Photo Caption: Farhad Moshiri, Untitled (Chador in Package), 2004. Mixed Media. 18x12 inches. Courtesy of Daneyal Mahmood Gallery, New York.
Popular in the Community